archive
Ph.D. Student Named Health Policy Research Scholar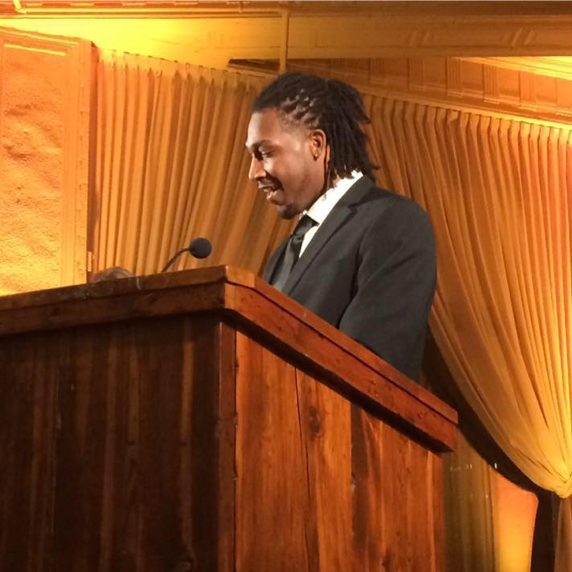 Loyola University Chicago School of Social Work Ph.D. student Larry (Leo) Davis was recently selected as a Health Policy Research Scholar by the Robert Wood Johnson Foundation.
The leadership development program is designed to support full-time doctoral students entering their second year of study from populations that are underrepresented in doctoral programs. Those populations include first-generation college graduates, those from lower socioeconomic backgrounds, students from communities of color, gender-nonconforming people, and individuals with disabilities.
Those chosen as Health Policy Research Scholars are invested in building healthier and more equitable communities through various disciplines. Davis' research will focus on scholarship around mass incarceration of Black fathers and its impact on child development and health outcomes.
"I will focus my efforts on fatherhood engagement of formerly incarcerated and currently incarcerated fathers, specifically Black fathers," he said. "My objective is to change the narrative and stigma associated with reentry among Black fathers, while working to improve the mental health and stability of those fathers who return home, as well as their families."
Davis and the other Health Policy Research Scholars will receive an annual award of up to $30,000 for up to four years, or until they complete their doctoral program. The scholars will have the chance to establish connections with policy leaders from various disciplines and also participate in policy and leadership development trainings, something Davis is particularly excited about.
"It's a great opportunity to start building a network of experts, connections, and policy advocates," he said. "Change doesn't occur if laws or policies are not changed to improve the wellbeing of everybody. So that is what this opportunity is all about. It's a large organization of scholars from different backgrounds with the same mission – to change the Culture of Health through policy, scholarship, and action."
Davis said in this era of mass incarceration, he feels it's part of his duty as a formerly incarcerated person and father to eliminate the stigma around formerly incarcerated individuals. He hopes the Health Policy Research Scholar program will provide him with the resources, skills, and opportunity required to affect sustainable change. He said the most important value that advocates can possess is the humility in helping make change for others through passion and perspective.
"We have to put the people and families first," he said. "Authenticity, service, and genuineness are most effective when advocating for change to improve health for all people. We must have that compassion."