home_news
The College of Arts & Sciences Welcomes Professor Graham Moran
Professor Graham Moran recently joined Loyola Chemistry and Biochemistry, as the first Carl Moore Research Chair in Chemistry & Biochemistry. The Carl Moore Research Chair position is the first endowed chair position in the Sciences at Loyola. Dr. Moran moved his laboratory from The University of Wisconsin-Milwaukee where his research was based for the previous 19 years. His training began at the University of New England Australia working under Dr. Barrie Entsch. After completing two years of doctoral work, he came to the University of Michigan to work collaboratively with the research group of Dr. David Ballou. He then continued his studies as a postdoctoral researcher in the laboratory of Dr. Paul Fitzpatrick at Texas A&M University.
In each stage of his training Dr. Moran's work was based in understanding the dynamic and transient states that exist as an enzyme catalyzes a chemical transformation. The unifying theme of his independent research career has been finding evidence for the chemical mechanisms of enzymes. The study of enzymes tends to emphasize the chemistry in biochemistry and seeks to provide definitive descriptions of the reactions these complex molecules catalyze. A number of the enzyme systems studied over the last two decades in the Moran research group have had applications in medicine and agriculture, but the emphasis of the work has remained elucidation of the curious and intricate chemistry at work. Over the last few months Dr. Moran has established a state-of-the-art biochemistry laboratory on the fourth floor of the Flanner Hall that has greatly expanded the research capabilities of the department. Prof. Moran is looking forward to teaching his first classes this year, working with his new colleagues in the Department of Chemistry & Biochemistry, and advancing the research enterprise of Loyola University Chicago.
Graduate Student Daniel Catlin Receives Prestigious Award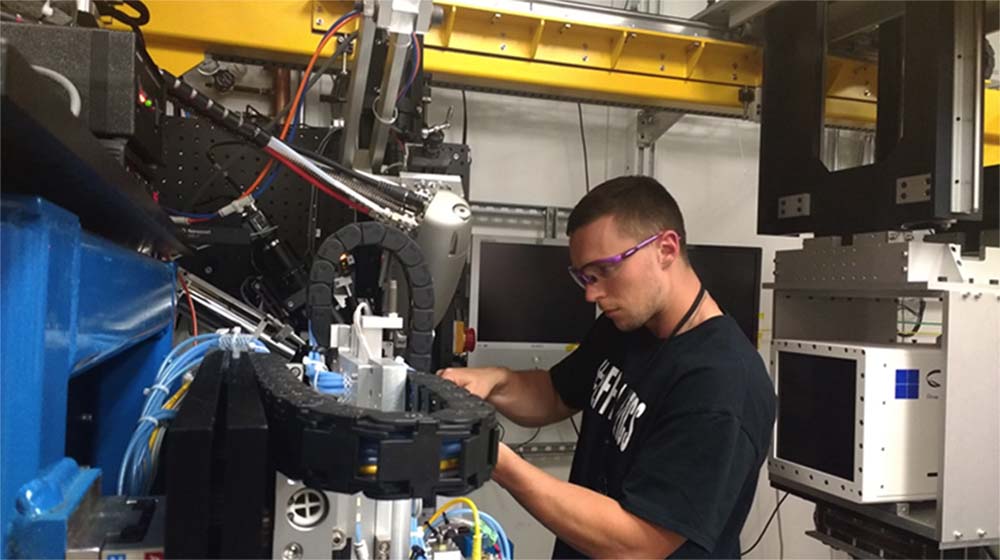 Daniel Catlin, a fifth year PhD student in Professor Dali Liu's research group, received an Arthur J. Schmitt Foundation Fellowship for 2018-19. Funding from the Fellowship provides Catlin vital support to conduct research while preparing him to be a leader in his field.
During the past few years Catlin has been generating critical data on two federally funded projects. His data on the study of a novel antimicrobial target named "PvdQ" was recently published in ACS Chemical Biology, a well-regarded journal in Biochemistry. In another collaborative project with researchers at Northwestern University, Dan's research on a hepatic cancer target provided critical evidence supporting a new potential drug for cancer treatment. The results stimulated a new direction of the rational drug design effort to treat Hepatic Cancer. In another collaborative effort, Dan worked alongside Dr. Brian Cannon, professor of Physics at Loyola, to study a key protein component regulating the virulence of bacterial pathogens using the cutting edge single molecule Fluorescence Energy Transfer.
In Dr. Liu's lab, Dan mentors three Loyola undergraduates conducting research. Dan also mentors economically disadvantaged high school students through the American Chemical Society's (ACS) sponsored SEED project. He also engages with students in Loyola's First Year Research Experience program.
The Chemistry Department faculty and staff congratulate Dan for receiving this prominent award in recognition of his work.
Chemistry faculty inspire future scientists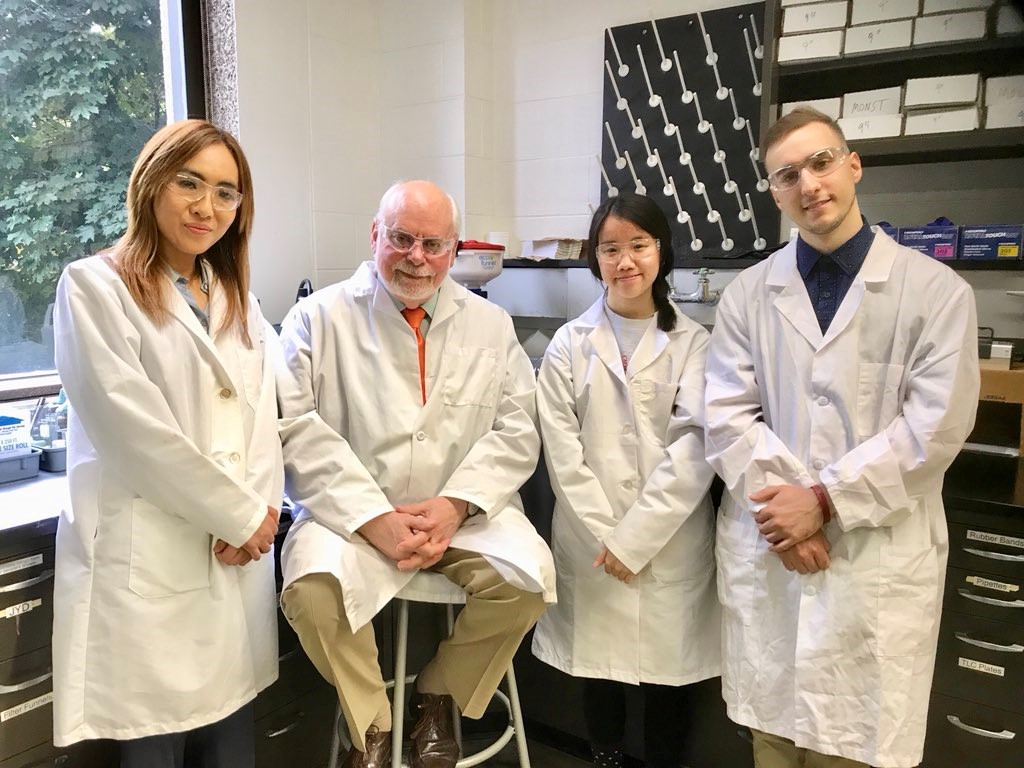 Local high school students are learning what the world of science is about in Loyola's Chemistry and Biochemistry department. Since 2015, these students have come to Loyola through the Project SEED's summer program to experience and understand scientific research first-hand. Loyola is the only university in the Chicago area to take part in the program this year—2018.
In 1968, the American Chemical Society (ACS) developed Project SEED, a program geared toward economically disadvantaged, high-achieving high school students by providing them with an opportunity to work directly with professional chemists and university professors for a summer.
Loyola professor Hee Yeon Cho, PhD and Northwestern professor Fraser Stoddart, PhD along with Loyola students Jordan Delev, Wiktoria Koza, and Julian Gonzalez have served as mentors to students as they conducted a two-month scientific research project.
The students chosen for this program receive a $2,500 stipend, as well as a chance to win a SEED college scholarship in the future.
Hee Yeon Cho, PhD, assistant professor of organic chemistry who co-facilities the program, said one of the most rewarding aspects of running a research laboratory at Loyola is the ability to participate in outreach projects with young scientists.
"It is important to train future scientists in a professional setting to instill a love for scientific research and change their perspective on education," she said.
By cementing scientific inquiry, Loyola's faculty members help to shepherd students through this intense process, giving them insight to college and potential long-term possibilities.
The Chemistry Department is involved in several outreach programs throughout the year and the ACS-SEED program is a great example of their efforts. Although the students conduct research under a faculty member, they are also mentored on a daily basis by postdoctoral researchers, graduate students, and undergraduates.
Visit the Department of Chemistry and Biochemistry to learn more about other programs offered and more faculty research.
Organic chemistry professor receives NIH grant
Dr. Jim Devery, Assistant Professor of Organic Chemistry, has received a grant from the National Institutes of Health (NIH) for $404,000 to use over the next three years. The award will support research in the mechanistic characterization of iron(III)-catalyzed carbonyl-olefin metathesis—a new approach for the construction of cycloalkenes. These studies will enhance the success of reactions designed by synthetic chemists in the construction of medicinally important molecules. The grant will allow the Devery research group to study the implications of the carbonyl-olefin metathesis reaction, which is a new method for the production of valuable chemicals in the pharmaceutical and agrochemical industries.
"Research in my lab focuses on the kinetic and thermodynamic characterization of mechanisms, allowing us to not only gain insight into their catalytic cycles, but determine the controlling factors that direct reactivity." said Dr. Devery.
Receiving this grant is a tremendous achievement for Dr. Devery, who began his professorship at Loyola in July 2015. He earned his PhD in chemistry from Lehigh University in 2013. After earning his degree, he pursued research as a postdoctoral fellow at Boston University and the University of Michigan.
Dr. Devery currently works alongside a team of 8 people, one graduate student and seven undergraduates. His students utilize organic, organometallic, analytical, and physical chemistry to observe reaction mechanisms. Funding for their work will support training in not only organic and organometallic synthesis, but separation and characterization of complex systems using chromatography and spectroscopy.
Reaction mechanism of carbonyl-olefin metathesis.

Click here to learn more of Dr. Devery's research and his group.
Biochemistry faculty receives 2018 Sujack Award
‌
The Sujack Awards were established in 1994 by Edwin and Vivijeanne Sujack to take special notice of outstanding teachers and researchers within Loyola's College of Arts and Sciences, and to honor them for their dedication to their profession.
The Chemistry Department is proud to congratulate Biochemistry Associate Professor, Dr. Miguel Ballicora, for receiving the 2018 Master Researcher Award.

Congratulations, Dr. Ballicora!
‌Recipient of the 2018 Master Researcher Award, which honors faculty for their devotion to individual research and scholarship outside the classroom. In a time when funding for scientific research has become limited, Dr. Ballicora has conducted studies on sustainable energy sources by the means of a $600,000 grant from the National Science Foundation (NSF).
Dr. Brazdil Receives Award for Excellence in Teaching Freshmen

Loyola University Chicago values excellence in teaching as being central to its mission of providing an engaging, transformative education. The Office of the Provost formally recognizes and celebrates the exceptional faculty who demonstrate excellence in teaching by announcing university-wide teaching awards that recognize the value of the many different ways in which faculty contribute to transformative learning.
This Fall 2017, Dr. Linda Brazdil, was named the winner of The Provost's Award for Excellence in Teaching Freshmen for Fall 2017!
Dr. Brazdil is the Director of the Center for Science and Math Education, comments that the challenges college exerts on students in its expectations of growth, discovery and self-realization can be overwhelming; students need the proper support with these transitions in order to be successful. She recommends that students discover new passions and find things that will sustain them as they continue their journey through life. It is a small wonder that students came forward to nominate the professor who never tired of answering their questions and guiding their learning. As one student states, "Dr. Brazdil embodies all the ideals of Loyola. She believes in her students and in the mission to help people find their place on earth where they make a difference in the world." In her personal statement, Dr. Brazdil describes the joy in watching students grow and mature, mind, body and spirit, as one of the main reasons she loves working at Loyola. She delights in the many opportunities her program provides students along this journey.
Click here, to learn more of the Faculty Teaching Awards.
Graduate Student Feature: Marie Turano's Conference Experience
This past winter, as temperatures began to drop in Chicago, the Killelea Research Group readied themselves for a trip to a warmer city—Nashville, TN. They were to attend the American Vacuum Society's 63rd International Symposium—a week-long conference drawing faculty, graduate students, and other researchers from around the world to discuss advancements in vacuum science. First year graduate student, Marie Turano, takes us through the trip and experience of attending the conference, as well as describing the research that led her there.
For starters, what exactly is vacuum science? Specifically, ultra-high vacuum?
"In our group, we work under ultra-high vacuum conditions; reactions occurring under very low pressures", explains Marie, "those which occur at a pressure of 1x10-10 Torr. We study metal surfaces under low pressures to mimic the conditions of catalysis, so that we can unravel the reaction mechanisms occurring on the metal/reaction interface".
At the conference, Marie presented a poster on the process of "cleaning" the surface of a rhodium crystal—Rh(111). The procedure entails dosing the crystal with oxygen, so the crystal surface is completely covered with oxygen. When enough oxygen has reacted with the surface, the excess oxygen can migrate into the subsurface of the crystal. Then, using biased Argon (Ar) ions to gently knock the oxygen atoms off the top layer of the crystal, the surface is cleaned. The result is a Rh(111) crystal that is now "clean" of any surface atoms, permitting the group to study the properties of the oxygen beneath the surface. According to Marie, this is when you can begin to ask the bigger questions, such as: does subsurface oxygen play a role in reactions? If so, what is its role? And, how does the presence of subsurface oxygen influence what's going on in the surface?
The end goal of the project is to characterize the properties of the subsurface oxygen.
‌
Schematic of cleaning a metal surface.
What about "big picture"? In the end, what…?
Marie nods, understanding the question before it is fully asked, "whenever people ask me about my research and what we study, I say, 'it's studying reactions similar to those occurring in the catalytic converter in your car'. We are investigating a related process by studying a catalytically active metal, its properties, and then trying to answer fundamental questions relevant to heterogeneous catalysis."
Although the experiments that Marie and the rest of the Killelea Research Group conduct may seem very specialized, there is actually a variety of research that occurs in the field of vacuum science.
What is one to expect from an international conference all about vacuum science?
"I wish I'd brought the program for you," she says eagerly, as she opens and closes her hands like a book, "it was page, after page, after page of talks. It was great to see how others' research relates to what we do. It amazed me how so many people can be researching the same area, but not quite the exact same topic." For example, while the Killelea Group focuses their studies on molecules on the Rhodium surface, another group may be presenting their findings of a surface analysis of Nickel. The materials, methods, and instrumentation vary from group to group. Everyone has their own unique take. A lot of the same questions are being addressed, but the research presented tackles them from different angles.
The research complements each other, and suddenly the field can become very broad.
There is great benefit in attending conferences such as this one. In listening to other's presentations, you can find common ground with other research groups, but more importantly, you get to build connections, gather new information, and find new ways to circumvent a problem you've been running into.
To learn more about research conducted by the Killelea Group, go here.
The 64th AVS International Symposium will be hosted in Tampa, FL, Oct 29-Nov 3, 2017.