Chicago Region JSHS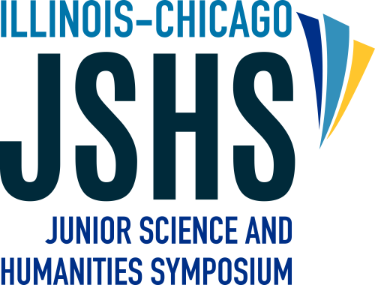 47th Annual Chicago Region Junior Science and Humanities Symposium

Loyola University Chicago‌ Lakehore Campus (Location TBA), Saturday, February 25, 2023
Sponsored by the Department of Chemistry & Biochemistry and Loyola University Chicago in cooperation with the United States Army, Navy and Air Force.
J.S.H.S. Promotional Video:
JSHS Video QuickTime Movie (mp4)

‌Abstracts of research from the 2014 JSHS National Symposium in Washington, D.C.

High School Student Summer Research at Loyola: The Academy of Applied Sciences and Loyola University Chicago are proud to announce the continuation of an exciting program designed to give high-school students a rare opportunity to engage in cutting-edge scientific research.
The Research and Engineering Apprenticeship Program (REAP) is looking for current high-school students of exceptional academic merit who are considering careers in science or science-related areas. For details and an REAP Application Form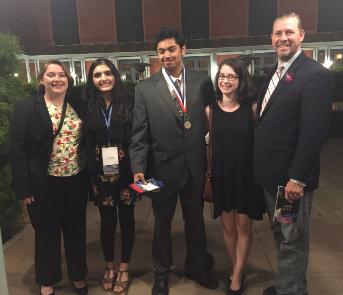 2017 Chicago Region Finalists (left to right): Ellen Morgan (Oak Park & River Forest High School), Myra Ziad (University of Chicago Laboratory Schools), Pranav Suvakumar (Illinois Math and Science Academy), Stephanie Guralnick (Oak Park & River Forest High School), and Dr. Patrick Daubenmire (JSHS Chicago Region Director). Pranav won 2nd place at the National JSHS in San Diego for his research titled,

Searches for Almost Dark Galaxies in Blank Sky Fields with the Sloan Digital Sky Survey
.

Official submissions must be received by email to chicagojshs@luc.edu and postmarked to Dr. Patrick Daubenmire, Flanner Hall, Loyola University Chicago, 1032 W. Sheridan Rd, Chicago IL 60660 by January 23, 2023

Registration and additional information for 2023 Symposium Participants‌

‌

‌:

For more information, please contact:
Dr. Patrick L. Daubenmire
Director, JSHS
Chicago Region
Phone: 773-508-8248
E-mail: pdauben@luc.edu

Dr. Adriana Lugosan
Assistant Director, JSHS
Chicago Region
Phone: 773-508-2687
E-mail: alugosan@luc.edu