BSEd in Elementary Education
Loyola's elementary education program prepares you to teach children in grades 1-6 with the only field-based curriculum in the country
Gain experience in school settings right from the start of your freshman year, graduating with the equivalent of a year of full-time teaching. Plus, your degree includes English as a Second Language (ESL) and International Baccalaureate (IB) endorsements, both requirements to work in Chicago Public Schools and many other school districts. You'll not only be in demand as a teacher, but better prepared to help students and make a positive impact on their lives.
By the numbers
$62K
starting salary for teachers with a bachelor's teaching degree in Chicago Public Schools for 2023
99%
teacher employment by graduation
80%
field-based curriculum, the only one of its kind in the U.S.
Our commitment to you
Upon graduation with a bachelor of science in elementary education from Loyola, you will possess the following knowledge, skills, and professional values necessary to teach students in grades 1-6.
Knowledge
You'll develop a deep understanding of both content and pedagogy to provide developmentally appropriate instruction to all students. Plus, you'll have multiple opportunities to engage with diverse populations, including students with special needs and those labeled as English language learners.
Skills
You'll have accrued the equivalent of one year of full-time teaching experience through all the hands-on, experiential learning opportunities in Chicago's classrooms and community organizations, so you will be ready to be at the head of your own classroom. With the foundational knowledge from your Loyola education, you will utilize theories, data, and research practices when making decisions in your classroom and for your students and when assessing the effectiveness of teaching on learning.
Professional Values
As a Loyola-trained educator, you'll emphasize the importance of each of your students as an individual. You'll have high expectations for your students and values the experiences of diverse students. And you'll have the tools and training to address societal issues like inequitable resources and institutional barriers to success for all.
Curriculum
All of Loyola's Bachelor of Science in Education (BSEd) degrees use the Teaching, Learning, and Leading with Schools and Communities (TLLSC) curriculum as its foundation. It's an approach that will help you stand out when you're searching for your first job.
The TLLSC curriculum focuses on hands-on learning. Your studies will be built around four Cornerstones—partnering with schools and communities, classroom diversity, ongoing classroom experience, and participating in professional learning communities.
As you learn and grow, you'll progress through the three Phases of the program. These phases will guide you through a comprehensive experience that will prepare you to make a difference with learners in diverse settings.
BSEd in Elementary Education Sequence of Classes [PDF]
Program Benefits
Get extensive classroom experience in diverse settings through Loyola's partnerships with schools and communities.
Graduate with eligibility for an ELL (English Language Learners) endorsement.
Graduate from a fully accredited college that prepares students for licensing and advanced board licensure.
Continually collaborate with faculty and students at all levels within your chosen specialty through professional learning communities.
Earn a teacher certificate through the International Baccalaureate Organization (bilingual/bicultural, elementary and secondary education graduates)
Tuition and Financial Aid
The School of Education and Loyola's Financial Aid Office are committed to helping students secure the necessary financial resources to make their education at Loyola affordable.
Outcomes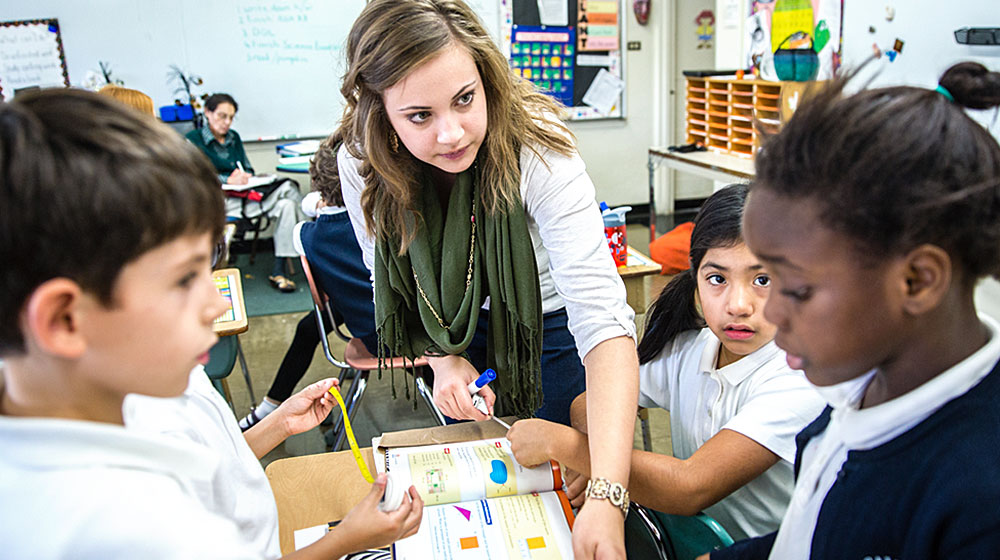 Jackie Martin (BSEd 'TK)
5th and 6th Grade Religion and Science Teacher
St. Isaac Jogues Parish Catholic School, Hinsdale, IL
"All of my professors have in some way shaped my understanding of the world. I also believe they've each taught me different aspects of teaching."