Rambler Read
Each year, all new students read the same book over the summer as an introduction to academic and student life at Loyola. We hope this shared experience can foster discussion and engagement on important issues during students' first-year at Loyola.
We are excited to announce that the 2021-2022 Rambler Read is Thick: And Other Essays by Tressie McMillan Cottom. In eight treatises on beauty, media, money, and more, McMillan Cottom is unapologetically "thick." Deemed "thick where I should have been thin, more where I should have been less," McMillan Cottom refuses to shy away from blending the personal with the political, from bringing her full self and voice to the fore of her analytical work. Thick "transforms narrative moments into analyses of whiteness, black misogyny, and status-signaling as means of survival for black women" with "writing that is as deft as it is amusing."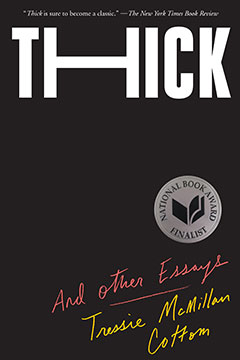 More information is forthcoming about an upcoming visit to campus by McMillan Cottom, and how the text will be integrated into the Loyola Experience during the 2021-2022 academic year. Please return to this webpage for updates as they happen.
For more information about the Rambler Read, or to request a review copy, please contact New Student Programs at firstyearexperience@luc.edu.