Benjamin Marton
School of Social Work
Benjamin Marton
Benjamin Marton is one busy man.
Marton, who is studying for his master's degree in social work, serves as a graduate and research assistant for two professors, is the president of the School of Social Work Student Organization, and works several days a week as an intern at Loyola Community and Family Services. Despite that heavy schedule, he's still maintained a near-perfect 3.96 GPA.
Here, he talks about the value of a strong mentor, the need to speak up in class, and why he wants to eventually earn a PhD.
What's your favorite Loyola memory?
My first year here I attended what was then called Qmunity!, an LGBTQIA college summit hosted by Student Diversity & Multicultural Affairs. It was an affirmation of my own identity, and more importantly, it was an empowering experience to be surrounded by people with similar and differing identities than my own. I was so moved by the experience that I helped plan the summit the next year, aptly renamed Q-Summit.
Talk a little about a professor or mentor who inspired you.
It's difficult to name just one, but a special shout out has to be sent to Professor Terri Kilbane. I have been her graduate assistant for almost a year and a half now. When I applied for the position, I had very few identifiable social work skills. Still, she patiently guided me through so many activities that I thought I'd never have the capabilities to do—including trusting me to present with her at a symposium in New York.
Tell us about your volunteer work and/or involvement in student organizations and what it means to you.
My first internship was with StreetWise and The Night Ministry, where I came to a better understanding of the systems of oppression faced by so many homeless Chicagoans. This year I am at Loyola Community and Family Services, which is an amazing opportunity to help local residents. And my work on the School of Social Work Student Organization has given me the opportunity to serve other students in meaningful ways.
Any advice you would give students about how to get the most out of their time at Loyola?
Don't let fear stop you from putting yourself out there. When I started the social work program, I made every attempt to hide and not say anything in class. It wasn't until I started speaking up for my needs and the needs of others that I began to see growth. Now, I speak in front of large groups of people, present at professional symposiums, and am working toward empowering others to do the same.
And finally, what do you hope to be doing 10 years from now?
Eventually, I would love to get my PhD and do research full time. I think it's important, though, to work with people before jumping straight into research. So I want to obtain a clinical license and work with LGBTQIA+ youth as a clinician who works toward empowering them to be advocates for change (and for themselves) and active members of social justice movements.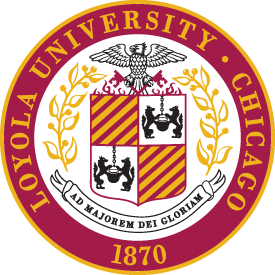 Presidential Inauguration
On Friday, November 4, 2016, Loyola University Chicago celebrated the inauguration of Jo Ann Rooney, JD, LLM, EdD, as the University's 24th president. The theme for Dr. Rooney's inauguration was "Building a More Just, Humane, and Sustainable World." Photo Gallery
The 2016-17 President's Medallion Recipients