Katina Tole
School of Education
Katina Tole
Katina Tole has packed a lot into her four years at Loyola.
Tole, who is getting degrees in secondary education and mathematics, has been a member of the Loyola dance team, a tutor for at-risk school children, an active volunteer on campus, and more. And she's done it all while maintaining a 3.9 GPA.
Here, she talks about her love of dancing, where she hopes to be in 10 years, and why every student should go to at least one Loyola event (hint: free food).
What's your favorite Loyola memory?
It would be when my childhood dance instructor, Rebecca McCarthy, came to watch me perform on the Loyola dance team. This was such a gratifying experience because I was her student for 15 years. I was so proud to show her my accomplishments and how she has impacted my life both on and off the dance floor.
Talk a little about a professor or mentor who inspired you.
Hands down, James Breunlin in the School of Education was my most inspirational professor and mentor. I have had the pleasure of working with professor Breunlin for the past 3½ years, and I knew from our first meeting that I wanted to bring his passion about math into my future classroom. I cannot even begin to describe all the lessons I have learned from him—there are simply too many to count.
Tell us about your volunteer work and/or involvement in student organizations and what it means to you.
Being a member of the dance team was one of the best experiences I had at Loyola. One of my favorite volunteer events with the team was the annual Christmas with Santa on campus; it was so gratifying to share my love of Christmas and school spirit with all the children and their families. I remember looking up to those older dancers at events like this, and it was an honor to carry on the tradition.
Any advice you would give students about how to get the most out of their time at Loyola?
Dive in headfirst and get involved on campus. Going away to school can be scary, but learn to love everything that Loyola has to offer. From the amazing staff to the incredible city our school is in, seek out opportunities and run with it. Also, go to the school events. They're really fun and usually provide free shirts and food, which is always a win!
And finally, what do you hope to be doing 10 years from now?
I hope to be living the dream: high school principal, married, and raising children. It's also important for me to work near where I live so I can be invested in the community. I loved having some of my high school teachers living in my neighborhood. It was always a pleasant surprise to run into them outside the classroom, and I hope to do the same with my students one day.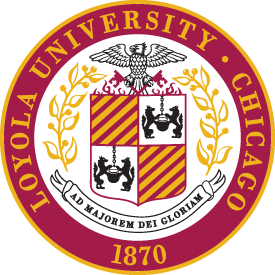 Presidential Inauguration
On Friday, November 4, 2016, Loyola University Chicago celebrated the inauguration of Jo Ann Rooney, JD, LLM, EdD, as the University's 24th president. The theme for Dr. Rooney's inauguration was "Building a More Just, Humane, and Sustainable World." Photo Gallery
The 2016-17 President's Medallion Recipients