Christie Kochis
Institute of Environmental Sustainability
Christie Kochis
Christie Kochis wants to make the world a better—and greener—place.
Kochis, who is getting degrees in environmental studies and business management, has worked on several eco-friendly initiatives at Loyola and has been an intern in the Office of Sustainability since 2013. Off campus, she's worked for Nielsen and Sustainable Business Australia—all with an eye toward the environment.
Here, she talks about her favorite Loyola memory, her leadership role with the Student Environmental Alliance, and how she wants to help businesses see the value in sustainability.
What's your favorite Loyola memory?
Last year I helped host the Know Tomorrow: Climate Change Day of Action at Loyola, along with 60 other universities across the nation. It was a culmination of months of preparation working with inspired environmental professionals and passionate students. We educated the Loyola community about the importance of climate change through social media, personal pledges, funky photographs, and interactive activities.
Talk a little about a professor or mentor who inspired you.
I've had several influential mentors who have supported me to get to where I am today. One person in particular who has helped shape my Loyola experience is Aaron Durnbaugh, Loyola's director of sustainability. He has shared his wealth of sustainability knowledge as well as his professional connections to provide me with more opportunities for learning and growth.
Tell us about your volunteer work and/or involvement in student organizations and what it means to you.
I've been involved in the Student Environmental Alliance (SEA) since my freshman year at Loyola, and I've been the president for the last two years. I worked with our team to educate the Loyola community on environmental topics and bring change to our university through our campaigns. Every moment of this experience has been rewarding, and it's helped me discover who I am as a leader.
Any advice you would give students about how to get the most out of their time at Loyola?
Four years may seem like a lot of time, but it passes faster than you expect. So it's important to be thoughtful about how you delegate your time and energy. You can be very busy and involved in a lot of organizations, but that doesn't mean you are maximizing what you could get out of each experience. Know yourself and your limitations—and then choose the commitments you are most passionate about.
And finally, what do you hope to be doing 10 years from now?
I would like to make a difference within businesses and the way they think about their role in relation to the environment. Communicating the value of sustainability to my employer and company will be my primary goal and challenge. Wherever I end up, I want to work toward bettering our society and our environment—and to be happy while doing it.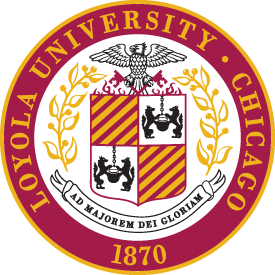 Presidential Inauguration
On Friday, November 4, 2016, Loyola University Chicago celebrated the inauguration of Jo Ann Rooney, JD, LLM, EdD, as the University's 24th president. The theme for Dr. Rooney's inauguration was "Building a More Just, Humane, and Sustainable World." Photo Gallery
The 2016-17 President's Medallion Recipients