Lauren Kunzer
Marcella Niehoff School of Nursing
Lauren Kunzer
Lauren Kunzer blends academics and service like few others.
She's been an active volunteer for several organizations in Chicago, and she's also travelled to Lourdes, France, on a service trip to the region's famed baths. In the classroom, she's a standout student as well and was recently inducted into Alpha Sigma Nu, the Jesuit honor society.
Here, she talks about her mentor, what she's learned as a volunteer, and why every student should go to at least one Organization Fair at Loyola.
What's your favorite Loyola memory?
I had the great pleasure of studying abroad for four months at the John Felice Rome Center. While there, I immersed myself in the Italian culture—speaking the language, eating the food, and experiencing day-to-day life in a foreign country. From a mushroom festival in a hidden Italian valley to great monuments like Edinburgh Castle, my study abroad experience was one of self-growth and discovery.
Talk a little about a professor or mentor who inspired you.
Professor Phyllis Ann Solari-Twadell has been an amazing inspiration and mentor for me. Yes, she helped me grow academically, but she also helped nurture my mental and spiritual health. I met her in a cultural nursing class my sophomore year. Since then, I developed a very meaningful and lasting relationship that has provided me with many professional, academic, and personal opportunities here at Loyola.
Tell us about your volunteer work and/or involvement in student organizations and what it means to you.
I am a leader for Loyola4Chicago, a volunteer program in which students go into the community and work toward justice. I am the president of the Undergraduate Nursing Research Council, which raises awareness of research opportunities for nursing students. I am also a Christian Life Community member and a Eucharistic minister and lector at Madonna della Strada. Each of these activities reminds me to seek God in all things and go and set the world on fire.
Any advice you would give students about how to get the most out of their time at Loyola?
Go to the Organization Fair and get involved in everything that sounds interesting to you. As time goes on, you'll figure out what you are passionate about. Also, get to know your professors. Many of the opportunities that I have had stemmed from getting to know my professors on a more personal level. And finally, study abroad. It will grow you personally and broaden your worldview.
And finally, what do you hope to be doing 10 years from now?
One of the beauties of nursing is that there are countless things I can pursue in my career. Ten years from now I hope to have obtained my nurse practitioner degree in pediatrics and be working in a pediatric hospital. I also hope to still be volunteering in the community and traveling the world—and have a family of my own.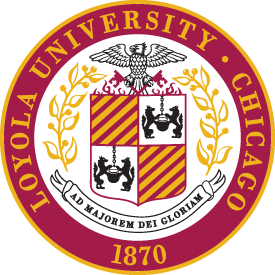 Presidential Inauguration
On Friday, November 4, 2016, Loyola University Chicago celebrated the inauguration of Jo Ann Rooney, JD, LLM, EdD, as the University's 24th president. The theme for Dr. Rooney's inauguration was "Building a More Just, Humane, and Sustainable World." Photo Gallery
The 2016-17 President's Medallion Recipients