Cristina Rodriguez
College of Arts & Sciences
Cristina Rodriguez
From mentor to researcher, volunteer to retreat leader, Cristina Rodriguez has done a little bit of everything at Loyola.
Rodriguez—who also is a McNair Scholar, a Gannon Scholar, and a member of the Maroon and Gold Society—has conducted research around the world and attended academic conferences across the country. But no matter what she's doing, she does it with one goal in mind: to help others.
Here, she talks about her time overseas, the lessons she learned from her mentor, and how she's not afraid of a good challenge.
What's your favorite Loyola memory?
Well, it actually didn't take place at Loyola in Chicago but at Loyola's Vietnam Center. It was my third week there and we were on a boat for a snorkeling tour. I remember looking over the side of the boat mesmerized by the crystal clear water and seeing fish swim near us—and then jumping in. Hands down, one of the best weekends of my life.
Talk a little about a professor or mentor who inspired you.
I've had so many great professors, but Aurora Chang of the School of Education really stands out. She showed me the true value of research and gave me the opportunity to actually find out what I was capable of. She had me writing grants for research funds with her on a Friday evening over the summer. Writing a 10-page paper for my political sciences classes now is a walk in the park compared to that.
Tell us about your volunteer work and/or involvement in student organizations and what it means to you.
One of my most valuable experiences has been interning at the Catholic Charities Immigration Center. I got to work with clients and learn about immigration policy on a whole new level, and I became part of a process in which someone's life completely changes. It helped me find my passion for working with marginalized populations, and I eventually conducted one of my research studies there.
Any advice you would give students about how to get the most out of their time at Loyola?
Two things: Don't limit yourself to your major; and take advantage of every opportunity you have. As a sophomore I was a biology major working on a medical research study in Mexico, but by my junior year I was an anthropology and sociology major working on a study of undocumented students. It's OK to be lost—I know I was—but to find yourself you have to get out there and keep trying until you find something you enjoy.
And finally, what do you hope to be doing 10 years from now?
I want to have my PhD in justice studies, as well as my law degree and be both a professor and elected official working for the city of Chicago. I want to be able to write legislation and policy that does not exclude or marginalize the minorities of our city. I know it will be a difficult path, but I like a good challenge!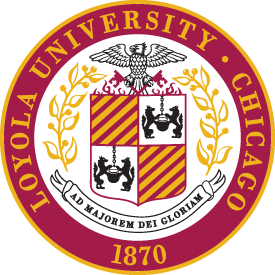 Presidential Inauguration
On Friday, November 4, 2016, Loyola University Chicago celebrated the inauguration of Jo Ann Rooney, JD, LLM, EdD, as the University's 24th president. The theme for Dr. Rooney's inauguration was "Building a More Just, Humane, and Sustainable World." Photo Gallery
The 2016-17 President's Medallion Recipients