Heather Nelson
School of Law
Heather Nelson
As a former teacher, Heather Nelson brings a unique perspective to the law.
Nelson, who ranks 7th in her class, spent several years teaching Spanish to low-income students in Oakland, California, and Washington, DC. It helped her see first-hand the difficulties that many students face in—and outside—the classroom. Now, she's a Civitas ChildLaw Fellow and a tireless advocate for students' rights and equality.
Here, she talks about her extensive volunteer experience, two professors who inspired her, and how she hopes to break the school-to-prison pipeline.
What's your favorite Loyola memory?
I'd have to say competing at the National Moot Court Competition in Child Welfare & Adoption Law in Columbus, Ohio. Our team worked for months writing our brief, researching our topic, and preparing oral arguments. It was both terrifying and exhilarating to argue in the Supreme Court of Ohio before experts in child welfare and adoption law.
Talk a little about a professor or mentor who inspired you.
Dean Michael Kaufman, my civil procedure professor, captivated our class with his love for teaching and his ability to simplify complicated matters. His passion for education, the law, and social justice is contagious. Professor Diane Geraghty is another inspiration. She's the director of the ChildLaw Center and a constitutional law guru, and she travels the world to share her knowledge of children's legal rights. We're lucky to have her at Loyola.
Tell us about your volunteer work and/or involvement in student organizations and what it means to you.
I've volunteered with a variety of legal and student organizations. At LAF, I learned how to advocate for children in need of educational services. I continued this work through SUFEO, Loyola's advocacy hotline for students suspended in Chicago schools. And I learned about criminal justice and juvenile parole at Cabrini Green Legal Aid. These experiences taught me that although combating the school-to-prison pipeline is frustrating, it is also inspiring and imperative.
Any advice you would give students about how to get the most out of their time at Loyola?
Take advantage of the many events hosted at the School of Law. Almost every Friday, experts come to Loyola to discuss hot topics in the legal world. Also, Loyola's student organizations create numerous opportunities to serve the community. Pay attention to the announcements, mark your calendar, and attend the events.
And finally, what do you hope to be doing 10 years from now?
I left the classroom in 2014 determined to advocate for my students' education, rights, and equality through the law. In 10 years, I hope to have found a way to combine my passion for educational equity and juvenile justice reform so that I can help thwart the school-to-prison pipeline.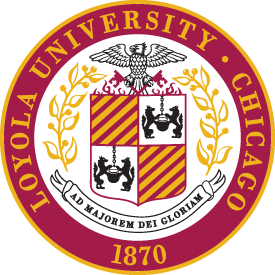 Presidential Inauguration
On Friday, November 4, 2016, Loyola University Chicago celebrated the inauguration of Jo Ann Rooney, JD, LLM, EdD, as the University's 24th president. The theme for Dr. Rooney's inauguration was "Building a More Just, Humane, and Sustainable World." Photo Gallery
The 2016-17 President's Medallion Recipients