Join Our Team
The Department of Residence Life hires students for a variety of student and professional leadership opportunities. We encourage you to read more and apply today.
---
Student Services Positions
Student Services positions in the Department of Residence Life are hourly positions that require Federal Work Study funding to be eligible. These positions assist in the day to day operations of the residence halls and department. They are integral members of the Residence Life team, responsible for helping to facilitate a welcoming, caring, healthy, and safe environment by providing quality support and promoting community rooted in the Jesuit traditions of Loyola University Chicago. These positions include our Desk Receptionists, Desk Managers, Student Office Assistants, and Furniture Crew. To learn more about these opportunities, read the position descriptions below or
click here to view an informational video
.
---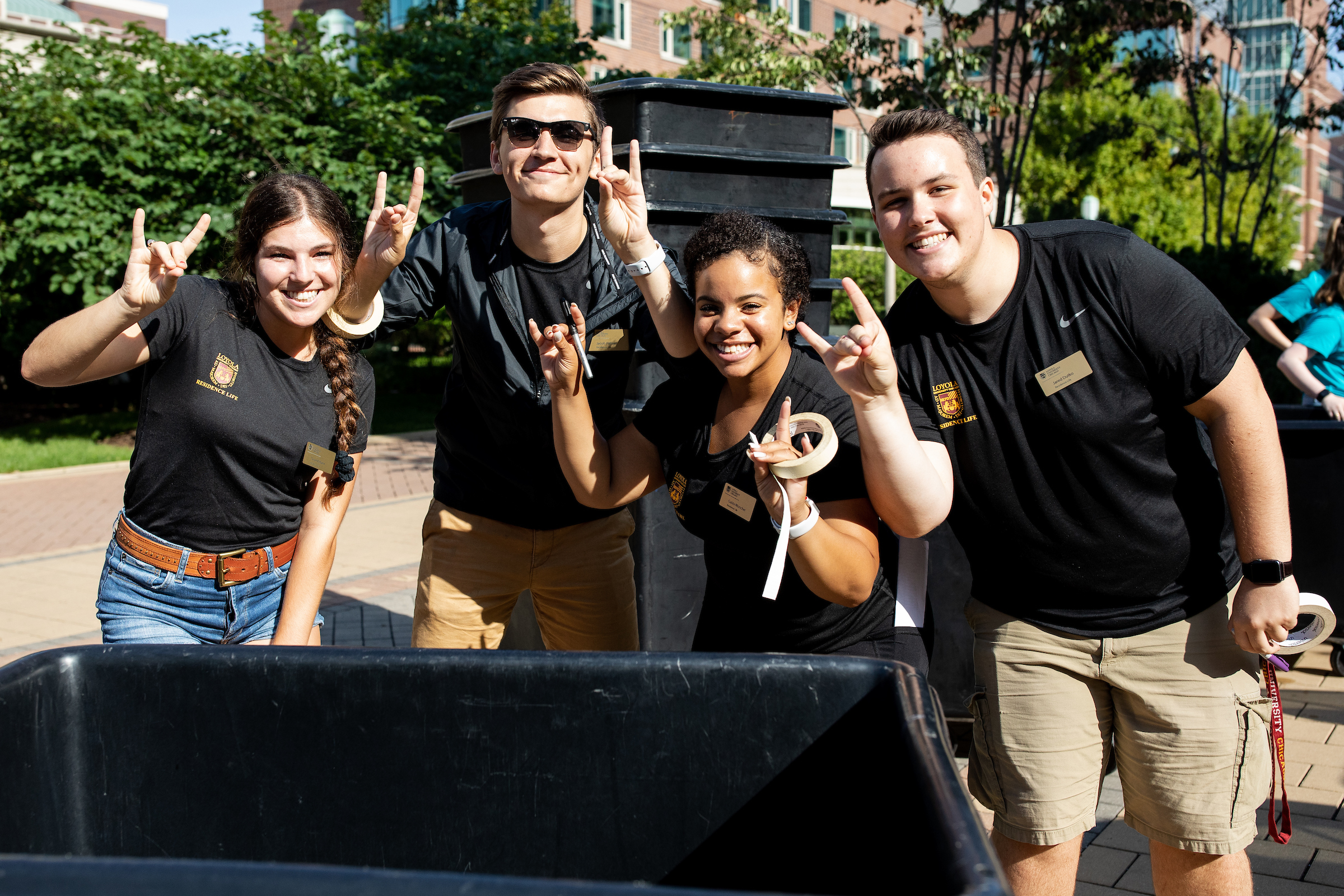 Resident Assistant Positions
‌
Resident Assistants are primarily responsible for community building and support in the residence halls. The Resident Assistant (RA) position is a unique leadership opportunity for students to meaningfully contribute to the residential community at Loyola University Chicago. RAs serve as resources, community builders, administrators, role models, and peer educators for residents.
As members of a residence hall team, RAs work collaboratively with our staff to create a vital and engaged living-learning community. Together, the hall team provides programs and services that support the mission, vision, and learning outcomes of the Department of Residence Life. With the goal of creating transformative living environments in the residence halls, RAs are responsible for building and facilitating a positive and effective community. RAs on Loyola's Chicago campuses must be able to serve in the position for the entire academic year.
2019-2020 RA Position Description
(PDF)
Study Abroad Opportunity!
Loyola's
John Felice Rome Center (JFRC)
also hires RAs to study abroad while working with residents at our Rome Campus for spring semester, fall semester, or the entire year. Recruitment and hiring for Rome RAs occurs on the same timeline as recruitment for Chicago RA positions.
Online applications for 2019-2020 RA positions are now closed. Applications for 2020-2021 positions will open in late November 2019.