archive
LUC Students Step Up to Aid Migrants in Chicago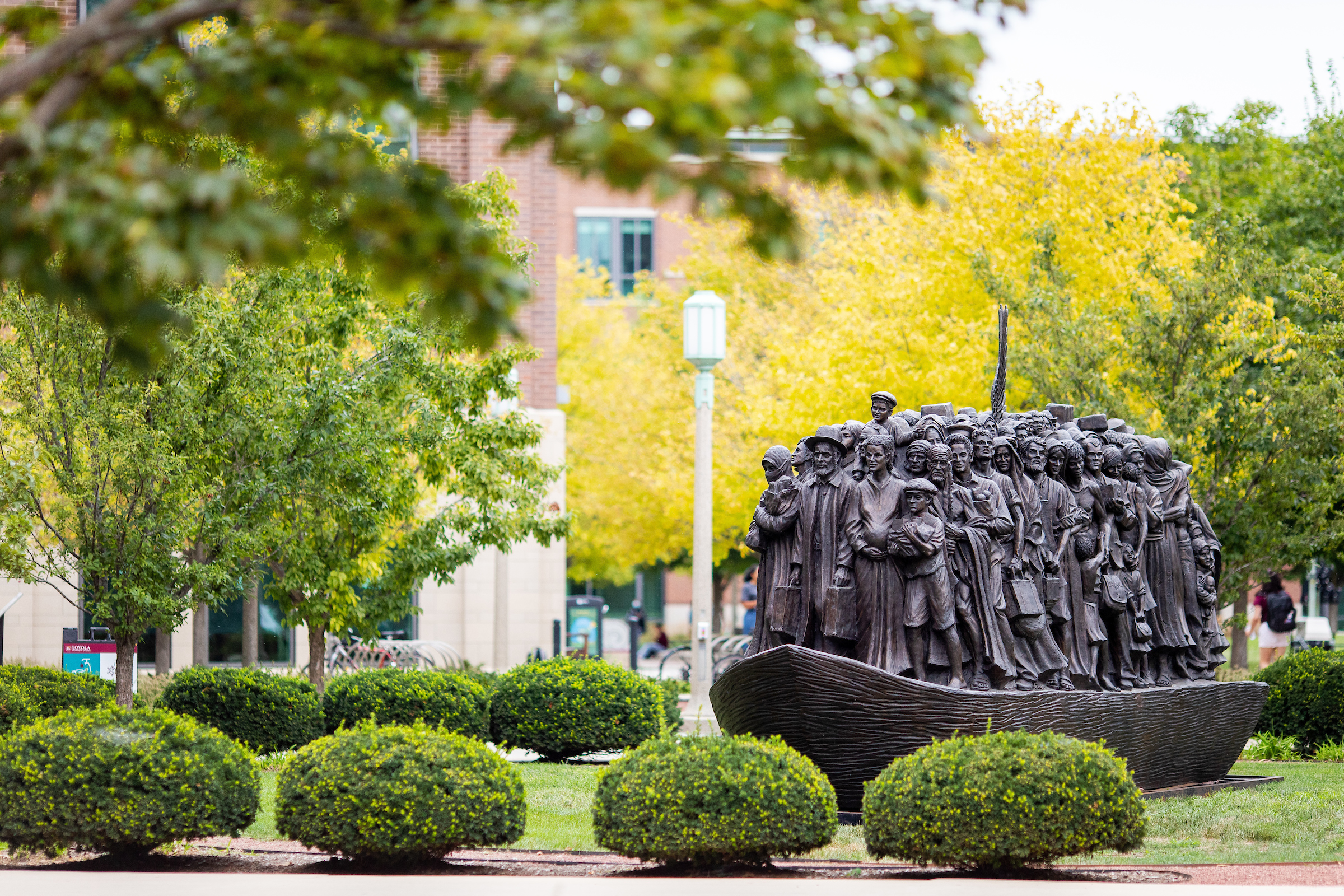 Meeting the basic needs of all people "with particular attention to the needs and empowerment of people who are vulnerable, oppressed, and living in poverty," is a tenet stated in the first sentence of the National Association of Social Worker Code of Ethics.
Few populations are as vulnerable at the moment as those of migrants who crossed the U.S.-Mexican border and then were transported by bus or plane to various sites across the country. To date, almost 4,000 migrants have been bussed to the Chicagoland area.
There are many stepping up to assist these people, including volunteers from Loyola University Chicago's School of Social Work.
Intake on Arrival
"The majority of the migrants were from Venezuela, but I had people from Colombia and Nicaragua," said Camille Morhun, an MSW student. "Part of what I was doing was intake. A lot of these migrants had nothing with them, just some paperwork with a court date for ICE."
Morhun volunteered through Catholic Charities of the Archdiocese of Chicago, who is assisting with intake and other services. Part of the intake process is cataloguing possessions, identifying anyone in need of medical care, and finding out if migrants had an intended destination within the U.S.
"I think this is incredibly dehumanizing the way these people have been treated," said Morhun. "Throwing them on a bus to be shipped out to an unknown city and state. Part of what we were doing was an orientation to the city of Chicago and the United States – what to expect when it comes to weather, prices, housing options, and things like that."
Morhun said some of these people have family or friends in other places across the country, but the bussing program has now made it more difficult to contact or travel to them. Catholic Charities has been attempting to arrange travel for some migrants who are hoping to reunite with loved ones in the states.
Mental Health Support
While intake is an important first step in welcoming these people to the city and country, other organizations are providing different kinds of aid to the migrants.
Esmerelda Insua is a student at Universidad Iberoamericana-Mexico City, currently working as an intern with Rincón Family Services and Loyola School of Social Work's Center for Immigration and Refugee Accompaniment. She's here as part of the school's two-way migration-based internship program with various Mexican Jesuit universities.
As a native Spanish-speaker, Insua has been providing mental health services to the new arrivals in their native language, though she said many of their experiences are traumatic and tough for them to express.
"It's very difficult to hear these stories," Insua said. "A lot of the moms I've been working with have told me the horrible things they went through to get here from Venezuela. Some don't want to talk about it because it's been so difficult. Some of them are starting to show PTSD symptoms."
Insua said Rincón is helping adults find work, enrolling children in schools, and helping migrants navigate the complicated legal process. Most of the migrants speak little to no English, underlining the importance of Spanish-speaking supporters like Insua and Morhun.
"When you're trying to give this type of support to someone who speaks Spanish, and you don't know how to speak Spanish, it can be very difficult to epxress yourself to the person. There's a lot of context and comfort lost. Maybe you can still help, but it can be difficult."
Gathering Essentials
Even those without social work experience are finding ways to get involved. Bernardo Gomez, a senior at LUC majoring in political science and global studies, has organized a donation drive in partnership with CIRA.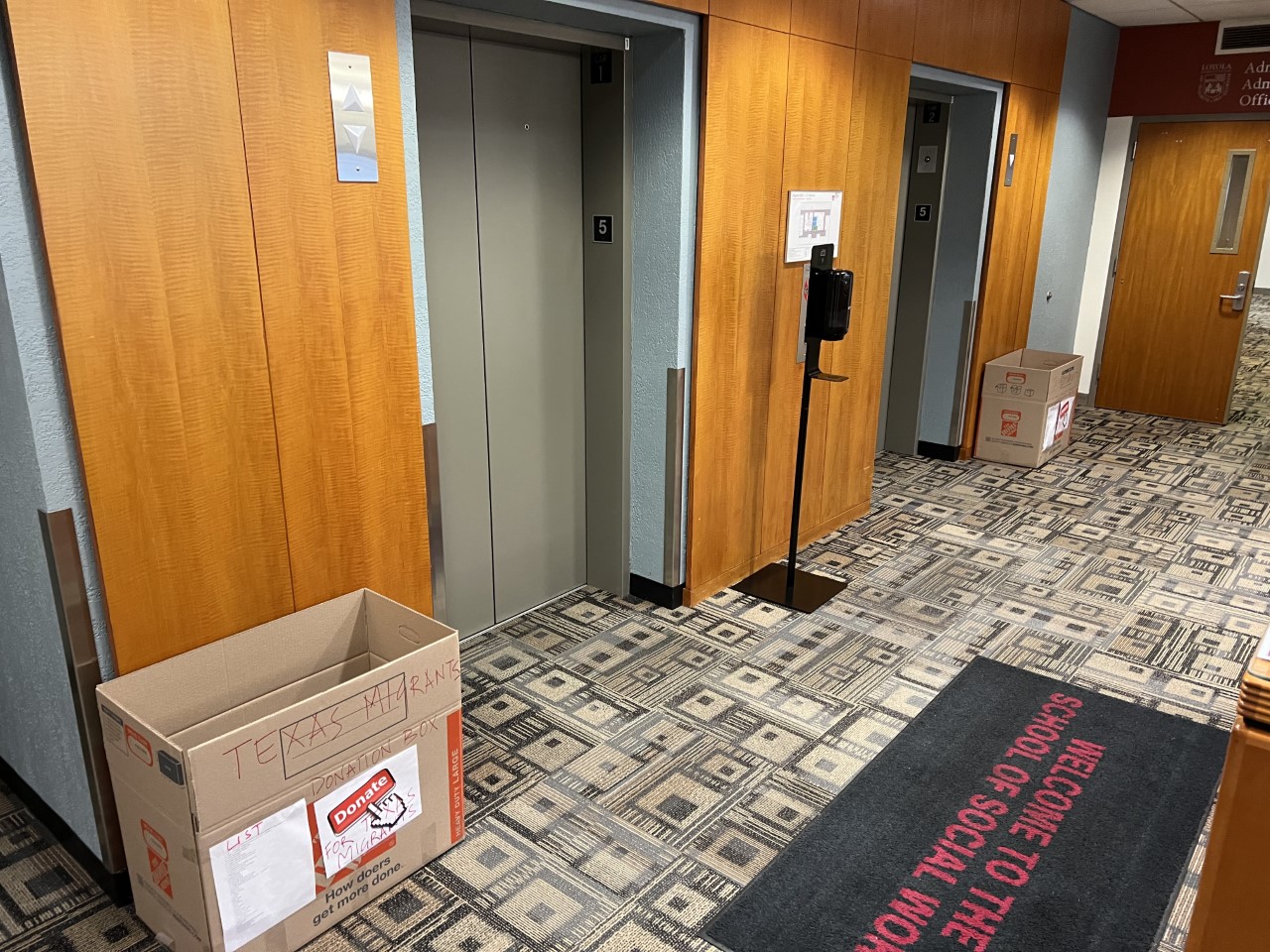 "When I heard about the migrant crisis coming from Texas, it struck me because, coming from a Latino family, I know these people coming here to get a better life. I imagine them as my family," he said. "I wanted to help out and make sure they know they're welcome."
CIRA Directors Maria Vidal de Haymes and Abha Rai were excited to create a partnership between CIRA and Gomez to make the drive happen.
Giving back to the community and supporting migrants closely aligns with CIRA's mission. The center has been instrumental in making the drive a success by rallying support from faculty and students within the School of Social Work.
Two donation boxes are set up on the 5th floor of Maguire Hall, where the School of Social Work offices are. Gomez has also been using his connections at work with the Community Safety Coordination Center to organize donation spots at various locations across Chicago. A complete list of donatable items can be found on the city's website, but as the weather gets colder, there is a particular need for coats, blankets, and hats.
"Since I work for the city, I wanted to utilize the resources I had to the maximum extent and be as involved as I possibly could," he said. "I would do this 100 times more, even if it wasn't my job. I want to make change for these people."