home_left
Post-Baccalaureate in Classical Studies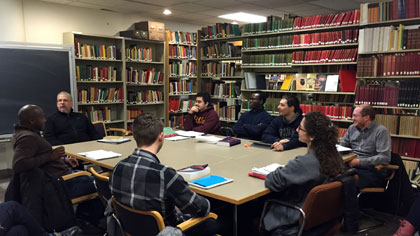 Do you need Greek or Latin to continue your studies, but already have an undergraduate degree? Do you want to go to grad school for classics, teach Latin, or read Greek philosophy in the original language? The Post-Baccalaureate Program might be right for you!
More Featured Stories
Extraordinary Alumni

Get involved with social justice in health care. That is Karen Aguirre's (BS '15) motto—and her advice to current nursing students. "Sometimes an issue is overlooked because of the complex problem-solving that it comes with," she says.


Women in STEM

Loyola's Girls Who Code chapter aims to provide a space for young women to learn, teach, and explore coding in an inclusive and supportive environment.


Ignatian Heritage Month

Musick is the residential services coordinator at the Open Door Youth Shelter in the West Town neighborhood of Chicago, part of the Night Ministry.