Summer Housing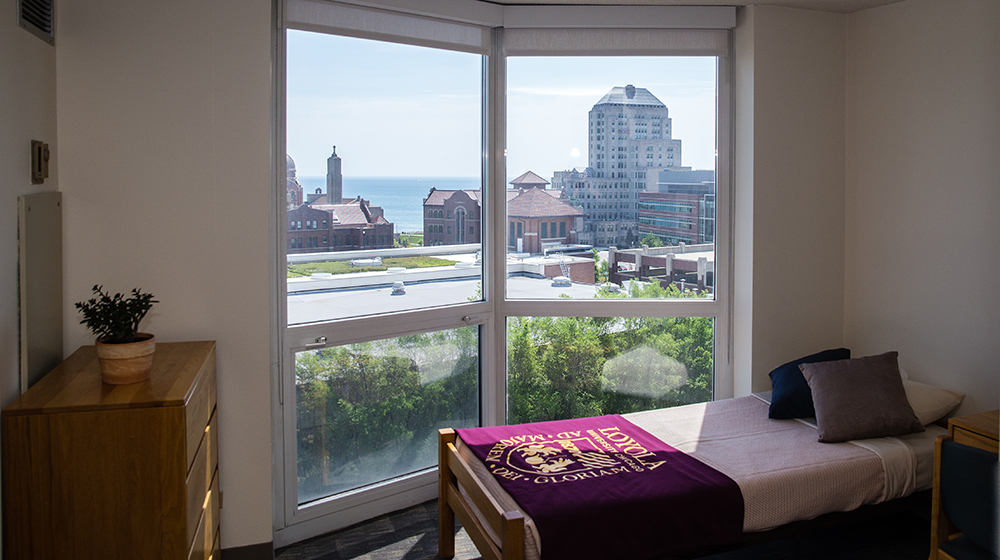 Interested in summer housing for 2019?
Loyola's Department of Conference Services has available housing for summer interns, visiting students, and guests not affiliated with the University at our Lake Shore (Rogers Park) and Water Tower (Gold Coast) Campuses from May 23–August 4, 2019. Loyola has a variety of room types including apartment style suites (2 bedrooms, 2 baths, shared kitchen and living room), rooms with private baths, and rooms with community baths. All rooms at the Lake Shore Campus have two extra long twin beds and are available for single or double occupancy. At the Water Tower campus, select from extra long twins, queens, or double queen rooms.
If you are a visiting intern looking for housing please review our Intern Housing Page
Book a Room
To view availability and secure your housing, click here
For questions contact loyolalodging@luc.edu or call 312.915.6178.
Rates
If you are interested in viewing our individual or group rates, click here.
Standard Amenities
For a detailed list of all standard room and building amenities, click here.
Residential Guest Housing Options
Water Tower Campus (Gold Coast):
Baumhart Hall
Baumhart Hall is a high-rise deluxe apartment-style residence hall with approximately 420 beds in the heart of downtown Chicago. Open year-round for short and long term-stays, Baumhart Hall is ideal for visiting students, conferences, work relocations, and guests visiting Chicago. Baumhart Hall is Energy Star rated in the top 75% of energy conservation.
Learn More
Lake Shore Campus (Rogers Park):
de Nobili Hall
de Nobili Hall is one of Loyola's newest residence halls and is a Silver LEED certified building. This five-story building opened in fall 2013 and has 200 beds, semi-private baths, lounges, laundry facilities, and a 350-seat dining hall.
Learn More
Mertz Hall
Mertz Hall is the largest building and residence hall on the Lake Shore Campus. The building is connected to Centennial Forum and stands 19 stories tall with a large lounge and community kitchen on the second floor. Mertz Hall is comprised of single, double, and quad (limited) traditional rooms with community bathrooms and lounges located on each floor.
Learn More
Fordham Hall
Fordham Hall is a high-rise residence hall located on Sheridan Road and is the former site of the historic Granada Theater, a once majestic movie palace. The building offers studio double, 1-bedroom double, and 2-bedroom quad apartments with bathroom and kitchen. Learn More
Regis Hall
Regis Hall has 416 beds in a combination of both double and single-rooms with private bathrooms. Laundry facilities, lounges and study areas are located on each floor. The first floor includes a seminar room, multi-purpose room, and several lounges.
Learn More
San Francisco Hall
Completed in fall 2013, San Francisco Hall is a Gold LEED certified building and an integral part of the Center for Sustainable Urban Living. This is Loyola's first green residence hall and has 400 beds, a green cafe, greenhouse, and clean energy laboratory, along with many other eco-friendly features.
Learn More
Santa Clara Hall
Santa Clara Hall is a nine-story apartment-style residence hall located on the shores of Lake Michigan. This building re-opened in Fall 2008 as a newly renovated, 200 bed residence hall with two-bedroom, two-bathroom apartments. Each apartment features a full kitchen and living room.
Learn More
Simpson Hall
The Simpson Living-Learning Center is a five story residence hall with 400 beds and includes a combination of double and single occupancy rooms. The building features study and TV lounges with kitchenettes and laundry facilities on each floor. The ground floor features one of Loyola's dining facilities and a large multi-purpose room.
Learn More
Questions? Contact us at loyolalodging@luc.edu or 312.915.6178.