ALUMNI PROFILE
Michael Alkaraki (JD '06)
Reaching full potential
Michael Alkaraki (JD '06) teaches and mentors Loyola students
Each year, Loyola University Chicago School of Law recognizes outstanding alumni for their accomplishments and service. The 2021 St. Robert Bellarmine Award, which recognizes a graduate who earned a JD within the past 15 years for distinguished service to the community, to the legal profession, and to the School of Law, is awarded to Michael Alkaraki (JD '06).
Classmates and colleagues who nominated Michael Alkaraki (JD '06) for the St. Robert Bellarmine Award stress his significant career accomplishments—but they also note how generously he shares his experience with junior attorneys and attorneys-to-be.
"Mike is an excellent teacher, mentor, and role model for Loyola students," says Pete Hoste (JD '97). "He loves helping younger attorneys reach their full potential," says Drew Vaughn (JD '06). Jerry Latherow (JD '76) says, "Michael is a great example to law students, younger attorneys, and even attorneys who are older of how to practice law, comport himself on a personal level, and give back to Loyola."
A trial lawyer at Leahy Hoste Alkaraki, Alkaraki has recovered more than $50 million for plaintiffs he represents in matters of catastrophic personal injury, medical malpractice, product liability, and wrongful death.
"A Loyola law education prepares you to recognize you're part of the school's community and broader legal community. Loyola's great at keeping people engaged in all the ways they want to be."
Alkaraki serves in leadership roles in several bar associations and on the board of directors of Opportunity Knocks, a local not for-profit addressing the needs of young adults with developmental disabilities. He also participates in Wills for Heroes, an initiative that provides free estate planning to first responders and veterans. "Mike also plays a mean electric guitar," says Hoste. Alkaraki regularly performs at local venues with Chicago blues legend Mary Lane and has even played on stage with Buddy Guy.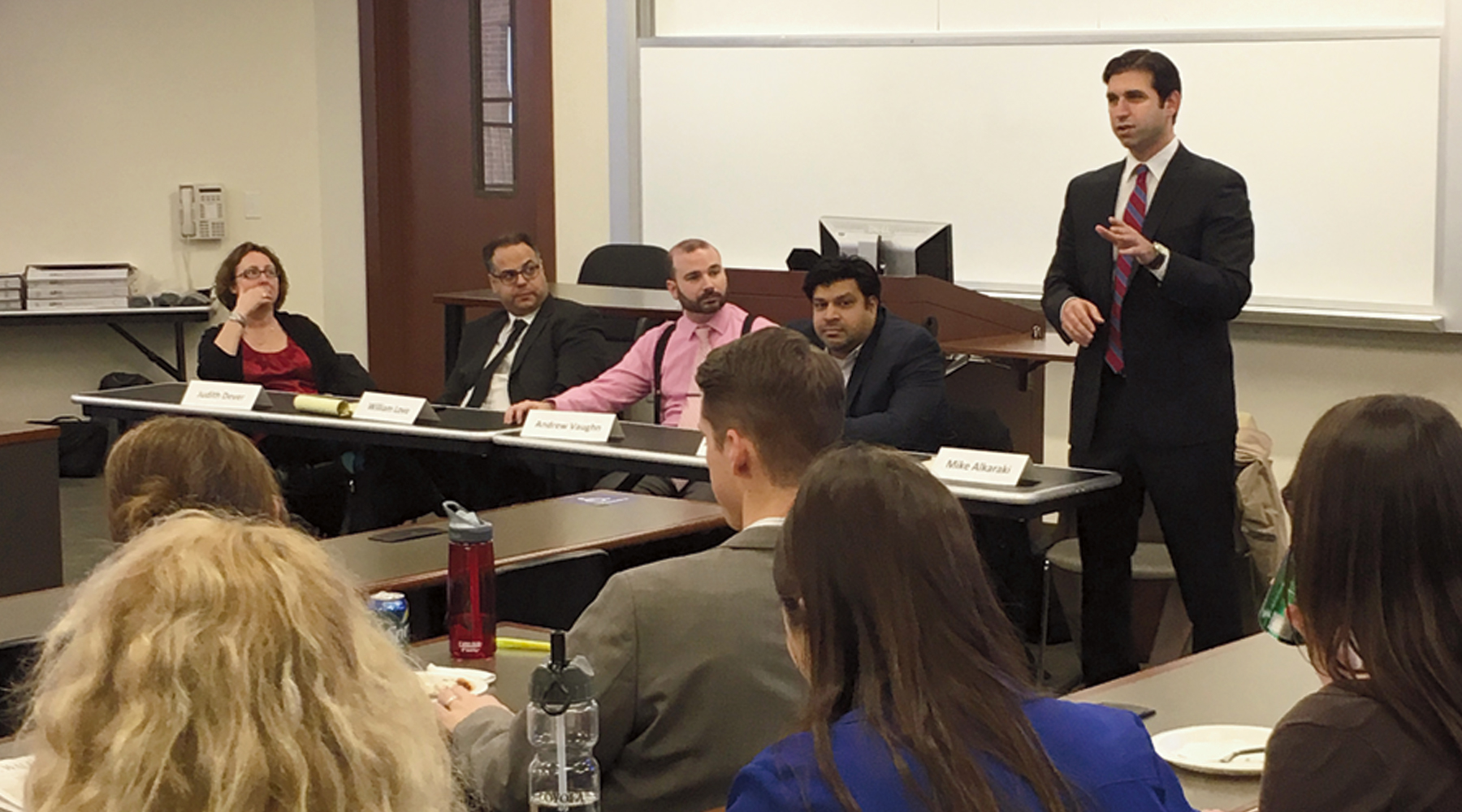 Alkaraki's contributions to the law school are numerous: He's a member of the Law Alumni Board of Governors and Dean's Diversity Council, serves as a judge in trial competitions, and shares professional insights as a panel speaker. As an adjunct professor, Alkaraki teaches courses in legal writing, trial practice, and professional identity formation. The willingness to give back, he says, "is built into the infrastructure of the school. By design, a Loyola law education prepares you to recognize you're part of the school's community and broader legal community. Loyola's great at keeping people engaged in all the ways they want to be."
An emphasis on building and keeping connections runs through all of Alkaraki's activities. "This profession is one in which relationships are emphasized," he says. "Especially in an adversarial situation, the way you work, your professionalism and civility, matter. Those relationships matter. It's easier to be on a case with good lawyers, and I try to be one. As everyone says, the world is round. You're going to work with those same attorneys again."
The Bellarmine Award "means a lot to me," Alkaraki says. "I'm very proud to be associated with Loyola." –Liz Miller