Christopher Columbus -- The Historical Figure
Who was he? What were his motivations and intentions in proposing his journey? What actions did he take upon landing in the Americas and what were the consequences?
Interviewee: Gabriella Airaldi, specialist on the history of the Mediterranean and international relations and professor of Medieval History at the University of Genoa.
Héctor García Chávez, Senior lecturer and director, Latin American and Latinx Studies program; Associate Faculty, WSGS and Honors program at Loyola University Chicago.
Photo: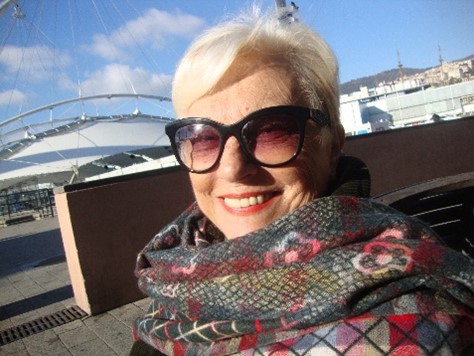 Biography:
GABRIELLA AIRALDI is an historian of international fame and professor emeritus at the University of Genoa, where she taught for almost fifty years. She is a specialist in Mediterranean history and intercultural relations from the Middle Ages to the modern age. As a visiting professor, she carried out research and missions abroad on behalf of the National Research Council (USA-Yale, Harvard; Canada, Cuba, Argentina, Peru, Spain, Portugal; France, UK, Germany, Belgium, Holland, Greece, Turkey , Cyprus; Israel, Lebanon, Morocco, Algeria, Tunisia, Bulgaria, Romania, Ukraine, USSR, China, Japan.) In 2003-2004 she directed the Archaeological Mission in China on behalf of the Ministry of Foreign Affairs and the University of Genoa. Member of the Scientific Commission of the New Colombian Collection and of the National Committee for the Celebrations of Christopher Columbus, she was Vice President of the Society of Italian Historians. Between 1997 and 2002 she was Councilor for Culture of the Province of Genoa and Director of the Ansaldo Foundation. From 2008 to 2013 she was President of the Regional Foundation for Culture and Entertainment of the Liguria Region and President of the "Paolo Emilio Taviani" Study Center on International Relations from the Middle Ages to the Contemporary Age. She is the author of over four hundred publications, including her latest books: Warriors and merchants. Stories of the Genoese Middle Ages, Nino Aragno Editore, Turin 2004 (Anthia Award).
Photo of Héctor García Chávez
Biography:
Dr. Héctor García Chávez holds a joint appointment in Women's Studies/Gender Studies Program and the Department of Modern Languages and Literatures and serves as Director of Loyola's interdisciplinary Latin American and US Latinx Studies Program. He is a Loyola Sujack Master Teacher and recipient of the prestigious Ignatius Loyola Award for Excellence in Teaching [https://www.luc.edu/cas/stories/archive/9-27-17-hectorgarciachavez.shtml].
He holds an M.A. and Ph.D. from The University of Chicago where he studied Iberian and Latin American Literatures, Literary Theory, and Cultural Studies. He teaches courses on Spanish language and Iberian-Latin American cultures, Latin American literatures and films, Latin American-US Latinx Studies, and Queer Theory for the Spanish B.A. Program, Loyola's Interdisciplinary Honours Program, and Women's Studies/Gender Studies Program (B.A. and Graduate Programs). His research interests and publications are in the areas of Masculinity studies and Queer Theory in Mexican Literature and XX/XXI Latin American Literatures and Film, Transnational and Border Studies, and US Latinx and Gender Studies. He has also been Director of Summer study-abroad programming on five occasions and most recently took both undergraduate and graduate students to study identity, migration, and gender in Barcelona [https://www.luc.edu/media/lucedu/modernlanguages/textfiles/flyers/Spain%20Summer%202017%20Barcelona%20WSGS%20201%20497%20Flyer.pdf].
He is a Board Member of two Chicago-based immigration advocacy organizations: Taller de José an NGO located in La Villita a majority Mexican-US American neighborhood on the southwest side of Chicago [https://tallerdejose.org/]; and MAKE Literary Productions/Lit&Luz Festivals [http://litluz.com/] which create unique series of readings, discussions, and performances featuring renowned authors in Chicagolandia and Ciudad de México. In the recent past has invited celebrated Mexican writers Jorge Volpi, Margo Glantz, Ignacio Solares, Eloy Urroz and Georgina García Gutiérrez to Loyola in collaboration with the Chicago Mexican Consulate and the UNAM-Chicago Campus where he is a Visiting Scholar. He is currently part of an international seminar housed at El Instituto Mora in Ciudad de México and is writing a book with seminar colleagues on scandals in the public sphere [https://www.institutomora.edu.mx/Seminarios/EsferaPublica/SitePages/inicio.aspx].