home_news
La Bohème at the Lyric Opera - Fall 2018
Over 40 students from Italian language classes attended La Bohème at the Lyric Opera on Saturday, October 20th.
Sigma Delta Pi Summer Study Abroad Scholarship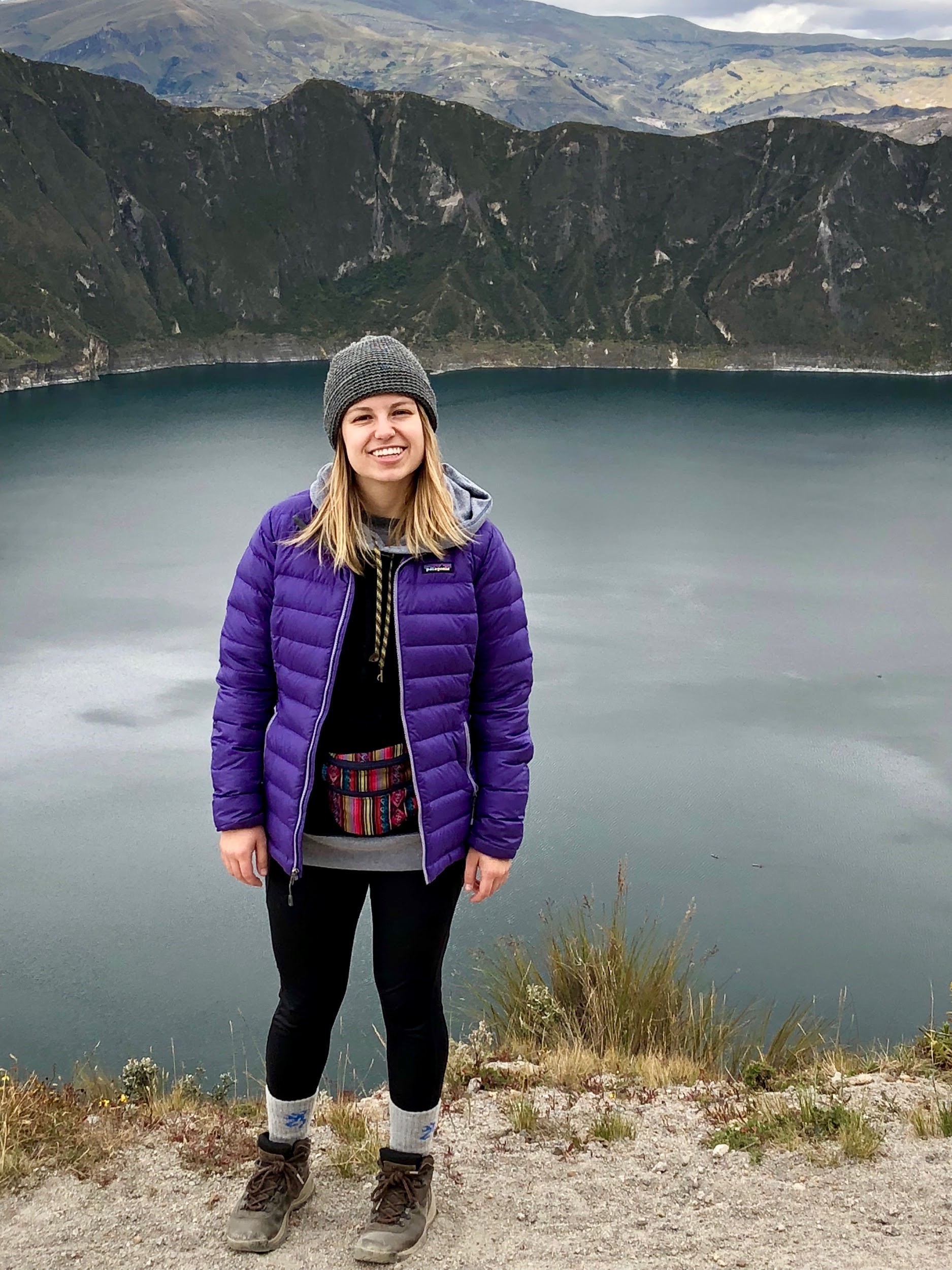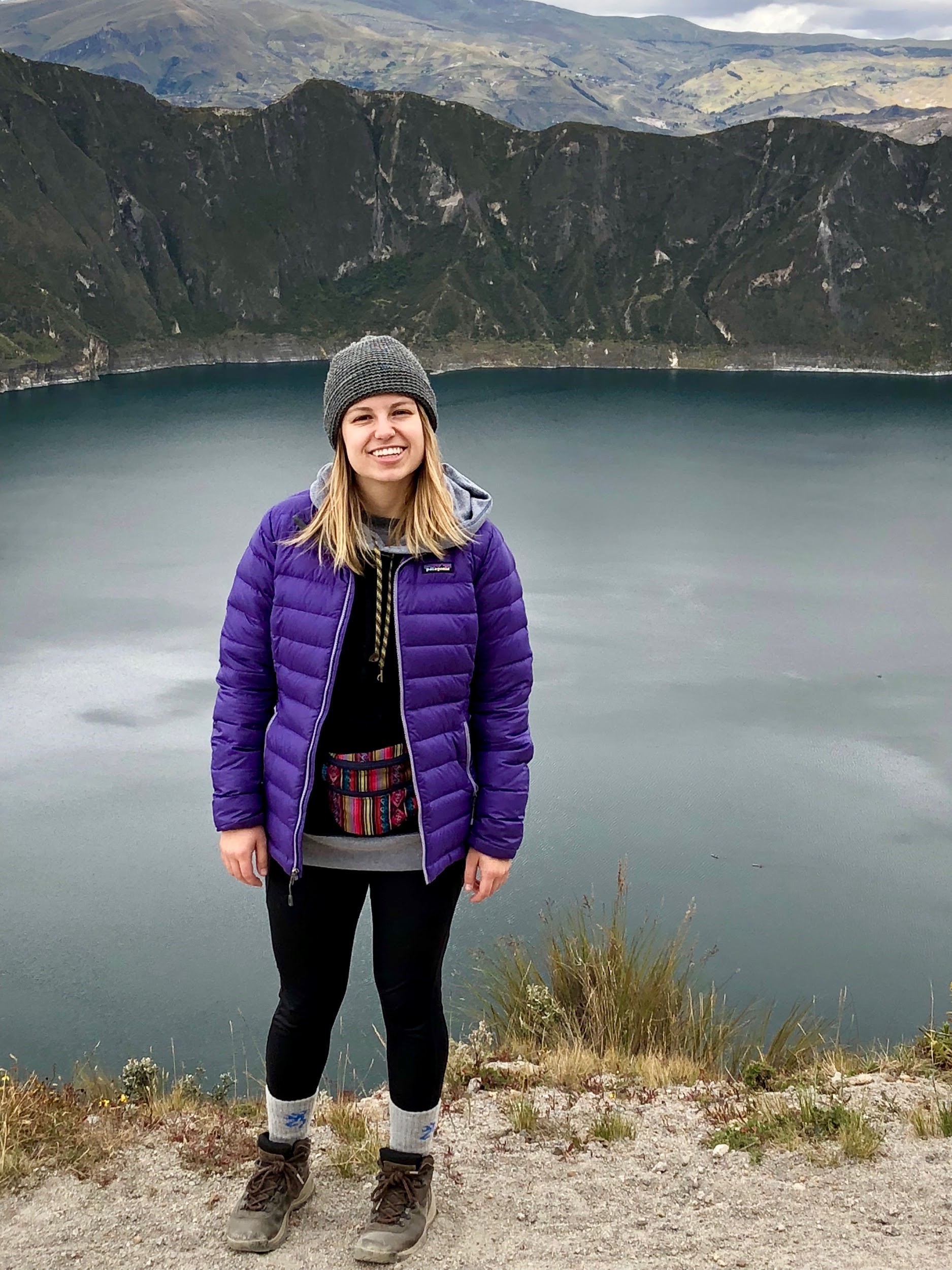 Congratulations to Ellie Kust, BA/MA student in Spanish in the Department of Modern Languages and Literatures, who won a Sigma Delta Pi study abroad scholarship to study in Ecuador during the summer of 2018. Ellie was inducted into Loyola's chapter (Iota Sigma) of Sigma Delta Pi as an undergraduate Spanish major during her junior year in 2017. She earned her BA in Spanish in May of 2018, and went on to study in Cuenca, Ecuador the summer after graduation. As a BA/MA student in Spanish, Ellie is earning her MA degree this year, and is the proud recipient of a Teaching Assistantship merit award.Please see here to find out more – ¡en español! – about her time in Ecuador: Ellie Kust Sigma Delta Pi Summer Study Abroad Scholarship
Social Justice Research Fellowship - Seraphina Meacham
Seraphina Meacham, Gannon Scholar and Honors undergraduate student, was awarded a LUROP grant (Social Justice Research Fellowship) for 2018-19 to conduct a research project, Immigrant Women and Art: Exploring Identity, under the mentorship of Dr. Cristina Lombardi.
​Seraphina will receive a total of $2000 in stipend and research fund. The project was born from the Fall 2018 section of HONR 210: Encountering Africa Seminar and the class content on refugee art by African women in Europe. It will gather information on African women producing art about and around Europe's refugee crisis. The project will culminate in the creation of website on the artists.
Congratulations, Seraphina!
Arabic: Your Ticket to the Middle East
MarHaba! My name is Theresa Smiley, and I'm incredibly excited to share a bit of my experience with Arabic outside of the Loyola community. I just finished my junior year, and I'm currently majoring in Global and International Studies and Political Science, with minors in Arabic Language and Culture, Islamic World Studies, and German Studies. Additionally, I recently returned from a semester studying abroad in Amman, Jordan, where I participated in an intensive Arabic language program through CET Academic Programs. It was a whirlwind of a semester, but in between all the studying and traveling I made some amazing friends and learned so much Arabic. Ustaadha Sawsan's Arabic 101 and 102 classes gave me a strong foundation in both fusHa (Modern Standard Arabic) and a'mia (the Jordanian dialect), and then CET built on those foundations to give me the skills I needed to navigate Amman.
http://blogs.luc.edu/eyeonthearabworld/2018/06/06/arabic-your-ticket-to-enjoy-the-middle-east/
2018 Loyola Graduate Symposium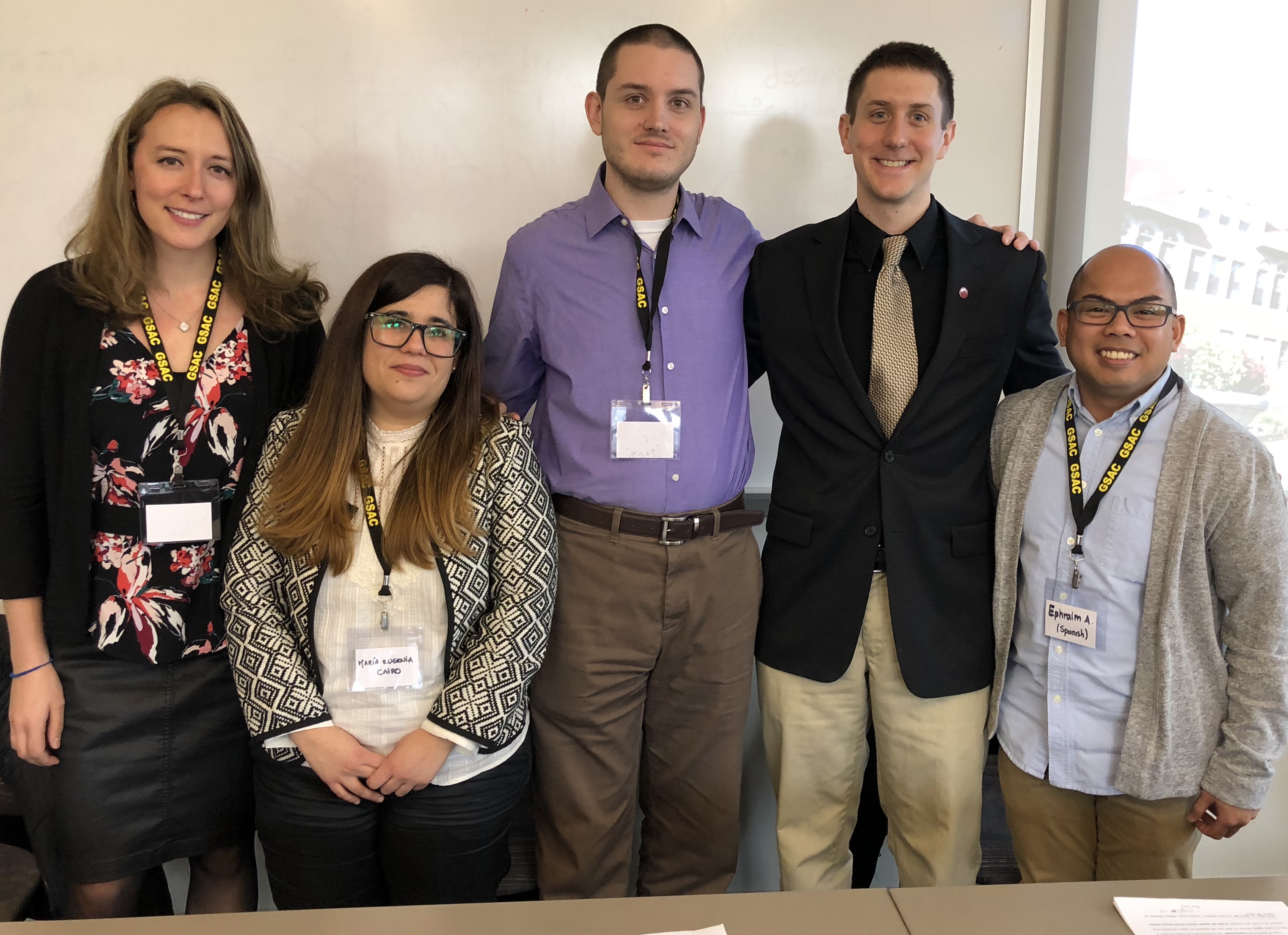 Students in the Spanish graduate program participated in the Loyola's annual graduate symposium on April 21, 2018. Pictured (L-to-R): Beth Maldonado, Eugenia Cairo, Karl Groneman, David Inczauskis SJ, and Ephraim Abocado.
2018 Midwest University Chinese Speech Contest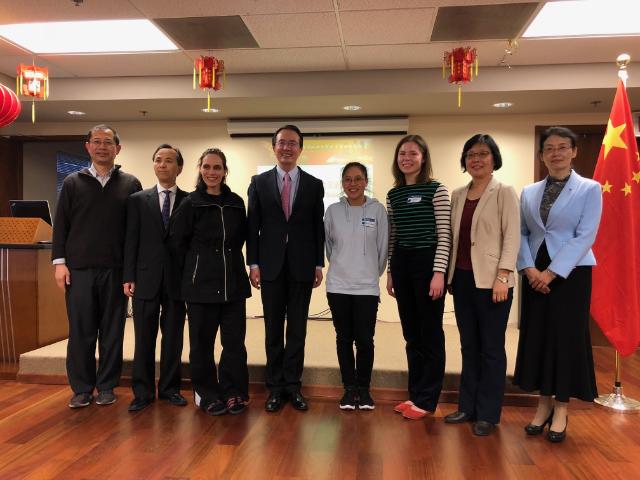 Four students enrolled in Chinese classes represented Loyola at the 2018 Midwest University Chinese Speech Contest at Lake Forest College on April 21, 2018. The contest drew 59 participants from 11 universities in five states in the Midwest. Our Level 3 (highest level) contestant, Cristina Conroy, won silver medal with a speech on the advantages of learning Chinese. Our Level 2 contests, Michael Shay and Shuen Shuen Tan, both won bronze, and so did our Level 1 contestant, Julia Cournoyer. After the closing ceremony, the contestants, teachers, judges, and event sponsors enjoyed a sumptuous Chinese hot pot dinner together. All the students were excited to have had the opportunity to show off their language skills and get to meet Chinese learners from other universities.
Contestants form 11 universities in the Midwest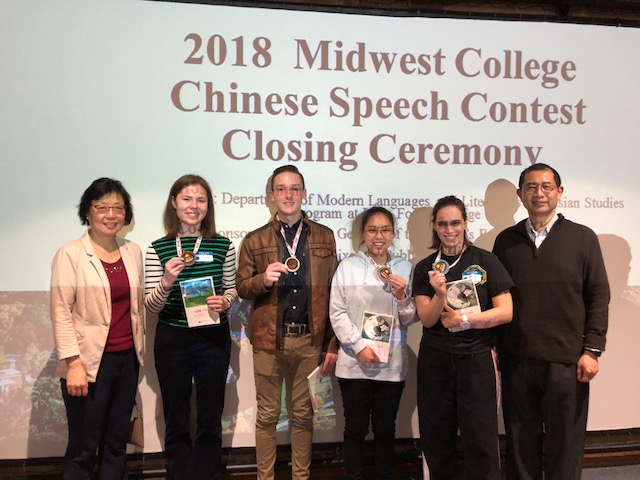 Loyola contestants and Chinese faculty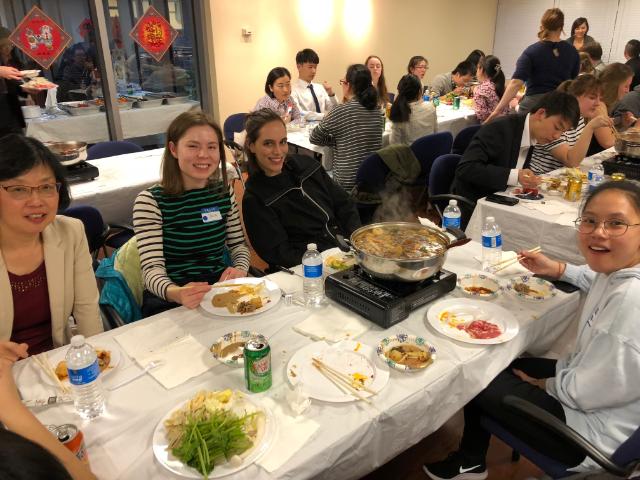 C‌hinese hot pot dinner following the closing ceremony
Fullbright Scholar - Mia LaRocca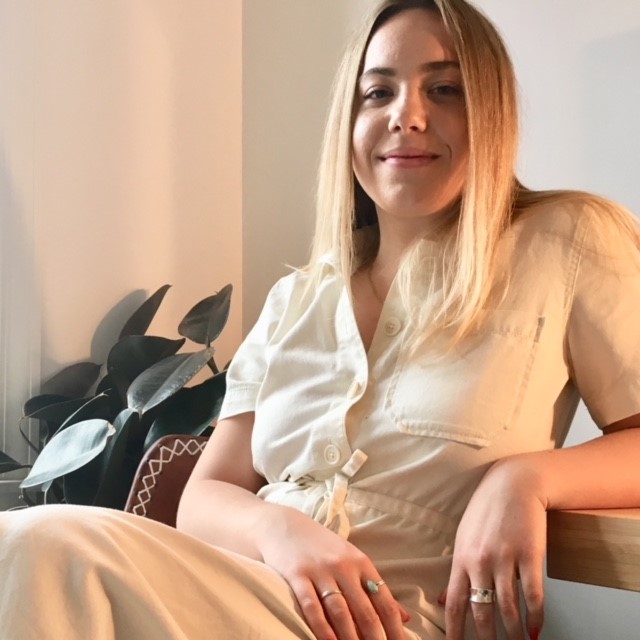 Mia Frances LaRocca | Graduated December '17 | Bachelor of Science in Anthropology and Minor in Spanish Language and Literature
I will be pursuing a master's degree in Food Cultures and Mobility at Università degli Studi di Scienze Gastronomiche in Pollenzo, Italy as a Fulbright scholar. During my time in Italy I will also be conducting ethnographic research that will investigate the role of food in the migrant experience. I hope to shed light on the synergy of food, immigration and health policies while helping migrant communities to organize, implement and advocate for their own food and health literacy.
I began ITAL 101 at Loyola to reconnect with my Italian heritage and speak with my grandparents, but found that my Italian classes were also preparing me to embrace my journey to becoming a Fulbright scholar. The Department of Modern Languages and Literatures was integral in my development as an applicant— I am grateful to all my language professors at Loyola that helped me foster confidence and competence in my language skills. I encourage students to seek out and apply for cross-cultural opportunities because there is such a supportive group of professors and staff at Loyola, all prepared to help you.
Most importantly, I hope everyone feels affirmed to speak another language because not only does it enhance your brain and well-being, but it also opens your life to more people, understanding and experiences!
https://www.unisg.it/en/welcome-unisg/
Graduating Chinese Minors Celebration 2018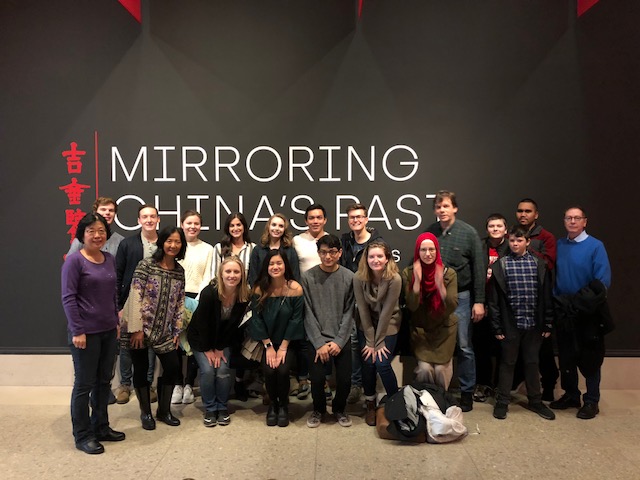 To celebrate the graduation of 16 students with a Chinese minor, the students and faculty visited the Emperors' Bronzes exhibit at the Art Institute of Chicago, followed by a lunch in Chinatown.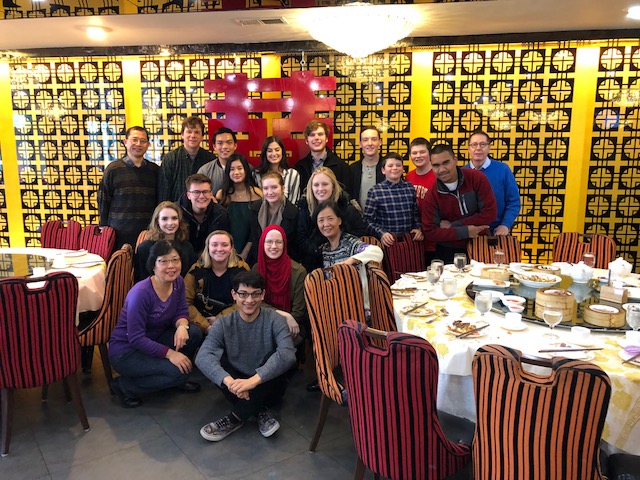 PEN Zentrum
Reinhard Andress (Professor of German, Director of German Studies) has been nominated and accepted for membership in PEN ZENTRUM deutschsprachiger Autoren im Ausland (PEN CENTRUM of German-speaking Authors Abroad) in recognition of his scholarly contributions to transatlantic relations in the field of German Studies. The PEN Zentrum is engaged in the freedom of art in all its forms and across borders, and fights against racism and all other forms of discrimination. More about PEN ZENTRUM's work can be found at http://blog.pen-zentrum-ausland.de/.
We too? Feminism, Sexual abuse and Gender Power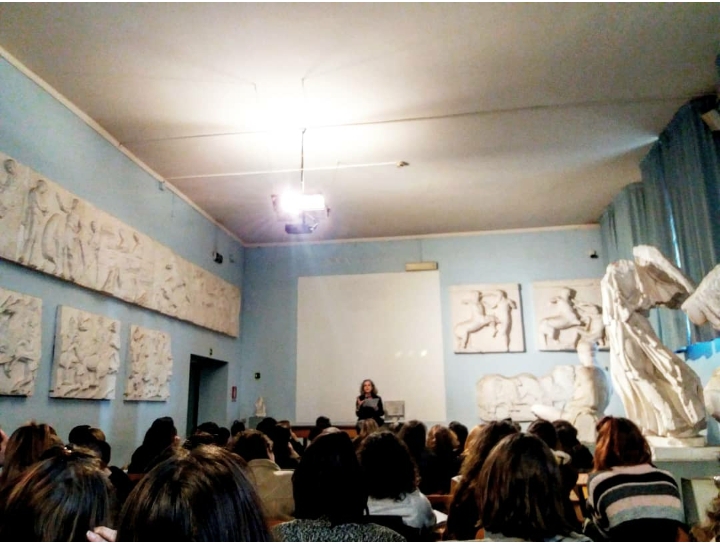 http://www.radiosapienza.net/we-too-femminismo-abusi-sessuali-potere-genere/
On the emblematic date of March 8, at the Parthenon Hall of University of Rome Sapienza, students and faculty gathered for the seminar We too? Feminism, Sexual abuse and Gender Power by Cristina Lombardi-Diop, of Loyola University Chicago. Lombardi-Diop carried out an in-depth analysis of the new movements against sexual abuse and its implications for international feminism in its different forms.
Lombardi-Diop identified the intersectionality of violence as one of the central points of the problem. Sexual abuse, in fact, does not depend only on the gender of the victim, but also on concomitants factors such as economic, racial, and national elements, as well as the positions of power held by men who commit the abuse compared to the women who are considered their social subordinate. But the social position does not only affect the possibility of becoming victims, but also the legitimacy of one's own story and the social support one receives: it is not automatic to be believed. On the contrary, we often witness, above all on Italian social media, the blaming of the victim.

The seminar was followed by a lively debate and the testimony of young men and wmen in the audience who voiced their experience with violence and gender power in Italy.
The Life of Dr. Carole Holdsworth
Born and raised in Chicago, Dr. Holdsworth felt a deep attachment to her city, but even more to Oak Park, where she lived all her life. She enjoyed the sophistication of our Downtown stores and sometimes would come to class wearing the most beautiful handbags, necklaces and shoes to surround herself with a light aura of beauty, or a detail of color or shape. Even when you could not recognize the designer, just the cut and the style of what she was wearing would be enough to inspire admiration and a little envy. Her bright colors reminded us that Spring would be coming soon to calm our longings for a balmy weather. Although not a sports lover, she felt strongly drawn to the suffering of opera heroes and abandoned maidens whom she visited every season at the Lyric Opera of Chicago. As a good Chicagoan, she was not afraid of winter, just the opposite. The strength of her character was manifested in many other ways, above all, in her dedication to her students and her attachment to the rules and ways of the university. I do not know of any professor as generous with her time as she was. She must have offered hundreds of Independent Studies, sitting in her office while a young person went on and on discussing a book or a project. Thanks to her, many students in the Spanish section were able to graduate on time, even if this meant that she had to stay on campus longer than usual.
Dr. Holdsworth dedicated her life to the study of literature and languages. She knew Greek, Latin, French, German and Spanish, and could discuss the motivations and adventures of characters from hundreds of novels, but her favorite character of all was Don Quijote, to whom she dedicated a good number of articles. It was as if Don Quijote's quirkiness, his violent rages and his innocence incited her to reflect on the challenges we face as people, and to the unsolvable ambiguities of our lives. For that reason, being in the classroom for her was a type of ceremony; her students appreciated her dedication, but she also learned from them, from their concerns and hopes, as well as their fears and aspirations. As she gained in years, her curiosity for faraway places awakened, and she took many cruises to different parts of the world. I think she even visited Alaska twice.
For a number of years, she and I shared some events outside campus. One of my favorite excursions was going to lunch or dinner with her. Although she did not know how to cook, she knew how to pick a nice, flavorful dish in a good restaurant, and she ate it with relish. Once the food had disappeared from her plate, she never forgot to leave a very generous tips for the server. It was interesting to watch a waitress's surprise when they saw the tip she would leave for them. She was also very generous with her colleagues and never forgot a birthday card, or one for Thanksgiving, Christmas or Easter. I still keep some of her cards. Just by looking at them I knew she had picked it specially for me. A person like Dr. Holdsworth is to be missed for many years to come. She was unique in many ways.
- Olympia Gonzalez
---
A compilation of tributes from Loyola faculty, staff, students, and friends is available here:
Chicago Symphony Orchestra Chinese New Year Performance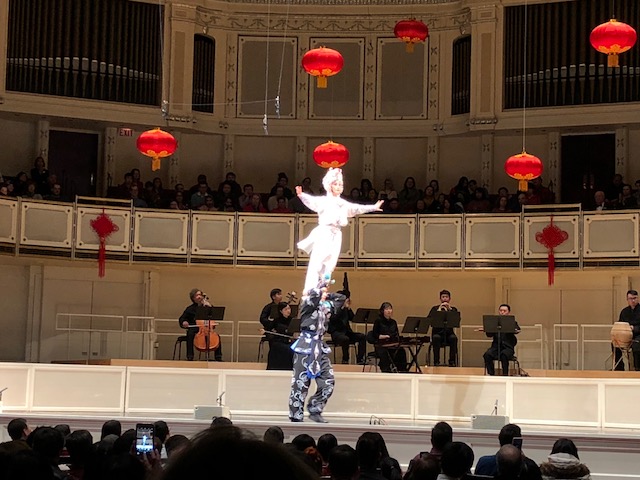 On Feb. 17, about 70 students taking Chinese language and literature classes attended traditional Chinese performances at the Chicago Symphony Center, put on by the Sichuan Opera Troupe and Zhejiang Symphony Orchestra, with pre-concert performances by Chicago Dongfang and Yellow River Performing Arts troupes. Students taking Chinese at Loyola have plenty of opportunities to experience Chinese culture firsthand without leaving the city as venues such as the Art Institute of Chicago, the Field Museum, and Chicago's two Chinatowns frequently host events introducing Chinese history and culture.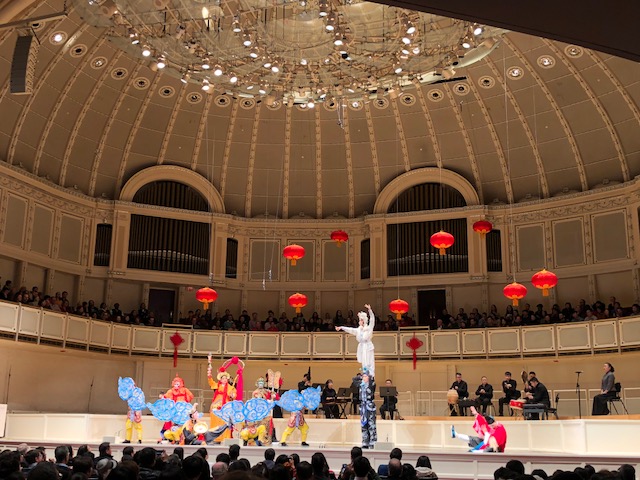 ‌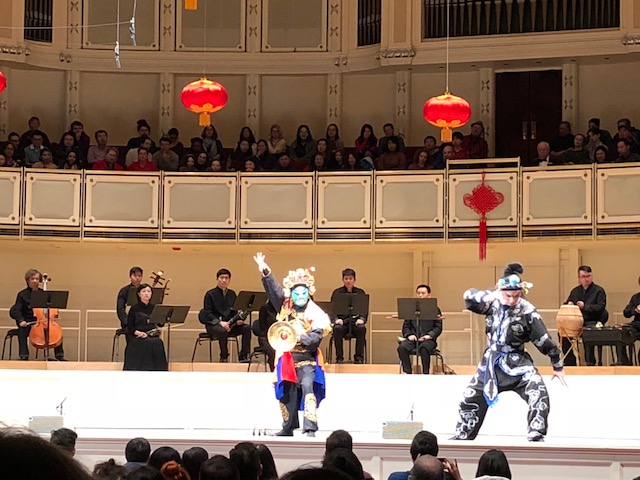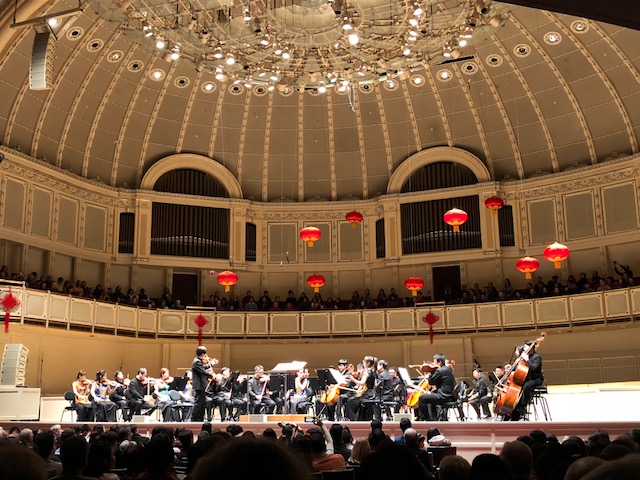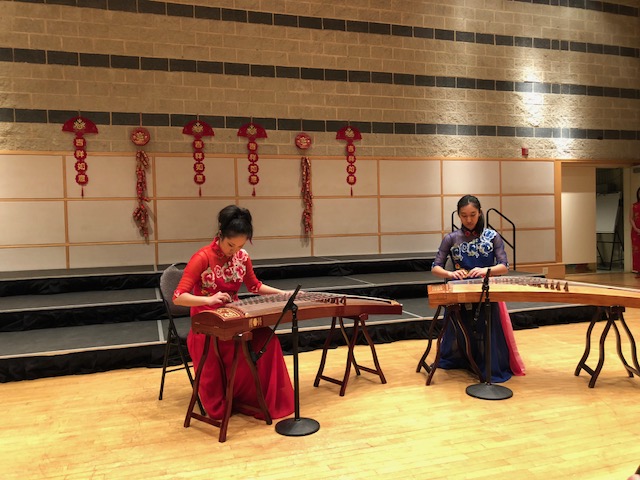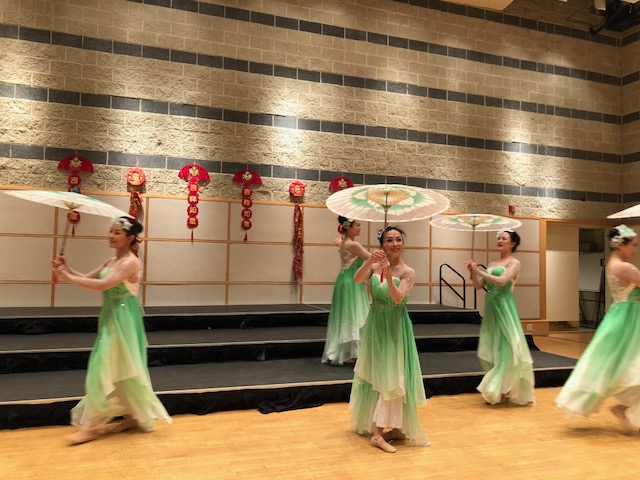 Chinese New Year's Celebration at Loyola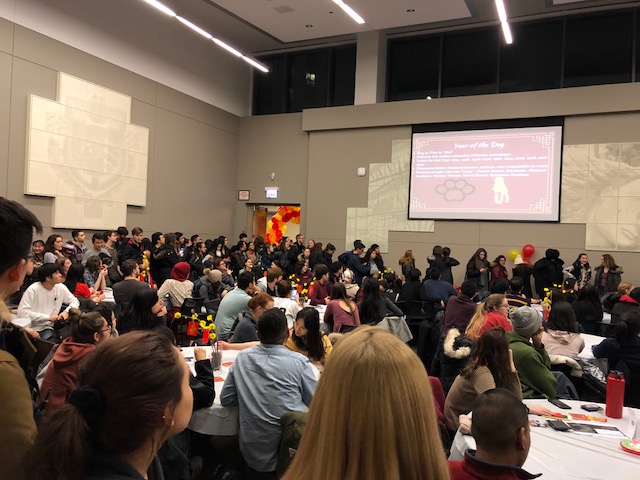 ‌To celebrate the Chinese New Year, more than 600 Loyola students participated in festivities hosted by the Chinese Student Association and the Vietnamese Student Association on Feb. 13 in Damen MPR. The event included lion dance, calligraphy demonstrations and practice, games, and cultural presentations in Chinese and English.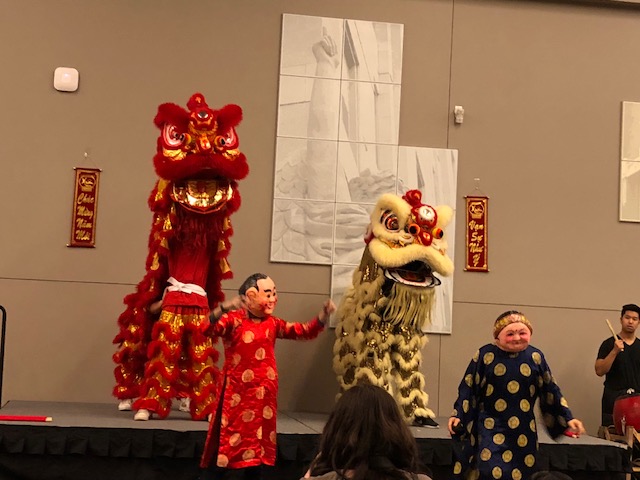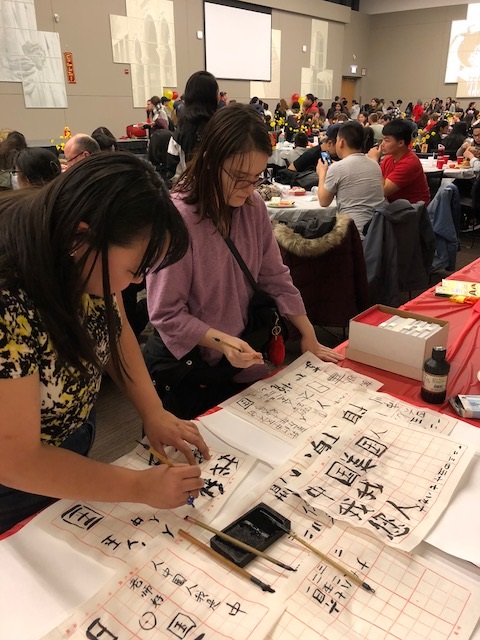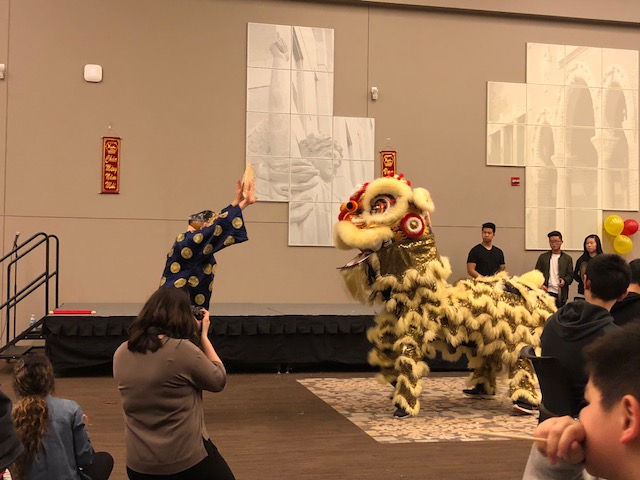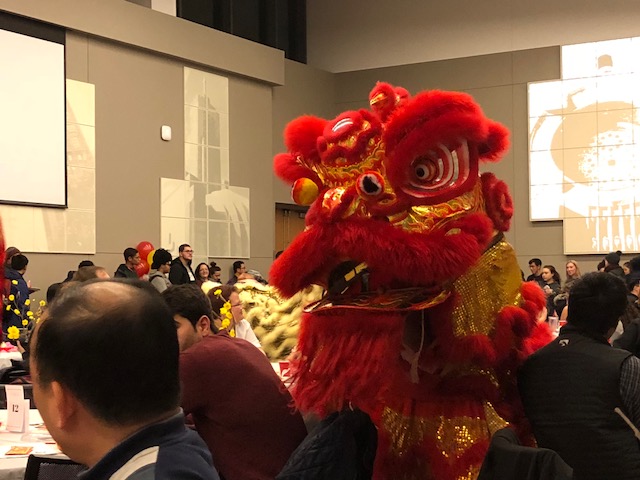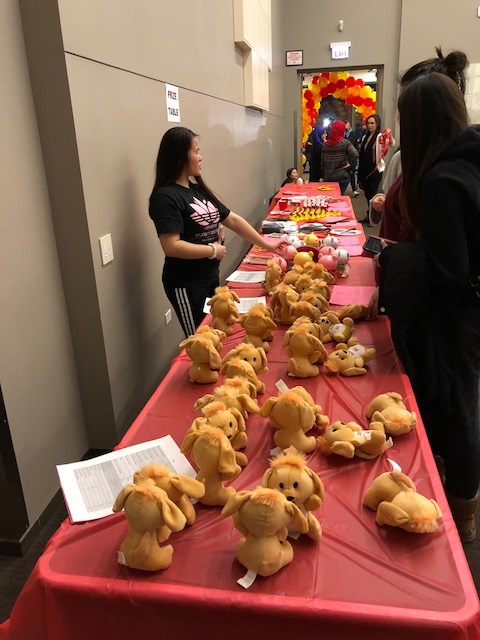 Language Placement Assistance at Freshman Orientation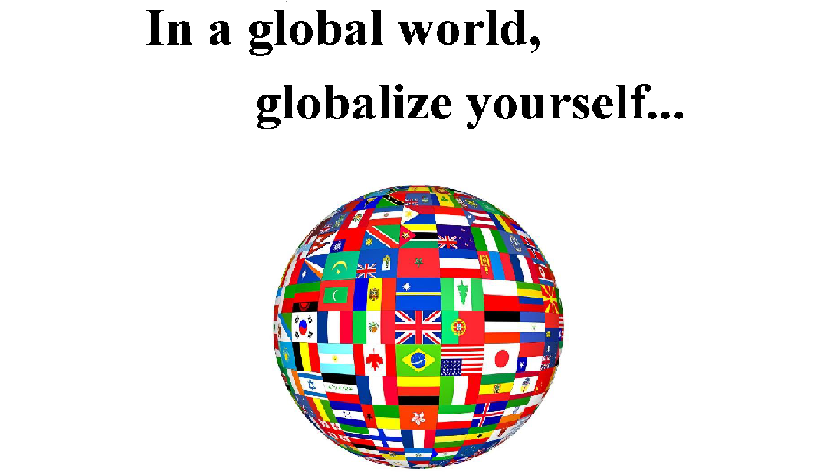 What class is best for you? Let us help.
Members of the MLL Department will be available during summer registration sessions to help answer questions related to foreign language placement.
See also the Language Placement section of our website.
For specific questions regarding placement in a specific foreign language, contact one of the language coordinators.
For general questions, contact David Pankratz at dpankra@luc.edu or Valerie Boudas at vboudas@luc.edu.