Faculty Activities & Publications
Recent publications:

Juan Eusebio Nieremberg (1595–1658). Literatura y espiritualidad en el Siglo de Oro español (Madrid: Comillas Pontifical University, 2018) is a Spanish translation of Dr. Hendrickson's 2015 publication Jesuit Polymath of Madrid (Leiden: Brill). It explores the life and work of the once famous Jesuit author Eusebio Nieremberg, and focuses on the influence of the Ignatian Spiritual Exercises in his treatises. It has now been published in the Colección Manresa, the leading series of Jesuitica in the Spanish speaking world.
Clases mixtas: L2 y lengua de herencia (Arco Libros, 2018) describes the situation of mixed classrooms of Spanish (as a second language and as a heritage language), both in the US and in other Spanish-speaking countries. It presents the challenges and advantages for second language and heritage language learners, as well as their opinions and those of their instructors found in recent research. The book serves as a guide to the instructor with the objective of maximizing student ​learning and with specific examples so that all learners can benefit from this common learning setting in many institutions. It was published through Arco Libros, a publisher specialized in the teaching of Spanish as a foreign language.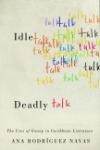 Idle Talk, Deadly Talk (University of Virginia Press, 2018) is a study of gossip's place in the literature of the Caribbean and its diasporas. Studying recent fiction alongside poetry, song lyrics, journalism, memoirs, and political essays, the book argues that the study of gossip, and especially of its hitherto unremarked status as an essentially adversarial practice, offers a new perspective on the literature, culture, and power dynamics of the Caribbean region.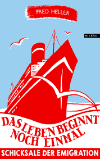 Re-edition of a volume of short stories by Fred Heller, Das Leben beginnt noch einmal (Life Begins Anew), including a 30-page essayistic afterword by Dr. Reinhard Andress (Profession of German & Director of German Studies). Heller himself was an Austrian Jew, well established in Viennese journalistic and theatrical circles, when he had to flee the city after Hitler annexed the country in 1938. He ended up in Montevideo, Uruguay, where he published the aforementioned short stories that offer insights into the transition from emigrant to immigrant of a cast of characters from all walks of life. The volume was published in a German-language publishing house in Buenos Aires in 1945 but largely forgotten. Dr. Andress was able to engage an Austrian publishing house, the Milena Verlag, in doing a reedition of the work.
Faculty Activities Reports: