For Transfer Students
Just for Transfer Students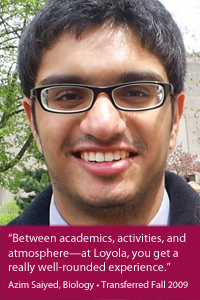 As an incoming transfer student, we're looking forward to meeting you and assisting you as you begin your first year at Loyola.

At Discover Loyola, you'll get a chance to connect with other transfer students and share your experiences. So in addition to the orientation information you receive at DL, you'll also begin developing relationships with your classmates—some of which will hopefully grow into life-long friendships.

For now, take a look at some of the ways you can get involved, specifically for transfer students:
Transfer Retreat—engage in leadership training, community development, and reflection at the Retreat and Ecology Campus.
Transfer Club—offers support and programming to members and connects with new students.
Tau Sigma—an academic honors society providing resources to transfer students.