Charla Trubey-Hockman
School of Social Work
Charla Trubey-Hockman
This May, Charla Trubey-Hockman will earn her dual master's degree in social work and social justice. But the more impressive—and more impactful—milestone will occur when she surpasses 1,200 total volunteer hours devoted to working on behalf of individuals who are experiencing homelessness.
Trubey-Hockman has excelled in the classroom, while her involvement in community organizations outside of Loyola has prepared her well for a career in social work. Among the initiatives she's been involved with are serving as an in-home tutor with RefugeeOne, volunteering with the Mental Health Justice Team at ONE Northside, working as a housing resource specialist intern for Heartland Human Care Services, and interning as a community organizer for Chicago Coalition for the Homeless.
On campus, Trubey-Hockman has also gained valuable leadership skills as president for Loyola's School of Social Work Student Organization. The experience, she says, has allowed her to work with students, faculty, and staff to improve the school and community. "I have found my time with the student organization to be supportive and challenging in a way that you cannot find in the classroom," she says. "It has taught me important leadership skills and helped me build lifelong relationships."
Attending Loyola has also given her a strong framework of faith-based principles to underscore her commitment to social justice.
"The most valuable lesson I have gained from my Jesuit education is the ability to articulate the foundations of why I fight for social justice. Although I do not identify as Catholic, I have learned how to integrate the principles of Catholic Social Teaching into my work…These principles guide me in all that I do and provide a litmus test for how I can live consistently with my values."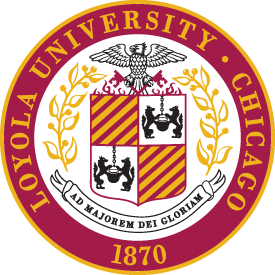 President's Ball
On Friday, November 3, Loyola University Chicago celebrated the accomplishments of the 2017 President's Medallion recipients. See photos from the annual ceremony and semi-formal event at Regents Hall and the Navy Pier Grand Ballroom. Photo Gallery
The 2017-18 President's Medallion Recipients