Mariaelena Morales
Quinlan School of Business
Mariaelena Morales
Mariaelena Morales approaches her work with a simple philosophy: leave everything just a little better than you found it.

Morales, a Class of 2018 Master of Science in Integrated Marketing Communications candidate, keeps busy with a wide range of volunteer activities. But all of it, she says, falls under the umbrella of helping organizations and programs be sustainable. "It's all about working together to make sure each company, or even each person you touch, is going to be better in the long term because of foundations you're building now."

Over the past few years, her main focus has been her work with two arts auxiliary boards: Adventure Stage Chicago Auxiliary Board and the Fundraising Committee for the Auxiliary Board of the Auditorium Theater. At Adventure Stage Chicago (a program of Northwestern Settlement), she serves as secretary and oversees fundraising events, contributing marketing, strategy, and development consultation as part of a group passionate about the role of arts in community building. Her work with Auditorium Theatre supports the preservation and programming efforts of the theater, including Hearts to Art, a healing summer camp for youth who have suffered the death of a parent.

At Quinlan, Morales is executive vice president of the Graduate Marketing Association, helping marketing professionals network, develop, and give back to local businesses through consulting projects and fundraisers. She also supports her Quinlan community by serving as a volunteer for the MBA Day of Service, several graduate business open houses, and new student orientations.
"Coming into Quinlan, I was excited at the prospect of learning business at a school that valued social responsibility and ethical leadership.

"And it's been refreshing to see what a central role that mission plays in the curriculum. The most valuable lesson I've learned at Quinlan and at Loyola has been the idea that while it may not seem most profitable, doing things the right way and thinking in the long term will pay dividends."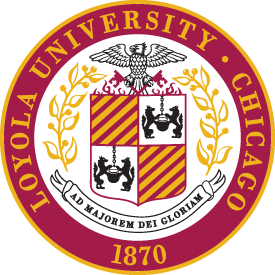 President's Ball
On Friday, November 3, Loyola University Chicago celebrated the accomplishments of the 2017 President's Medallion recipients. See photos from the annual ceremony and semi-formal event at Regents Hall and the Navy Pier Grand Ballroom. Photo Gallery
The 2017-18 President's Medallion Recipients