Olivia A. Kalmanson
Stritch School of Medicine
Olivia A. Kalmanson
As a future doctor, Olivia Kalmanson's care of others has started with the people closest to her—her fellow medical students.
Serving as co-chair of Stritch's Student Wellness Advisory Group, Kalmanson has helped them remember to integrate recovery time and healthy habits throughout their rigorous study schedules.
"Physician burnout seems more prevalent than ever," she says. "It is important to be compassionate to ourselves and build balance in our lives so we can be more resilient and provide better, more empathetic care to our patients."
Kalmanson started work on her medical degree in 2014 after earning a Master of Science in Cellular and Molecular Physiology. She has also worked in many research laboratories: cardiology, physiology, musculoskeletal biomechanics, and otolaryngology, and has three research journal publications with two more under review. Her leadership on campus has also included serving as president of Stritch Hillel.
"Loyola has always treated me as a colleague, not a student. In addition to an excellent academic education, Loyola taught me to be a thoughtful and engaging leader. Having strong Jesuit values at Loyola's core provide a community of inclusivity and teamwork unlike anywhere else, exemplified by our unwavering support of DACA students and the wide cultural, religious, ethnic, and socioeconomic diversity within our class."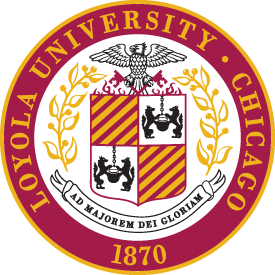 President's Ball
On Friday, November 3, Loyola University Chicago celebrated the accomplishments of the 2017 President's Medallion recipients. See photos from the annual ceremony and semi-formal event at Regents Hall and the Navy Pier Grand Ballroom. Photo Gallery
The 2017-18 President's Medallion Recipients