Sienna Fitzpatrick
Institute of Environmental Sustainability
Sienna Fitzpatrick
Sienna Fitzpatrick has taken to heart the Ignatian philosophy of being a person for others.
Throughout her time at Loyola, Fitzpatrick has been inspired to find ways to use her education to help others in need. On campus, she's been involved with Student Environmental Alliance (SEA), the Restoration Club, the Grower's Guild, and Loyola's Retreat and Ecology Campus. During her time as secretary for SEA, she helped to build a productive, safe creative space where students from any discipline can explore ideas to improve the sustainability of our campus and talk about international environmental events and issues.
Fitzpatrick, who is majoring in environmental policy, has been equally active outside of Loyola. She has participated in habitat restoration as a Calumet restoration volunteer for the Forest Preserve District of Cook County, but perhaps her most inspiring work has been providing English tutoring for adult refugees and ESL youth at the Rohingya Culture Center of Chicago.
"My relationship with the Rohingya people has opened my world to global issues of human rights, and working with their youth is a challenging, exciting way for me to understand the community and culture better," she says.
Fitzpatrick says her service both on and off campus is an extension of her Jesuit education, which has inspired her to use her knowledge to better the lives of others.
"No matter how much knowledge you gain, without sharing it through service to others it will never be as valuable as it can be. There are many opportunities for students to demonstrate their knowledge, but the most valuable way to use it is to find a way for someone else to benefit, too."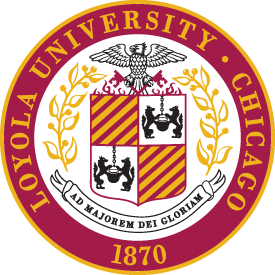 President's Ball
On Friday, November 3, Loyola University Chicago celebrated the accomplishments of the 2017 President's Medallion recipients. See photos from the annual ceremony and semi-formal event at Regents Hall and the Navy Pier Grand Ballroom. Photo Gallery
The 2017-18 President's Medallion Recipients