Ugochukwu Okere
College of Arts and Sciences
Ugochukwu Okere
Ugochukwu Okere has shown exceptional servant leadership both on and off campus.
A Class of 2018 double-major in political science and social work, Okere has focused his efforts on promoting social justice and equity while excelling in academics and extracurricular activities. University Senate, Maroon and Gold Society, and Student Services Hub are just some of the highlights of his on-campus involvement. His efforts have also earned him the Unity of Heart and Mind Award and the Emerging Leader Award at Loyola.
Off campus, Okere has worked in politics and community organizing through the Office of the City Clerk-City Hall, U.S. Representative Mike Quigley's District Office, and perhaps most notably, as co-chair of youth community organization Fuerza del Sol. Based in Pilsen, the organization aims to fight in the struggle for social justice on issues impacting the neighborhood and the city at large, such as gentrification, immigration, education, and youth violence. Among the initiatives Okere has been involved in is a 15-point violence prevention plan that focuses on care for the whole person, including an increase in mental health services and economic development in South and West Side communities.
Okere traces his desire to be a person for others directly to his Jesuit education.
"I've spent my entire adult life organizing around issues of racial justice, equitable education, and immigration. While these issues also affect me, I fight for them to ensure that every person before me and after me is unhindered by a society in which these issues do not lay at the forefront.
"I have always understood that one's capacity to offer solidarity, charity, philanthropy, or a helping hand should be dictated not by a tax write-off or an expectation to receive something for oneself, but in the understanding that when we choose to lift those who are most marginalized and oppressed, we are all lifted."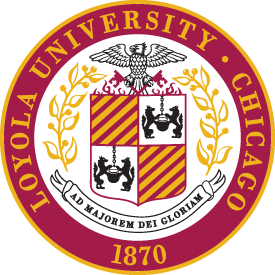 President's Ball
On Friday, November 3, Loyola University Chicago celebrated the accomplishments of the 2017 President's Medallion recipients. See photos from the annual ceremony and semi-formal event at Regents Hall and the Navy Pier Grand Ballroom. Photo Gallery
The 2017-18 President's Medallion Recipients