Christine Wimberly
Marcella Niehoff School of Nursing
Christine Wimberly
One of the most valuable lessons of Christine Wimberly's Loyola education happened far outside the classroom—in fact, it took place thousands of miles from campus.
Wimberly traveled with classmates from the Marcella Niehoff School of Nursing on the annual trip to the site in Lourdes, France, where the Virgin Mary appeared to St. Bernadette. Pilgrims from around the world visit the grotto to bathe in the healing waters in the hope that they will be cured of their illnesses. Wimberly didn't speak the same language as many of the pilgrims she encountered but communicated with them by smiling, holding their hand, or just sitting beside them.
"Lourdes helped me to understand the full impact a nurse can make just from simply being present," she says.
Wimberly had a similar experience during an internship at a hospital transplant unit, where she learned to accompany patients from the struggles of waiting on the transplant list to the joy of walking away with a second chance. These two experiences, combined with her education on campus, have given her a clear path in her nursing career. Upon graduation, Wimberly hopes to devote her career to working with transplant patients and their families.
As a student, Wimberly has been involved with many different activities on and off campus.
As president of the Nursing Student Council, she's helped to orchestrate fundraising events for Maryville Crisis Nursery, Replace the Lace, and Save a Child's Heart. She's also volunteered at Ronald McDonald House and been an active member of the Growth Initiative, a local organization that gets farmers around the suburbs to donate their time, land, and seed to grow fresh food for the Great Chicago Food Bank. Currently, Wimberly is working on a School of Nursing project with the Oglala Lakota College in South Dakota, one of the most impoverished communities in our country.
Her work, she says, has been deeply influenced by Loyola's mission.
"The first time I heard a Loyola faculty member say that Loyola stands for cura personalis, caring for the whole person, it really struck home. The Marcella Niehoff School of Nursing has taught me not only how to treat physical illness but how to support my patient, build a lasting relationship of trust, and to see beyond what brought them to the hospital."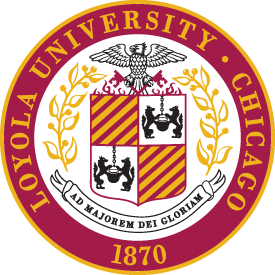 President's Ball
On Friday, November 3, Loyola University Chicago celebrated the accomplishments of the 2017 President's Medallion recipients. See photos from the annual ceremony and semi-formal event at Regents Hall and the Navy Pier Grand Ballroom. Photo Gallery
The 2017-18 President's Medallion Recipients