Advising
Your first stop for advising information is right here on the Psychology Department website! The
Undergraduate tab
is filled with useful information about Major and Minor requirements, useful
internship
and
research
classes, and an answer filled
FAQ section
. Likewise, probably the best investment of your time in preparing for your future is time spend with the
Psychology Career Finder
. Once you have taken the time to look and digest the information found there where a variety of different people ready to help you make the most of your time at Loyola and in the Psychology Major.
Every student is assigned to a
first and second year advisor
when they enroll at Loyola. This person can help the student with planning their course schedule, registration, selecting a major, and other academic and non-academic concerns. If the student enrolls in a major under the
College of Arts and Sciences
they are then assigned to a
CAS advisor
for help during their 3rd and subsequent years until they graduate. This advisor can help with many of the same things as the first and second year advisor but also has more specialized information available about specific majors. They will also help the student to ensure that they will meet all of the graduation requirements from the university, college, and their major(s) and minor(s). Students enrolled in the TRIO supported
Achieving College Excellence program
have ACE advisors througout their time at Loyola. You can learn more about what university advising can do for you at their
webpage
. To sign-up for an advising appointment please use
Navigate
(
Navigate Tutorial
).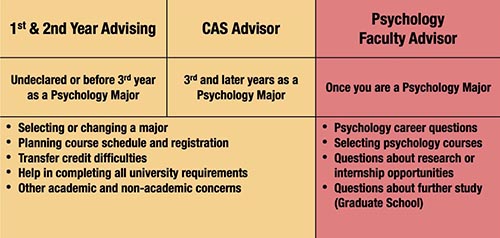 In addition, if the student declares a psychology major they can request a Psychology Faculty Advisor. This happens during PSYC 201 Psychology Advising and Career Development, but if the student would like to get an advsior before then
please fill out the form found here
. This faculty member will meet with you, go over course requirements, departmental activities, special courses, career opportunities, etc., and answer any questions that you might have. Please know that it is your responsibility to contact your advisor who will work with you on an "as needed" basis for the rest of your stay at Loyola.
Students declaring the Psychology Major after June 30, 2021 will be required to take Psychology Advising and Career Development (PSYC 201). This course will provide an overview of the Psychology Major at Loyola and career options in psychology, introducing students to a variety of psychology career development resources. Students will also prepare for opportunities in independent research and internships and plan for a career including creating a resume and CV.