Loyola's Campus
Loyola's Sustainable Campus
Our Jesuit tradition compels us to seek social justice and care for creation. We believe in local action that creates global impact. Social enterprises, such as our Biodiesel program or ChainLinks, create learning opportunities while improving the environment and local communities in sound financial structures. Our location in Northeastern Illinois on the shores of Lake Michigan allows us to understand, through research and coursework, the value of our natural resources and the impact that unsustainable development has caused. Our urban setting in Chicago connects us to local communities, providing opportunities for energy efficient buildings, sustainable transportation options and local engagement.
The Office of Sustainability supports the faculty, staff, students and alumni in making Loyola University a sustainability leader in both the Chicago region and internationally among Jesuit institutions. Loyola embraces sustainability through our campuses, curriculum and community.
Transportation
We provide efficient, convenient, and safe transportation options for students, staff, and visitors.

Loyola 'L' Station
Trains and buses connect to the city

Charging Stations
Electric vehicle-charging stations available

Car Sharing
Pick-up and drop-off location

Chainlinks
Student-run bicycle rental and repair shop

Campus Shuttle
Connects the two lakeside campuses

CTA Bus Stops
---

Divvy Stations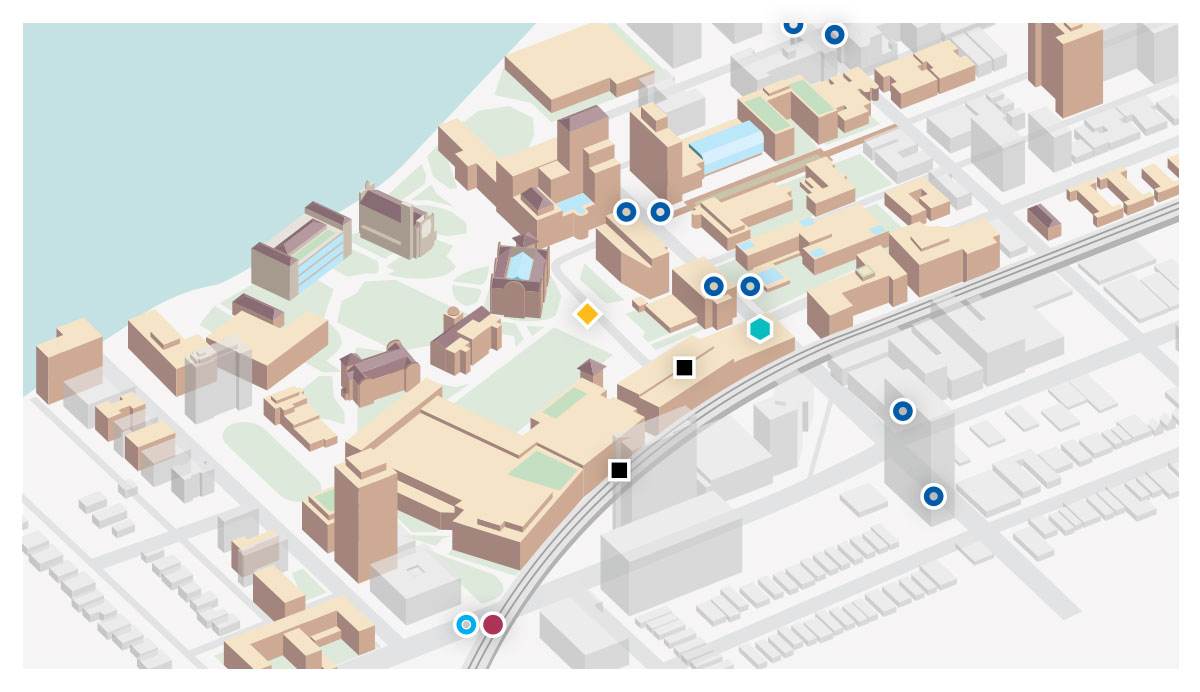 Energy
Through massive conservation efforts, off-campus renewable energy projects, and smart buildings, we are working toward being a net-zero energy campus.

Energy Efficient Buildings
Includes classrooms, residence halls, and labs on campus

LEED Certified Buildings
10 LEED certified buildings on the Lake Shore Campus

Hyper-efficient Chiller Plant and Boiler
Conserves more hot water on campus

Campus Shuttle
Shuttle runs on student-produced biodiesel fuel and connects two campuses

Electric Charging
Electric cars can be charged on campus
Geothermal
Ground source heat pump provides cooling and heating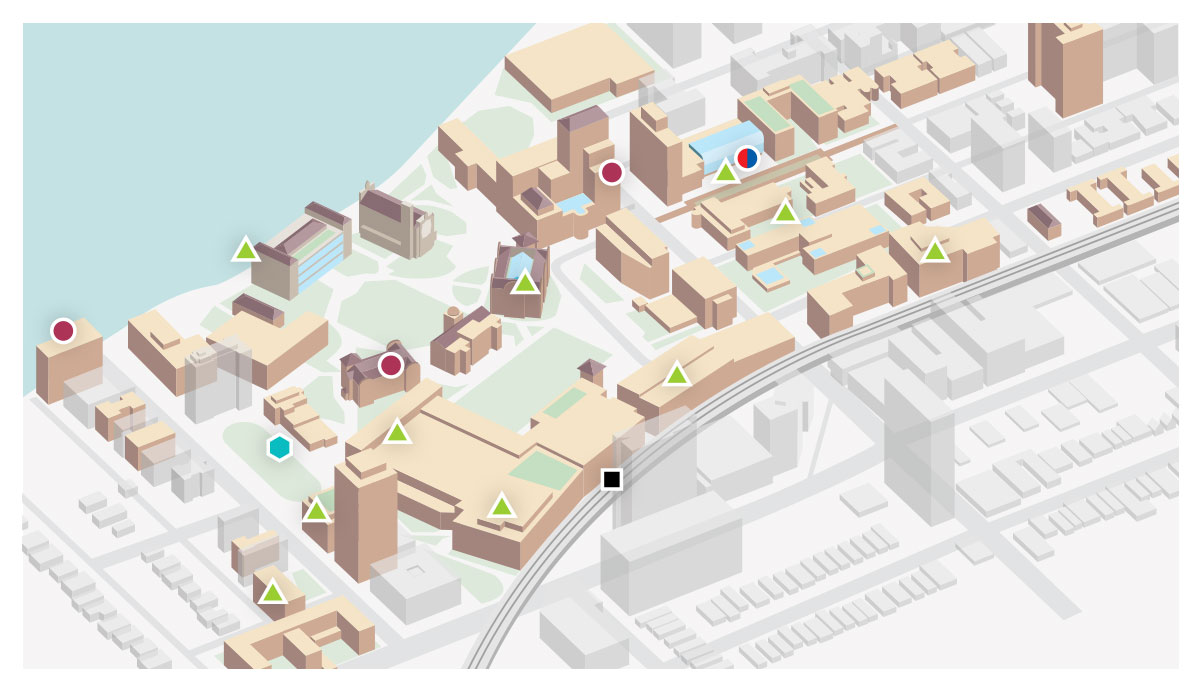 Food
Students, faculty, and staff are working to advance sustainable and healthy food for all on a local, national, and global scale.

Winthrop Garden
Demonstration garden maintained by Loyola students

SES Greenhouse & Aquaponics
The Ecodome, our 3,100 square-foot greenhouse, is home to two aquaponics systems

Farmers Market
Weekly market where students sell food grown on campus

Sustainable Loyola Dining
Sustainable options at all dining halls and select cafes

Vegewater Community Garden
Communities creating neighborhood gardens
Waste
We're rethinking how materials enter and leave our campuses, and Loyola is learning how to turn trash into a resource.

Winthrop Garden
Composting initiative run by students

SES
Home of the recycling and composting campus initiatives

Compost and Recycling
Waste from Simpson and de Nobili dining halls processed

Cycle and Recycle Center
Facility to collect hard to recycle items
Water
As the leading university in Chicago on aquatic research, we continue to fight for fair access to drinking water and conservation.

Permeable Pavement
Collects rainwater where it falls and runs out of the sewer system

Permeable Artificial Turf
Collects runoff water for use on campus

Stormwater Retention Cistern
Filters collected water

Lake Michigan
Lake recharged from filtered storm water
Biodiversity
Loyola's campus landscapes are award-winning spots that connect to Chicago and to the larger ecological region.

Lake Michigan
Loyola is committed to preserving the valuable resource

Green Roofs
Loyola has more green roofs than any other university or college in the Midwest

Migratory Bird Friendly
Loyola works to prevent migratory bird collisions with campus buildings

Native Vegetation
Loyola cultivates plants that have been in our region for centuries
School of Environmental Sustainability
The School of Environmental Sustainability combines academics and research with sustainable agriculture and community living. And it does it all in one amazing facility.
Our Sustainable Campus
We've got green thumbs, buildings, buses, res halls, and a lot of other green initiatives. Everywhere you look, Loyola's using the latest technology to protect our planet. The water you drink, the energy you use, even the stuff you throw away—it's all evidence of our commitment to sustainability.
Leadership in Energy and Environmental Design
Our Commitment to Green Buildings
The School of Environmental Sustainability (SES) is the latest in Loyola's fleet of high-performing buildings. Starting with the Information Commons and continued with Cuneo Hall, the Niehoff Nursing School, the Damen Student Union, and De Nobili Hall, Loyola is exploring how green buildings can support a premiere educational experience. Loyola is committed to integrating sustainability throughout the curriculum, culture, and campus in the built and intellectual infrastructure of the university.
‌Loyola has committed all new construction & renovations, where possible, to at least a Silver rating through the US Green Building Council's Leadership in Energy and Environmental Design (LEED) standard.
LEED Silver: Information Commons, Norville Athletic Center, Damen Student Center
LEED Gold: Cuneo Hall, Marcella Neihoff School of Nursing, School of Environmental Sustainability, De Nobili Residence Hall
Coming Soon: , Quinlan School of Business (Target TBD) and Center for Transformational Research (Target TBD)
Uses double-skin facade for passive management of heat flow and natural ventilation - a first in Chicago. Additional design includes a vast array of innovative environmentally friendly technology and recycled materials. Click here to learn more about this building's environmental features.
One of Loyola's newest building, Cuneo Hall, is a cutting-edge, high-performance academic center designed to be highly energy efficient. Features include:
60% more energy efficient than similar buildings due to mechanical, electrical and plumbing features.
Exploit daylighting to save money on lighting costs and improve the learning environment.
Operable windows and the main atrium design allow natural ventilation with a room-by-room user interface.
Advanced radiant in-ceiling system provides additional heating and cooling in classrooms.
High performance exterior includes advanced technology with a traditional appearance that compliments and fits into the original campus plans.
Green Rooftops
Loyola has more green roofs than any other college in the midwest. They can be found on all three campuses:‌
Water Tower Campus
Phillip H. Corboy Annex at 20 East Chicago Avenue
Rev. Raymond C. Baumhart, S.J., Residence Hall & Terry Student Center
Lake Shore Campus
Information Commons
Cuneo Hall
Mundelein Hall
Norville Center for Intercollegiate Athletics
Michael R. and Marilyn C. Quinlan Life Sciences Education & Research Center
Loyola University Medical Center, Maywood Campus
Marcella Niehoff School of Nursing
The Quinlan roof resembles a native Illinois Prairie in order to provide habitat for wildlife like pollinating insects and birds.
While most of these buildings incorporated green rooftop design as part of new construction on campus, a green rooftop was added to the Mundelein Hall building (a historical landmark building) during a 2010-2012 renovation project, showing that Loyola is committed to both building green and renovating green.
Net Zero Energy Campus
Loyola Retreat and Ecology Campus
The Retreat and Ecology Campus located in McHenry County, Illinois is poised to harness clean-energy technology and dramatically reduce its carbon footprint with the goal of running the entire campus on renewable energy.
Working to implement clean-energy plans and achieve a net-zero energy status through energy efficiency and renewable energy, the University is setting out to accomplish three important goals for the campus :
Energy efficiency retrofits for the north and south wings of the existing building, including mechanical equipment, insulation, and new windows. This would reduce current energy use by 60 percent and recoup improvement costs within 15 years.
Geothermal energy system to heat and cool the building through the use of 64 wells that are each 450 feet deep.
Combining renewable energy systems to include solar thermal energy, photovoltaic panels, and a wind turbine would provide the additional 40 percent of energy needed by the building and would make LUREC the only carbon-neutral campus of its kind in the Chicago metro area.
This ambitious plan is already in progress. Simple, obvious improvements have been implemented such as enhanced insulation, replacement of single-paned windows and of inefficient HVAC systems. We are currently in the process of planning the renewable installations, including photovoltaic solar panels, solar thermal, a wind turbine and ground loop geothermal, which will cover all energy needs for the campus.
Storm Water Management
Water use for irrigation has been decreased and the stormwater diversion from the sewer system back into Lake Michigan has been dramatically increased to 13 million gallons per year. Green roofs have been installed and more are underway on over 50,000 square feet of roof space and will result in 8 LEED Certified buildings.
More information on the physical campus aspects related to sustainability efforts can be found on our interactive campus map.
Loyola has installed permeable pavers, drought-tolerant landscaping, rain-water collection cisterns, and living rooftops that all seek to reduce and divert stormwater run-off that otherwise would enter sewer systems, requiring energy-intensive cleaning and purification processes.
Our rain-water cisterns connect to Lake Michigan and feed back over 10 million gallons of water annually to the Great Lakes watershed.
Semi-permeable paving material is used on campus and semi-permeable artificial turf is used on Sean Earl Field inside the track, allowing rain-water to percolate into the ground.
Energy Efficient Design and Renewables
Several LUC buildings employ sustainable technologies but have not gone through the LEED Certification process.
The Michael R. and Marilyn C. Quinlan Life Sciences Education and Research Center is equipped with motion sensor lighting, a green roof, southern exposure with many windows that maximize solar thermal heat gain in the winter and angled sun visors to reduce solar thermal heat gain in the summer.
Smart infrastructure such as building automation for ventilation and motion sensors on lighting features.
A Demand Response Program allows the university to reduce power consumption during times of peak use thereby resulting in money savings from electricity utility.
Geothermal heating and cooling at the School of Environmental Sustainability.‌
Solar-powered flashing "STOP" signs on campus.
Battery-powered campus service vehicles.
Heating and Chilled Water Plant
Loyola's upgraded chilled water plant cools approximated 1,500,000 square feet of water. It was one of the first Variable Primary Systems, saving more than $1 million in underground piping.
By decentralizing our boiler plant to conserve hot water on campus, $966,000 is saved by the University annually.
Mundelein Center Energy Retrofit
This 15-story skyscraper, built in 1928, is listed on the National Registry of Historic Places and is a mixed-use facility for classrooms, offices, an auditorium, theater, and greenhouse. Its heating, cooling, and ventilation systems were retrofitted to become more energy-efficient, including smaller ductwork. An Enthalpy Wheel for heat recovery, demand-controlled ventilation, displacement ventilation, and radiant heating and cooling.
Cuneo Hall
Sustainable features in this LEED Gold standard building resulted in a 77 percent reduction in annual energy use. The 72,000 square foot facility features high-performance Envelop, semi-manual natural ventilation, Enthalpy wheel energy recovery, dual-temperature radiant ceiling panels for classrooms, and a state-of-the-art building automation system.
Corboy Law Center Boiler and Chiller Retrofit
The boiler and chiller retrofit to this 15-story, 285,000 square foot building saves the University 10,387 MBtu annually. This retrofit project included three high-efficiency condensing boilers, two electric water-cooled chillers, and new controls.
Loyola University Medical Campus - Maywood, IL
Our medical campus is a shared venture between the University and Trinity Medical Services. Over 690,000 square feet of buildings include the Stritch Medical School, Niehoff School of Nursing, Parkinson School of Health Sciences and Public Health. Sustainability highlights include the LEED-certified Niehoff School of Nursing's use of daylight harvesting, natural ventilation, solar chimneys, and automated sun shading.
Student-Driven Bottled Water Ban
UnCap LUC is a student-driven campaign to educate the Loyola community about the issues of local water privatization and fair access to water globally. The sale of bottled water on campus from stores, catering, and vending machines ended in 2013. Waterfill stations are readily available across all Loyola campuses and reusable water bottles are distributed to all new students.
Smart Irrigation
On-campus implementation of water-smart landscaping required drought-tolerant vegetation and technology. Loyola uses a zoned irrigation system that relies on weather station data to conserve water. New spray heads reduced water use by 30% and the "smart irrigation system" ensures watering when evaporation rates are lowest.
Green Data Centers
Recognizing the impact computing equipment can have on energy consumption, Loyola has invested in highly efficient data centers across its campus. In particular, our Information Technology Services team virtualized over 70 percent of its servers, upgrading to Energy Star equipment, and has its own Green Team to continue the culture of sustainability.
Engrained Cafe at the School of Environmental Sustainability
Engrained is a fast-casual, quick serve restaurant designed to be an educational food experience surrounding sustainability with a focus on what we are making, the ingredients used and how they are handled. Engrained Café features both vegan and vegetarian options. There is also a focus on healthier eating based on seasonal fresh fruits and vegetables and local foods when available. We feature local bakery products from West Town Bakery, coffee from Chameleon Coffee and produce from Farm Logics. In addition to a sustainable menu, the modern environment features sustainable furniture from local Chicago wood manufacturers. Engrained Café is located inside San Francisco Hall.
Ecological Restoration
Ecological courses, internships, and Restoration Work Days take place at the Loyola University Retreat & Ecology Campus. Visit our LUREC site for additional information.
Green Groundskeeping
Facilities Management oversees the maintenance of campus grounds such as landscaping and snow removal. Recognizing the importance of protecting the watershed and Lake Michigan, Facilities Management applies some sugar beet-based anti-icing granules. The sugar beet-based application is applied to campus roads and sidewalks before and during snowy, icy weather to effectively melt snow and ice for safe conditions. This is better for landscape vegetation as stormwater runoff is less salty.
Green Cleaning
Facilities Management Department uses non-hazardous and low VOC cleaners, such as Green Seal, for cleaning campus buildings. The use of Green Seal, an independent organization that adheres to strict standards for safe environmental performance, adds to the Loyola commitment of minimal use of resources and reducing impact to the natural environment.
Green Seal cleaning products used on campus reduce exposure to harsh chemicals
Protects water quality by reducing use of harsh chemicals
School of Environmental Sustainability
The School of Environmental Sustainability combines academics and research with sustainable agriculture and community living. And it does it all in one amazing facility.
Our Sustainable Campus
We've got green thumbs, buildings, buses, res halls, and a lot of other green initiatives. Everywhere you look, Loyola's using the latest technology to protect our planet. The water you drink, the energy you use, even the stuff you throw away—it's all evidence of our commitment to sustainability.