Social Justice Research Fellowship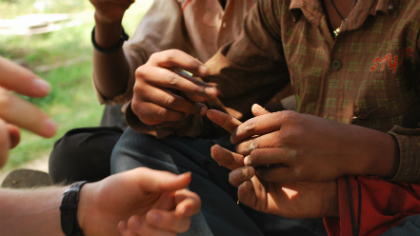 As part of the Center for Engaged Learning, Teaching, & Scholarship, LUROP is pleased to announce the creation of the Social Justice Research Fellowship, which aims to support undergraduate Loyola students in conducting focused, faculty-mentored research connected to social justice.
The emphasis of this fellowship is on applied research, highlighting research that does justice, such as research on justice-related issues, research with community-based organizations, and/or research in response to pressing social issues. Applicants should be able to state clearly the general purpose and specific objectives, what they propose to do, the significance related to social justice, the approach related to your academic area or the interdisciplinary approach, and what results or products you expect to be generated. Define clearly what roles you and your faculty mentor will have. Describe how you will conduct your social justice research project, discussing, for example, the methodologies, equipment, or resources that you will use to bring your endeavors to fruition. Explain the community or social impact this project may have, related to social justice.
Expectations
Social Justice Research Fellows and their mentors are responsible for working together to set mutual expectations, which they do through the application process, and through the Social Justice Research Fellowship Learning Agreement. Fellows and mentors are strongly encouraged to read over this webpage with learning objectives and effective practices for researchers.
Typically, summer fellows agree with their mentors to work between 10–20 hours per week over 10 weeks, while academic year fellows tend to work between 4–10 hours per week over the course of the academic year. However, the time commitment varies and ultimately depends on the agreement between the mentor and the fellow.
Fellows and their mentors are encouraged to exchange regular reports and feedback with each other, but only one Mentored Research Progress Report
The capstone of the fellowship is Loyola's spring research symposium, at which all Social Justice Research Fellows are expected to share their research projects in either an oral presentation or poster presentation. Fellows are also encouraged to present their work at other conferences and should rely on their mentors and other fellows for feedback as they construct their presentations.
Stipends and Research Budgets
Fellows receive a $2,500 stipend paid hourly over the course of the fellowship. The student must log their hours in KRONOS, the university's payroll application. Additionally, fellows receive up to $1,000 in a research budget. The research budget is not awarded as a lump sum.
Academic Credit
If students want to obtain academic credit in conjunction with conducting this research, there are research courses designed to do so that fulfill the university's "engaged learning" requirement. Read here for more information.
Applying for the Social Justice Research Fellowship
As with the other LUROP Fellowships, students must apply online for the Social Justice Research Fellowship by March 1. Additionally, all applicants MUST have a faculty member willing to serve as a mentor BEFORE applying. Upper-level undergraduates generally apply with projects they have taken more individual initiative over designing, while younger undergraduates tend to apply with projects that their mentors designed (although all fellows should show a distinct individual component and take initiative within the project).
A group of faculty from various disciplines will evaluate each application, including an abstract and project description that includes a project timeline, a budget, and the mentor's letter of recommendation.
For more information about the Social Justice Research Fellowship program, please e-mail kkaufm2@luc.edu or call 773.508.3886.