Anna Claspy
MA in Public History ('19)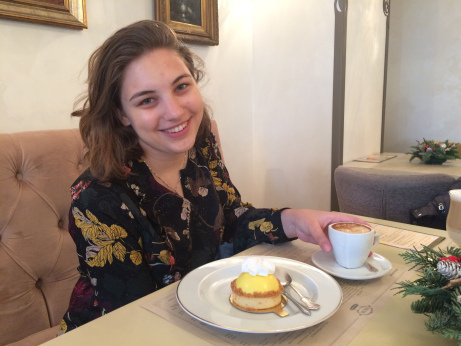 I completed my undergraduate degree at a small liberal arts school in rural Ohio, so it was a daunting change to move to a different state and to a large city. However, the faculty and graduate students in the history department have been nothing but supportive from the start. At the beginning of the fall semester, there are several useful events for orienting yourself in the school, neighborhood, and city. The graduate students also do a wonderful job communicating about happenings around the city, and often organize ways to get there together.
Loyola has plentiful tools and archives for research, including University Special Collections and the Women and Leadership Archives, but if your interests fall outside of these collections, there is no better place for doing research than Chicago. Students can easily obtain access to the libraries at Northwestern, the University of Chicago, and the Chicago Public Libraries, to name a few choices. Additionally, there are many opportunities to present research at conferences here in the city or traveling with the support of the department. I have personally participated in our annual History Graduate Student Association conference as an organizer and as a panel moderator.

Finally, the opportunities for hands-on learning are endless. From internships to class projects, the department makes it possible for you to gain practical experience in the community with cultural institutions. This background gives Loyola students a range of skills to draw on when we enter the field.

I am very satisfied with the experiences I've had here in my two years here, and I sincerely hope you will consider joining the History department at Loyola.