Graduate Career Success
Since the program began, Loyola has followed a generalist model of public history education, which focuses on skill development to open employment opportunities in a variety of fields, including, museums, archives, historic preservation, and not-for-profit management. Listed below is a sample of the variety of career positions held by Loyola Public History Program Graduates.
You can also select here to jump to spotlights of our public history alumni.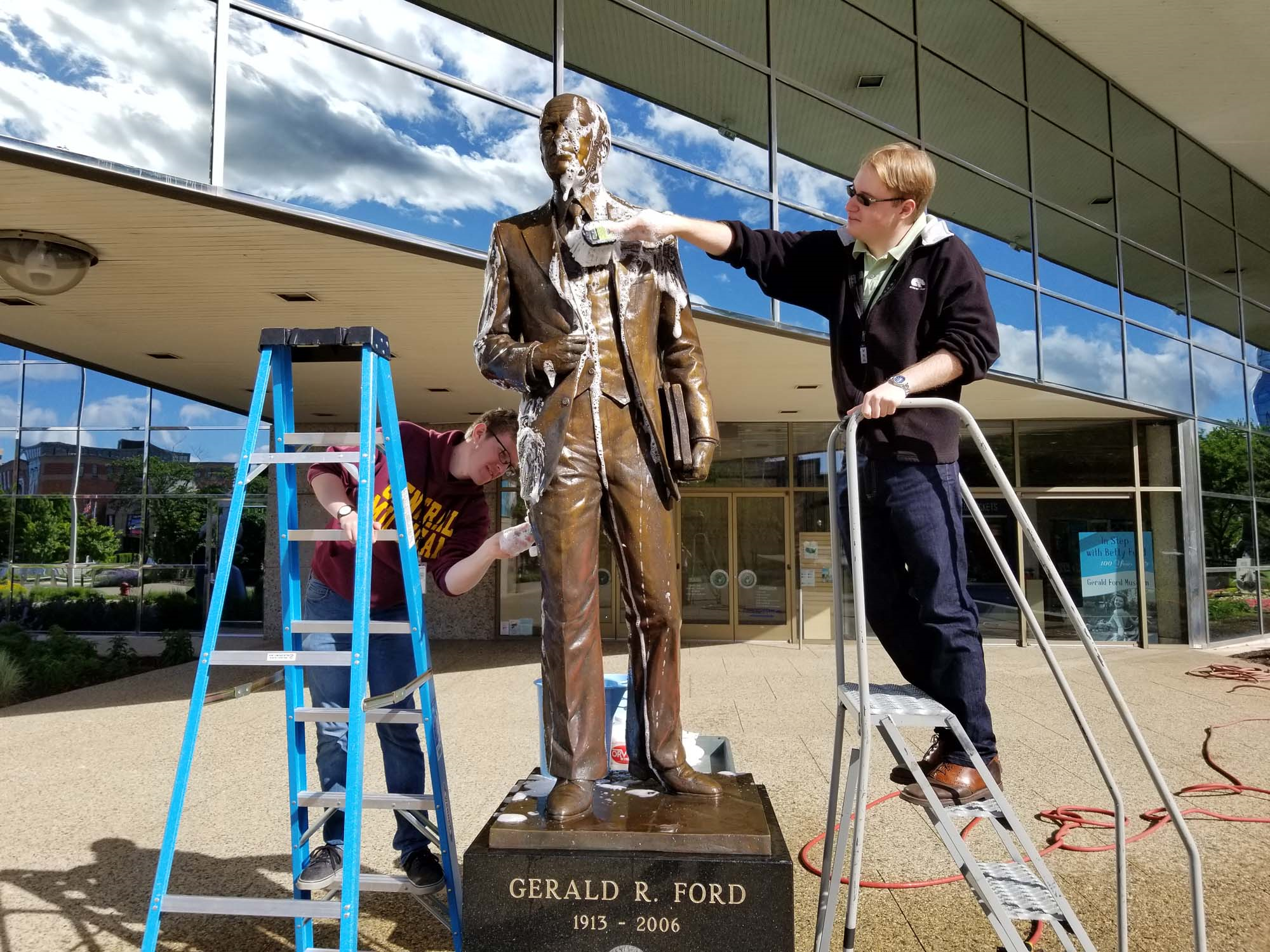 Not-for-Profit Management
Executive Director, Urban History Association
Director, Kentucky Historical Society, Frankfort, KY
Research and Academic Programs Manager, Newberry Library, Chicago, IL
Coordinator of Grants and Research, Shedd Aquarium, Chicago, IL
Program Manager, Chicago Cultural Alliance, Chicago, IL
Program Officer, Illinois Humanities Council
Policy Development Coordinator, Archdiocese of Chicago, Chicago, IL
Program Officer, AASLH, Nashville, TN
Program Officer, Nuclear Challenges, MacArthur Foundation, Chicago, IL
Museums
Curator, 1st Division Museum, Wheaton, IL
Vice President of Education and Exhibitions, Illinois Holocaust Museum & Education Center, Skokie, IL
Education Coordinator at the History Center, Fort Wayne, IN
Curator of Collections, Arab American National Museum, Dearborn, MI
Education and Programs Manager at the John Wesley Powell River History Museum, Green River, UT
Director of Collections Management, Wisconsin Historical Society, Madison, WI
Curator, Anthropology Museum, Northern Illinois University, DeKalb, IL
Site Manager, Fischer Farms Historic Site, Bensenville, IL
Principal at Fleming Museum Consulting, Chicago IL
Curator, USS Constitution Museum, Boston, MA
Oral Historian and Exhibit Development, Missouri Historical Society
Senior Coordinator, Exhibits Department, The Field Museum, Chicago, IL
Operations Manager, Cuneo Museum and Gardens, Vernon Hills, IL
Director, Great Lakes Naval Museum, Great Lakes, IL
Collections Manager, Center for Military History
Collections & Facilities Manager at Dumbarton House, Washington, D.C.
Historian, Michigan Iron Industry Museum, Neguanee, MI
Curator, National Museum of the United States Army
Historic Preservation
State Historic Preservation Officer, Kentucky.
Associate Planner, Planning and Zoning Division, City of Aurora, IL.
Native American Graves and Repatriation Act Coordinator, National Park Service, Washington, D.C.
Registrar, Society for the Preservation of New England Antiquities, Haverhill, MA.
Park Historian, Indiana Dunes National Lakeshore, Chesterton, IN.
Historic Preservation Specialist, Survey and Registration Section, Division of Historic Preservation, State Historical Society of Wisconsin, Madison, WI.
Historian, National Park Service, American Battlefield Protection Program, Washington, D.C.
Arts and History Specialist, Waukegan Park District, Waukegan, IL
Archives and Records Management
Archival Specialist, Chicago Public Library Harsh Research Collection, Chicago, IL
Records Manager, Motorola Corporation, Schaumburg, IL
Metadata Specialist at History IT, Chicago IL
Media Archivist & Video Specialist at Encyclopedia Britannica, Chicago, IL
Manager, Public Services at Baker Library Special Collections, Cambridge, MA
Photo Archivist and Corporate Historian, Million Dollar Roundtable, Park Ridge, IL
Archivist, The Circuit Court of Cook County, Chicago, IL
Head Archivist, Archives and Special Collection, University of Notre Dame, IN
Associate Professor and Curator, Center for Southwest Research & Special Collections, University of New Mexico, Albuquerque, NM and Adjunct Professor, Museum Studies Program, University of New Mexico, Albuquerque, NM
Michigan Digital Preservation Network Coordinator, Midwest Collaborative for Library Sciences, Lansing, MI
Consulting
Owner, Tallgrass Historians LLC, Iowa City, IA
Co-Founders and Owners, Omnia History, Chicago, IL
Architectural Historian, EBI Consulting, Chicago, IL

Architectural Historian, HNTP Corporation, Seattle, WA
Public History Education
Associate Professor of History and Director of Museum Studies, Southern Illinois University, Edwardsville, IL
Director, Center for Public History, Northern Kentucky University, Highland Heights, KY
Assistant Professor of American and Public History, University of Illinois at Springfield
Associate Professor of History, University of Nevada, Las Vegas
Assistant Professor of History, University of Southern Indiana, Evansville, IN
Associate Professor of Public History, North Park University, Chicago, IL
Scholarship
Public History Program faculty have produced well over one hundred journal articles and book chapters on public and traditional topics. They have also authored 17 monographs.