HGSA Conference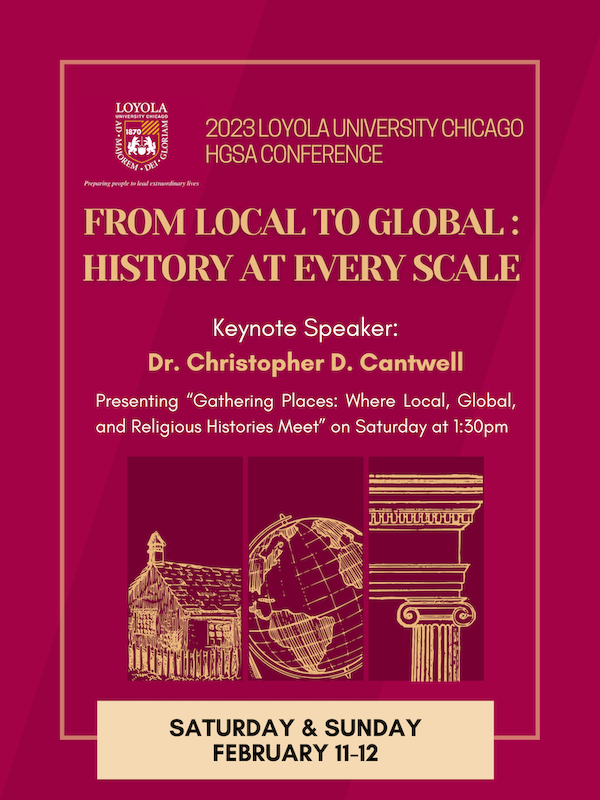 From Local to Global: History at Every Scale
To access the 2023 Conference Speaker & Presenter Bios, use this link: 2023 Speaker & Presenter Bios.
For 18 years, Loyola's History Graduate Student Association (HGSA) has hosted an annual conference for history graduate students to share their work, receive valuable feedback, and collaborate on future research. The conference attracts graduate students from across the country who come together to present on a wide variety of topics.
This year's conference, "From Local to Global: History at Every Scale," is the weekend of February 11th-12th, 2023. The conference will be held in person at Loyola's Lake Shore Campus. View the full program here: 2023 Conference Program.
The 2023 Keynote Speaker, Dr. Christopher D. Cantwell, will present "Gathering Places: Where Local, Global, and Religious Histories Meet" on Saturday afternoon at 1:30pm.
If you are interested in attending, please register here. We hope to see you there!
If you have any questions about the conference, please reach out to Caroline Handley (chandley@luc.edu) or Caroline Lauber (clauber@luc.edu), the 2023 LUC HGSA Conference Co-Chairs.
Previous Conference Programs