2019 Staff Recognition Awards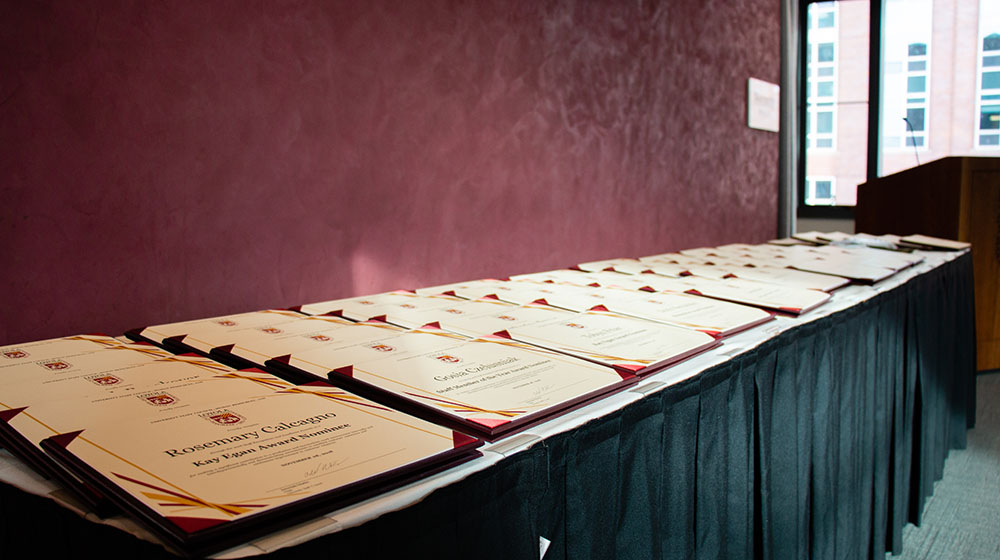 The 2019 Staff Recognition and Excellence Award Winners
Staff Member of the Year: Tasha Neumeister, University Marketing & Communciations
Person for Others (or Kay Egan) Award: Wendy Threadgill, International Programs
Person for Community (or Megs Langdon) Award: Judy Sunvold, Event Services
Person for Students (or Student Service) Award: Roy Saldana, Academic Enrichment & Retention
Rising Star Award: Stephanie Kimmel, Corporate & Foundation Relations
Team Spirit Award: Water Tower Wellness Team, Fr. Jerry Overbeck, Guy Caprio, Rachel Kline
Congratulations to these outstanding staff members!
Presentation and Award Ceremony
The nominees and winners of the annual Staff Recognition and Excellence Awards were honored on Monday, November 18, 2019, at a ceremony held at Kasbeer Halll in the Corboy Law Building. University Staff Council received more than 83 unique nominations from faculty, staff, and students, in addition to the monthly Commitment to Excellence Award winners who were considered for the Staff Member of the Year honor.
This year's nominations pointed to countless acts of kindness, generosity of spirit, and stories of notable staff members consistently going above and beyond "the call of duty." University Staff Council recognized individuals with the following accolades: Staff Member of the Year, Student Service Award, Rising Star Award, the Megs Langdon Award, Kay Egan Award, and Team Spirit Award. Winners represent multiple campuses and an incredible range of departments and schools.
Past Winners