Verification Tutorial: step 1
Identifying the adjustment
Use the link included in your verification email, sign into LOCUS and you'll be taken to your verification page. The recommended "Adjustment Amount" indicates the amount to add to or subtract from your current iPlan balance. Accepting this adjustment will update your iPlan budget to more accurately reflect charges and credits.
Below is a sample verification page that illustrates where to find the information listed above as well as the old installment amount and the new installment amount if an adjustment is accepted.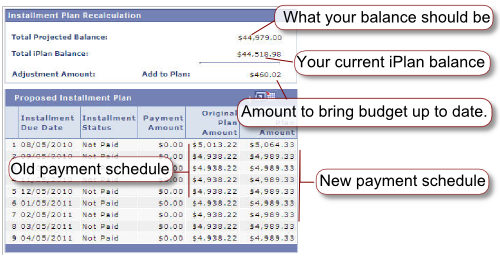 Once you identify what changes the iPlan is recommending you may proceed on with the tutorial in order to understand why there are adjustments needed.
Continue on with the Tutorial -->