Shared Instrumentation Facility
Welcome to the shared Instrumentation Facility at Loyola University Chicago. Within our facility you will find:
Fluorometer: Jasco FP-8300 (2020, FH 315)
Used for (text TBD)
Training: (Xiolmara Martinez) Supervisor: unfilled
HPLC: Agilent 1260 Infinity II (2019, FH 315)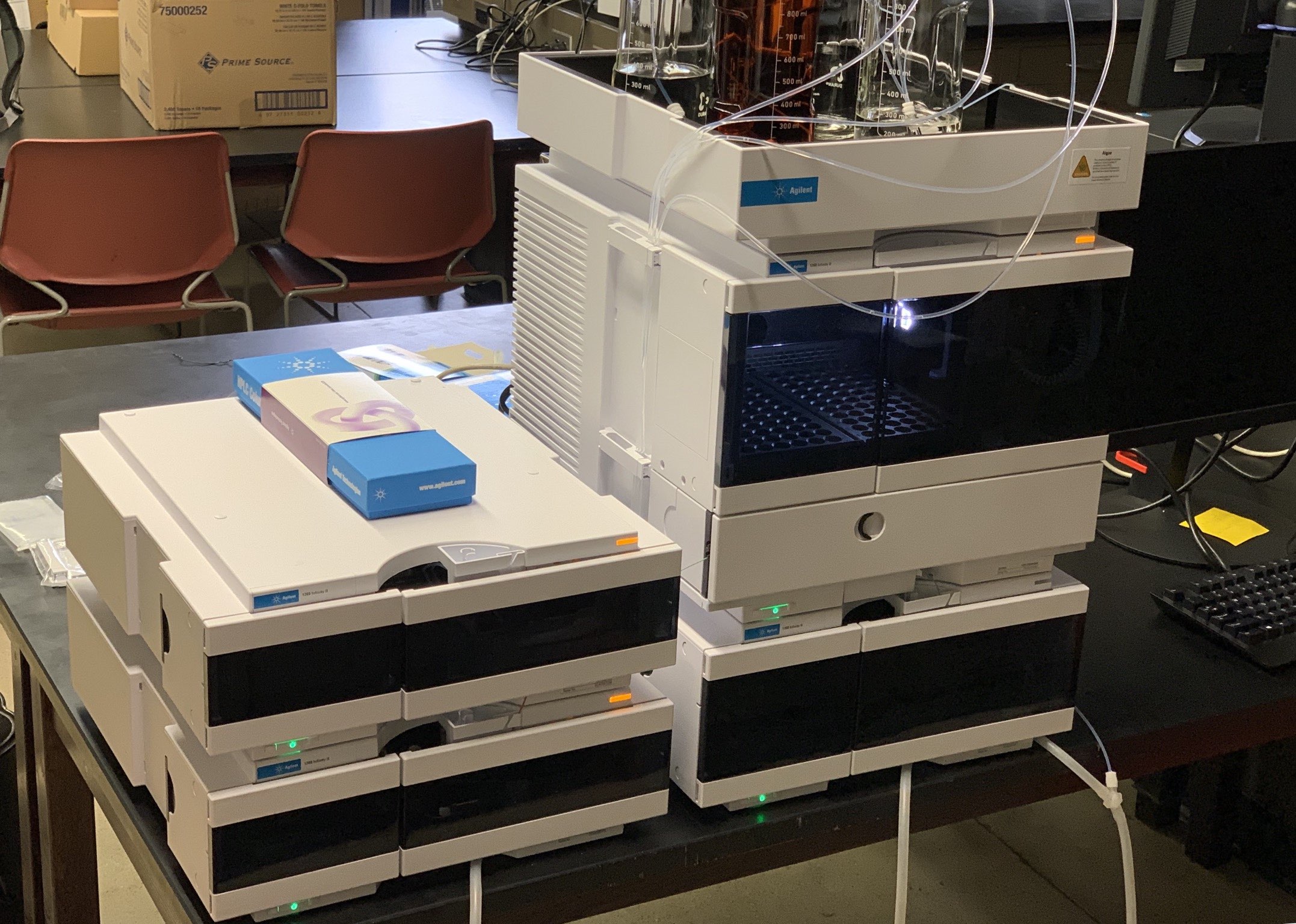 Used for chemical separations and analysis. Contains a diode array and fluorescence detector for spectrochemical analysis with a quaternary pump driving the mobile phase.
Training: (Emma Kelley) Supervisor: Prof. Chiarelli
Capillary Electrophoresis: Agilent 7100 (2019, FH 315)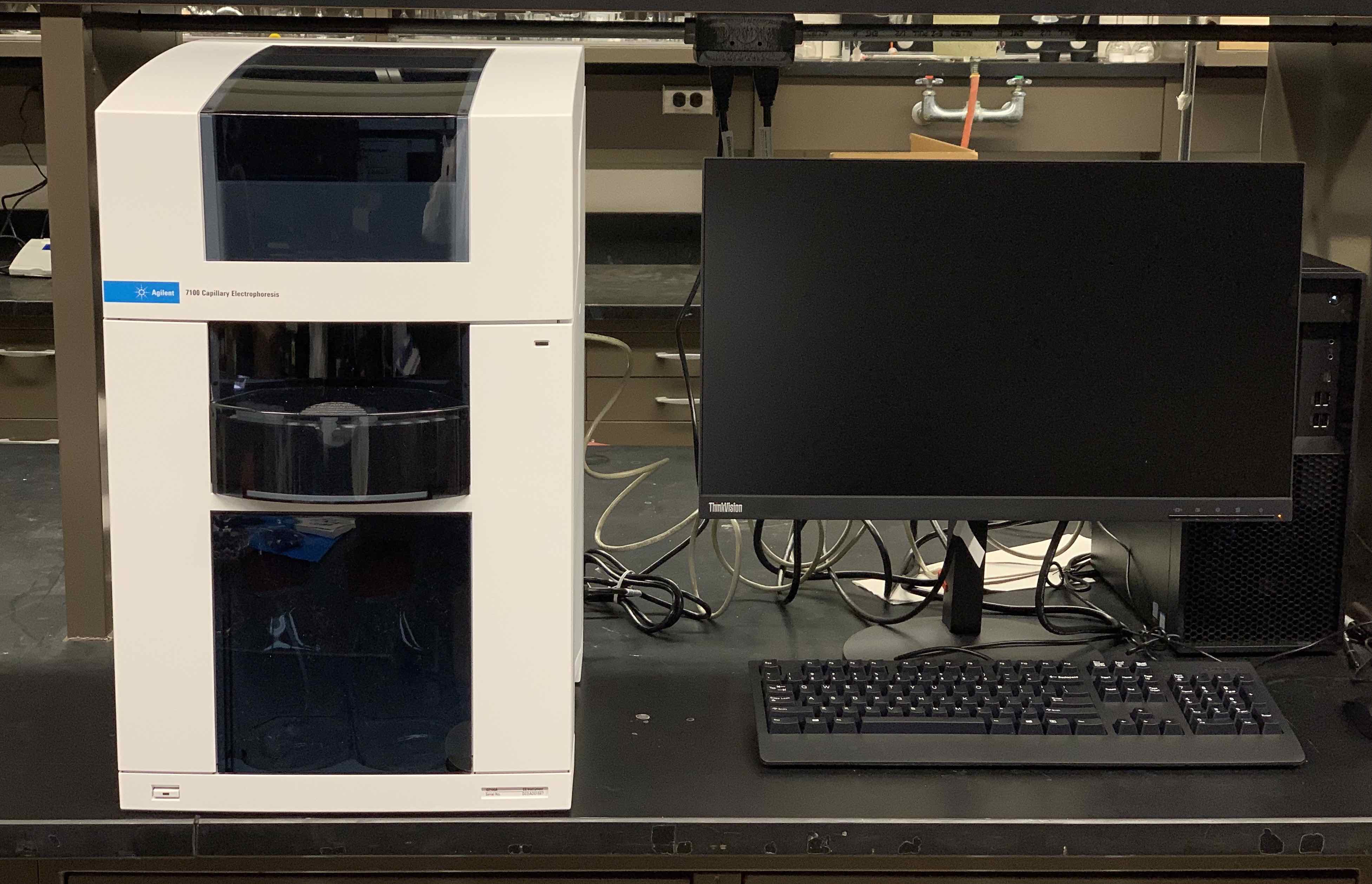 Used to separate ionic compounds, polymers, or proteins based on electrophoretic mobility. Equiped with UV-vis diode array for a detection range of 190-600 nm. Peltier based temperature control from 10 to 60 C. Autosampler allows the acquisition of up to 50 samples in an automated fashion.
Training: unfilled
Scanning Electron Microscope: Hitachi SU3500 (2017, FH 315)
Used for solid morphology determination in the nm to mm range. Variable pressure mode allows for a pressure range of 10-3 to 650 Pascals. Large stage accommodates samples up to 200 mm in diameter. Voltage range of 300 V – 30 kV. Spectral resolution provides 3 nm at 30 kV on high contrast samples. Equipped with a Bruker Quantax EDS system for elemental detection with a backscatter detector. Detects elements Z > 5 on the periodic table. Elemental mapping and composition of samples may be performed.
Training: Prof. Ciszek
IR: Shimadzu IRAffinity 1S FT-IR/ATR (2014, FH 315)
Used to analyze vibrational information of the bulk properties of a sample. Equipped with a DTGS detector and a KBr beamsplitter. Optimal for mid-range FT-IR experiments (7800-350 cm-1). The Pike MIRacle attachment provides ATR capabilities in the mid-range region (Cd/Se crystal)
Training: (Gaby Martinez-Ramirez) Supervisor: unfilled
Atomic Absorption: Shimazdu AA 7000 (FH 314)
Used to perform analysis of solutions for potential elemental identification and quantification through both flame and graphite furnace atomic absorption spectroscopy. Capable of double beam experiments; with emission from hollow cathode and deuterium lamps. The measurement wavelength range is 185 to 900 nm.
Training: (Monika Rasic) Supervisor: unfilled
UV-Vis: Shimazdu UV-2450 (2007, FH 315)
Used to collect absorbance spectra of solutions. Double beam UV-Vis with an effective range of 190 – 900 nm. Powered by dual sources (50 W halogen lamp and a deuterium lamp), has a resolution of 0.1 nm with an accuracy of +/- 0.3 nm. The max cell pathlength is 100 mm. The slit width can be set between 0.1 and 5 nm. The instrument can be used to take several different types of measurements: Spectrum, kinetics, and photometric. The Shimazdu TCC Controller allows for the controlling of temperature in the cell compartment of the instrument in the range of 7-60oC.
Training: (Claire Baxter) Supervisor: Prof. Ciszek
Electrochemistry: PGStat 101 (FH 314)
Used to perform numerous standard electrochemical techniques. Functions as a potentiostat and a galvanostat. Software contains standard electrochemical experiments including the study of redox reactions utilizing cyclic voltammetry. Supports between 2-4 electrode connections. +/- 10 V potential range, maximum current of +/- 100 mA, and a current range is 10 mA -10 nA.
Training: (unfilled) Supervisor: unfilled
Raman: Ventana 785 (FH 314)
Used for vibrational analysis of solids. The laser excitation is at 785 nm with a Raman shift range of 250-2000 cm-1. The resolution is 10 cm-1. The slit size is 50 mm. Integration time be set between 22 ms- 4 min. Dynamic range of 17000:1 and signal to noise ratio of 550:1.
Training: (Sara Abuhadba) Supervisor: unfilled