Aqdas Aftab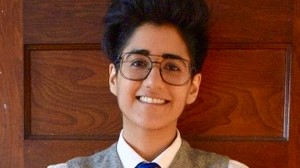 Assistant Professor
Office Location: Crown Center 427
Phone Number: 773.508.2246
E-mail: aaftab@luc.edu
About
My research interests lie at the intersection of postcolonial literatures, decolonial theory, queer and trans studies, and Black diaspora studies. My work explores how the imposition of the modern gender binary is central to the processes of racialization and colonialism. I am particularly interested in the quotidian and affective politics of trans of color life. My first book project, tentatively titled "Trans Worlding Within: Decolonial Examinations of Trans of Color Interiority" argues for the importance of reading for interiority in trans of color cultural productions as a strategy to evade the cis gaze of coloniality. With so many representations of trans people of color foregrounding the surveilled body, the global cultural imaginary around trans of color life is saturated with notions of corporeality. In this context, I develop a hermeneutic that refuses an emphasis on the racialized trans body and instead, turns towards the interior. Examining texts from postcolonial classics such as Nuruddin Farah's Maps to contemporary South Asian Dalit speculative fiction by Mimi Mondal, I argue that while the corporeal is surveilled by the cis white gaze, the interior shows glimpses of world-making practices that are protected from the pornotropic violence of spectacle.
I strive to bring decolonial world-making into the space of the classroom as well. I practice an anti-oppression pedagogy, bringing attention to issues of power and privilege, and building a culture of mutual care and accountability in the classroom. Having learned from Black, Indigenous, and other women of color feminist scholars, I believe that the personal is political is pedagogical; therefore, I curate syllabi that intentionally center historically marginalized writers and scholars. I am particularly invested in teaching my students to analyze aesthetic form and genre in relation to systems of power, and to examine how different writers' ethical priorities and political purposes inform the production and reception of their literary productions.
---
Degrees
BA, English Literature, Smith College (2014)
MA, Literary and Cultural Studies, Carnegie Mellon University (2016)
PhD, English Literature with a Graduate Certificate in Women, Gender and Sexuality Studies, University of Maryland (2021)
---
Program Areas
Postcolonial Literatures
African Diasporic Literatures
Gender and Sexuality Studies
Queer and Trans Studies
---
Research Interests
Trans of Color Theory
Decolonial Thought
Transnational, Migration and Diaspora Studies
Black and Dalit Solidarities
Black Feminisms
Critical Race Theory
Queer of Color Critique
Cultural Studies
---
Selected Publications
Academic Writing:
"Ecstatically Moving Inward: The Politics of Black Trans Interiority in Jackie Kay's Trumpet. Queer Kinship: Erotic Affinities and the Politics of Belonging. Ed. Elizabeth Freeman and Tyler Bradway, Duke University Press, 2021. Forthcoming.
"Racialized Femininities." The SAGE Encyclopedia of Trans Studies. Ed. Abbie Goldberg and Genny Beemyn, SAGE, 2021.
"The Sexual Subaltern in Court: The Queer and Inter-Caste Obscenities of Ismat Chughtai's 'Lihaaf' and Saadat Hasan Manto's 'Boo.'" Journal of Commonwealth and Postcolonial Studies 7.1, 2019, 29-46.
"Book Review: Afro-Fabulations: The Queer Drama of Black Life by Tavia Nyong'o." Women's Studies, 48.6, Fall 2019, 649-651. (Review)
"The Racialization of 'Transamorous' Desire: A Decolonial Critique." Transgender Studies Quarterly* Now, Summer 2020. (Online Forum)
Creative and Public Writing:
"Queering Islamophobia: The Homonationalism of the Muslim Ban." Bitch Media, 2017.
"Reading Adichie Today: On Racism and Transphobia in Feminism." Bitch Media, 2017.
"Appropriating Audre: On the Need to Locate the Oppressor Within Us." Bitch Media, 2017.
"The Trouble with the Model Muslim." Bitch Media, 2017.
"Visibility or Complicity? Western Capitalism Gets its Hands on the Hijab." Bitch Magazine: The Invisibility Issue, Fall 2017.
"Quiet." Strange Horizons, Fall 2020.

Spanish Translation by Asociación Cultural Crononauta. Ed. Carla Battaler, 2021.

"All Death." The World Within Us: An Anthology of South Asian Queer Poetry. Ed. Aditi Angiras and Akhil Khatyal, HarperCollins, 2020.
"Nuclear Disassociations." Transcendent 4. The Year's Best Transgender Speculative Fiction 2018. Ed. Bogi Tukacs, Lethe Press, 2019.

Italian Translation in Il Mio Genere è Secretato (My Gender is Classified), Future Fiction. Ed. Francesco Verso and Martina Del Romano, 2021, Forthcoming.