Faculty Development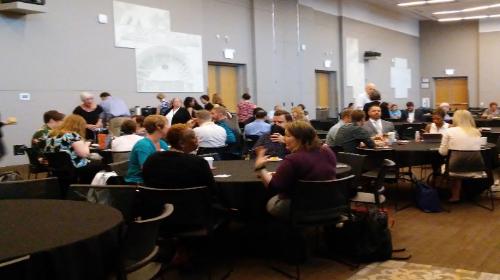 The forms for requesting departmental support for conference travel and professional development funds (for NTT faculty) can be accessed from our Faculty Forms page.
Faculty Development Programs: Supported by the Center for Experiential Learning, these programs provide a number of professional development programs for faculty and staff in collaboration with Loyola's Faculty Center for Ignatian Pedagogy (FCIP). Common topics for workshops and lectures include writing pedagogy, syllabus drafting, social justice, and support for professional writing and scholarship. Several LUC professors from various departments serve as Faculty Fellows for this program. FCIP offers regular Online Teaching certification courses, which beside fostering discussion on lesson strategies for online learning, also instruct professors in various platforms such as Sakai, LOCUS, Zoom, Voicethread, and Panopto. Further useful information on useful LUC technologies can be found on the Information Technology Services (ITRS) website, which offers an instructional course. More technological and equipment support can be found on the "Faculty Resources" page of the Student Academic Services section.
Office of Research Services: Internal funding for research and scholarship is available through the Office of Research services. The first priority of all internal funding programs administered by the Office of Research Services is to increase the capacity of Loyola faculty to secure external funding for their research and/or other scholarly activities. All applications for internal funds must be submitted through the Internal Proposal Review System (IPRS).
The National Center for Faculty Development & Diversity (NCFDD): Loyola University Chicago is an Institutional Member of the NCFDD, which is a nationally-recognized, independent organization that provides online career development and mentoring resources for faculty, post-docs, and graduate students. To claim your free Institutional Membership, go to the website link above, select LUC, and activate your membership account.
The Loyola Teaching and Learning Community: Supported by FCIP, this group is open to any faculty, staff, or graduate students who teach or develop curriculum. The group meets regularly to discuss scholarly research about teaching and teaching practices and to exchange ideas with colleagues across the university.
The Writing Center: The "Faculty Resources" page of the Writing Center website contains writing support for instructors in their own projects. Tutors, usually graduate students, will serve as a second pair of eyes for professors during a revision process on a manuscript or article, and can be met with in-person at LUC's two writing center on LSC and WTC or online through the website's tutoring portal. Additionally, links are provided to LUC organizations offering teaching support, ways to apply for research awards, and discuss personal applications of Ignatian pedagogy. Upon instructor request to the Assistant Director, the Writing Center also will send a writing center tutor to a class section to introduce the Writing Center's resources or hold workshops on various writing subjects. The Loyola OWL contains several pages devoted to discussions of plagiarism, writing issues, and ESL help, among other subjects. Students can ask Writing Center tutors to email a report to an instructor following a tutoring session.
Coordinated Assistance & Resource Education (CARE): Faculty are encouraged to refer students who are mentally struggling to CARE. CARE services offer students a non-intrusive and empowering option for obtaining assistance. These services include outreach on behalf of a student to faculty or other campus partners, connecting students with appropriate campus or community resources, or simply checking in with a student to offer guidance and support, among other actions.