Prospective PhD Students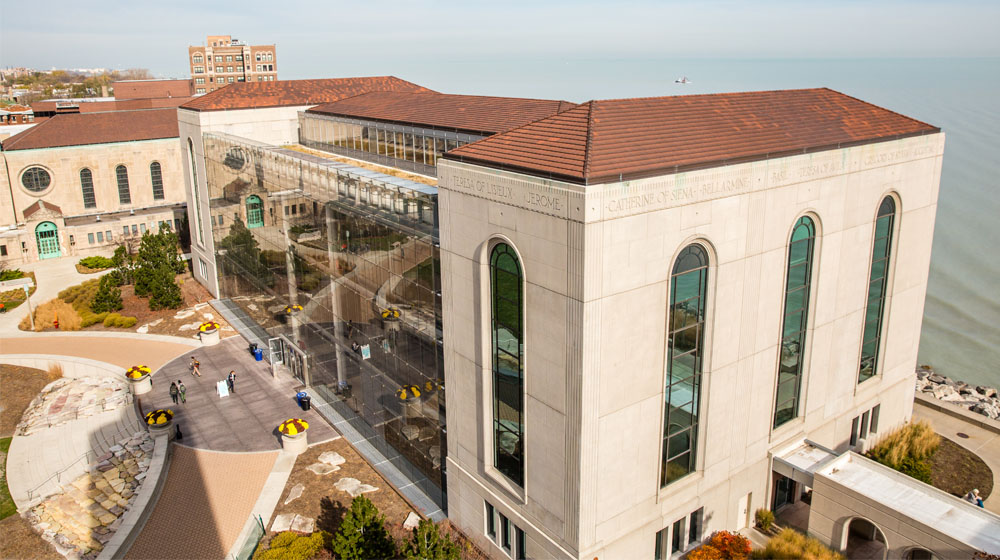 ‌Why Loyola?
The Department of English at Loyola University Chicago offers MA and PhD programs in literature and culture across three broad historical areas, Medieval and Renaissance Literature, Nineteenth Century Studies, and Modern Literature and Culture, with a special emphasis in textual studies.
---
Loyola's PhD program in English provides many advantages:
I. A faculty of scholar-teachers. At many universities, a large and overcommitted faculty has little time or incentive to concentrate on teaching and mentoring its students. Smaller departments where teaching is emphasized, on the other hand, may lack the research-active faculty found at the more prestigious institutions. At Loyola, you will find the best of both worlds in a faculty of nationally respected, active scholars who also take pride in their teaching, and who give graduate education and graduate students the care and attention they deserve.
---
II. Success in the job market. Despite the notoriously challenging market for PhDs in the humanities, the English department at Loyola has a strong, long-standing record of success in placing our students in jobs—particularly at liberal arts colleges where teaching is valued, but also at research universities and community colleges. See our Placement History for more details!
---
III. A humane Graduate Assistantship program. The service requirements that come with a Loyola assistantship are fair and manageable. Our graduate assistants (GAs) teach four courses of their own during the four years of their assistantships, though never more than a course a semester. When not teaching, they have the opportunity to work closely with faculty mentors as either research assistants or teaching assistants. There is never a point at which a GA's work requirements impede his or her ability to move ahead toward the PhD.
---
IV. A balanced education in literature, theory, and textual studies. With distribution requirements spread over four areas—Medieval and Renaissance Literature, Nineteenth Century Studies, Modern Literature and Culture, and Textual Studies and Digital Humanities—our PhD program offers up-to-date training in the discipline's major areas of expertise. Program requirements are supported by a wide range of courses in the various historical periods of English and American literature, literary and critical theory, post-colonial and global literatures, cultural studies, textual scholarship, digital humanities, and the teaching of writing.
---
V. Manageable degree requirements. Coursework in the PhD program can be completed within three years (two years for students entering with the MA degree), with the qualifying exams and dissertation taking two to three more years.
---
VI. Real training in teaching skills. Our department considers the training of our graduate assistants in classroom teaching to be an important part of what we do. We do not throw new graduate students into the composition classroom with orders to teach! During their first year with us, we instruct our GA's in the art of teaching, mentor them in our own writing classes, and give them hands-on tutoring experience in the Writing Center. Our students feel well prepared when they teach their own first courses. And ongoing instruction in pedagogy as well as ample opportunities to teach both writing and literature, provides our graduates with an excellent skill set that is very attractive to prospective employers.
---
VII. The Center for Textual Studies and Digital Humanities. Loyola's Department of English is a close partner with the University's Center for Textual Studies and Digital Humanities. This department's collaboration with the Center provides students with opportunities to participate in conferences and symposia with Loyola faculty and prominent visiting lecturers, to work with faculty on research projects, and to take new courses and pursue research of their own in this exciting interdisciplinary area. Students may take courses both in the department and in the interdisciplinary MA program in digital humanities.
---
VIII. A vibrant community. Students have long praised our program for its strong community. Our students work closely with faculty members and with one another. MA and PhD students take the same courses and share in the department's rich array of social and professional opportunities. Social outings; "salons" where advanced students present their work; writing workshops for students presenting at conferences or publishing essays; workshops on teaching, the job search, and writing seminar papers; guest speakers and graduate student conferences—these are just some of the activities sponsored by our English Graduate Student Association (EGSA) and the department to enhance our students' professional training.
---
IX. Chicago is a wonderful place to pursue a graduate degree. A thriving, culturally vibrant, yet very "livable" city, Chicago has something for every graduate student, including educational and programs and events hosted by the city's many universities, the Newberry Library, The Art Institute of Chicago, museums and theaters. The Loyola campus, located on the shores of Lake Michigan, provides an attractive refuge while also giving easy access to the resources of the city around it. See the English Graduate Student Resources pages for more information on what resources are available in the area for personal and professional growth.
---
X. Positive outcomes. All students who enroll in our program will:
Learn the significance and the history of British and American literature (broadly defined)
Gain an appreciation and understanding of diverse voices in literary history
Learn how to think both critically and creatively
Learn how to write effectively and persuasively
Contribute to existing scholarly discourses in the field as a literary critic
Establish an appreciation of the diversity of texts by authors writing in English
In addition, students in the PhD program gain valuable knowledge about how to become active members of the profession by:
Learning how to present at academic conferences
Submitting new research to scholarly journals
Organizing symposia
Preparing for the academic job market and related fields
---