archive
The Svaglic Chair Spring 2020 Lecture: Experiments with Jorge Luis Borges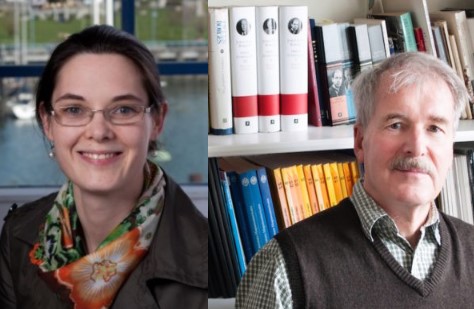 Join us Thursday, April 2nd, at 4:30 p.m. in the Information Commons 4th Floor hall for the 2020 Svaglic Chair Spring Lecture! This year's lecture is a collaborative presentation by Daniel Balderston (University of Pittsburgh) and María Celeste Martín (Emily Carr University of Art + Design), entitled "Experiments with Jorge Luis Borges: From Manuscripts to Typographical Transcriptions."
Inspired by new collaborations by scholars and artists, Balderston and Martín have put together three volumes of facsimile editions of Borges's manuscripts found in libraries in the United States and presented them with typographical transcriptions (Martín) and commentaries (Balderston). In 2018 they published Poemas y prosas breves, with twenty poems by Borges from early in his career until after he had gone blind. In 2019 this was followed by Ensayos, a collection of five essay manuscripts, which includes an extensive unpublished manuscript by Borges on Flaubert (in a critical edition done in collaboration with Mariana Di Ció). The third and final volume, Cuentos, which just appeared this past month, includes manuscripts of four stories and a typescript. Building on a decade of research by Balderston on Borges manuscripts and prior collaborations on the design of the journal Variaciones Borges, these books, published by the Borges Center at the University of Pittsburgh, make available rare Borges manuscripts for study, while exploring the technical and artistic possibilities of graphic design in the representation of Borges's tiny handwriting and complex compositional practices. In today's presentation, Balderston and Martín will consider the unique challenges and allure of Borges's manuscripts as well as their own innovative collaborative process. Their work addresses scholars and readers of Borges and Spanish-language literature, textual scholars, typographers and designers, and all those seeking to re-imagine the book in light of emerging digital materialities. The talk will be delivered in English.
Daniel Balderston is the Andrew W. Mellon Professor of Modern Languages at the University of Pittsburgh, where he teaches in the Department of Hispanic Languages and Literatures and directs the Borges Center. His seventh book on Borges, titled How Borges Wrote, was published in 2019 and won the Finneran Award from the Society of Textual Scholarship for the best scholarly edition of 2018-2019. He has edited numerous books, including Voice-Overs: Translation and Latin American Literature, and has also translated books by José Bianco, Juan Carlos Onetti, Sylvia Molloy, and Ricardo Piglia. His research focuses on Borges and his contemporaries (Onetti, Silvina Ocampo, Roa Bastos) and writers whose work responds in different ways to Borges's work (Wilcock, Piglia, Saer). Balderston also works on gender and sexuality studies and in literary translation (and in translation studies). His work ranges across Spanish America and Brazil, with a particular emphasis on the River Plate area.
María Celeste Martín is the Dean of the Faculty of Design and Dynamic Media, and previously Associate Professor, at Emily Carr University of Art + Design, Vancouver. Her creative work examines the forms of written language and the spaces and manifestations of typographic texts. She has led numerous research initiatives on the re-conceptualization of book and text forms in emerging digital materialities. This area of her research formulates the emerging formal structures of ebook and book apps and their interaction models and continues to clarify interaction patterns and propose new principles in publication and book design for haptic devices. Her most recent work has been involved with digital archives, the translation and transaction of manuscripts (particularly those of J. L. Borges) into typographic texts as both research tools in the field of genetic criticism and autonomous aesthetic objects. She is also co-editor of Emily Carr University's award-winning research journal Current.
This event is co-sponsored by the Department of Modern Languages and Literatures and the Center for Textual Studies and Digital Humanities. For further information, please contact Dr. Marta Werner @ mwerner7@luc.edu.