Jazz Studies Concentration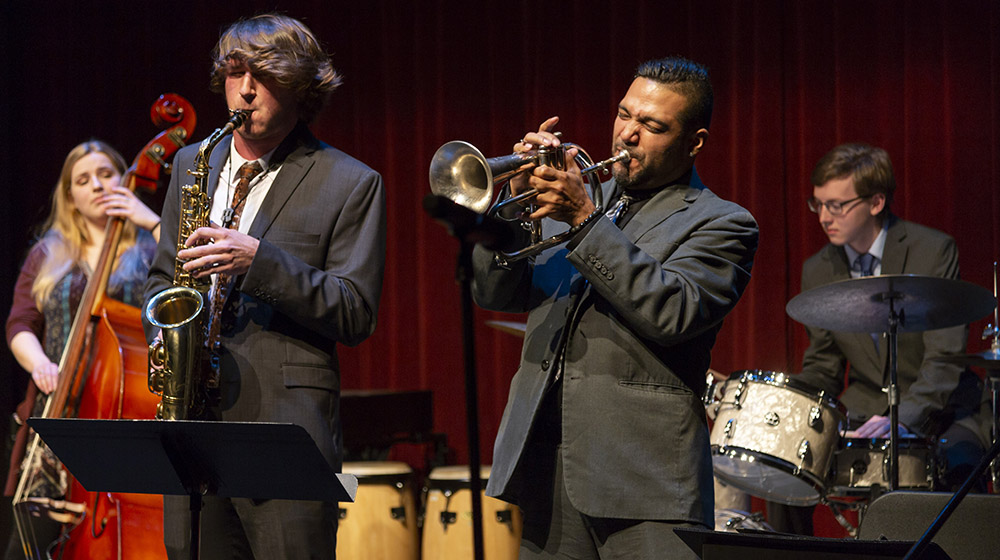 A Major in Music with a concentration in Jazz Studies is a performance degree that prepares students to perform jazz music. Students will take courses in jazz improvisation, jazz music history, and jazz composition and arranging.
See the curriculum below.
Music Theory (11)
Course Number
Title
Credits
MUSC 144
Music Theory I
3
MUSC 145
Musicianship Lab
1
MUSC 244
Music Theory II
3
MUSC 245
Musicianship Lab II
1
MUSC 344
Music Theory III
3
Note: MUSC 144 (Music Theory I) and MUSC 145 (Musicianship Lab I), as well as MUSC 244 (Music Theory II) and MUSC 245 (Musicianship Lab II) must be taken concurrently. Students receiving a 3 or 4 on the AP Music Theory Exam are eligible to receive credit for MUSC 144; students receiving a 5 are eligible to receive credit for MUSC 144 and 244.
Music History (6)
MUSC 353
Music History II: Golden Age of Western Music
3
MUSC 256
Jazz Music History
3
Applied Music (6)
Course Number
Title
Credits
MUSC 280A-Z
Applied Music (Various Instruments)
1
MUSC 380A-Z
Applied Music Advanced (Various Instruments)
1
Note: It is preferred that students complete Applied Music credits on the same instrument, though multiple instruments are approved on a case-by-case basis.
Jazz Ensemble (6)
Course Number
Title
Credits
MUSC 109
Jazz Ensemble
1 Each
Note: If necessary - and with approval from the Director of Music - students may fulfill some of their Ensemble credits with MUSC 290: Jazz Combo.
Senior Capstone Experience (1)
Course Number
Title
Credits
MUSC 387
Solo Recital
1
Required Jazz Studies Courses (9)
MUSC 185
Jazz Improvisation I
3
MUSC 385
Jazz Improvisation II
3
MUSC 248
Jazz Composition and Arranging
3
Note: With the exception of MUSC 101, 102, 103, or 142, students may choose from any 3 credit hour MUSC course that has not already been taken (see General Music Courses), or use any combination of 1 credit hour MUSC courses such as Ensembles or Applied Music.
To download a PDF copy of the Jazz Studies curriculum, click here. For more information about the Jazz Studies Concentration, please contact Dr. Christopher Maden at cmadsen1@luc.edu.
Dr. Christopher Madsen, who supervises the program, is a nationally-renowned educator, composer, and performer (saxophone), while instructors Kyle Asche, Alex Beltran, Jon Deitemyer, Lara Driscoll, Victor Garcia, Catie Hickey, and Matt Ulery are among the most respected jazz musicians and educators in Chicago. The program currently supports a Jazz Ensemble of approximately eighteen musicians and several small jazz combos.