Vocal Performance Concentration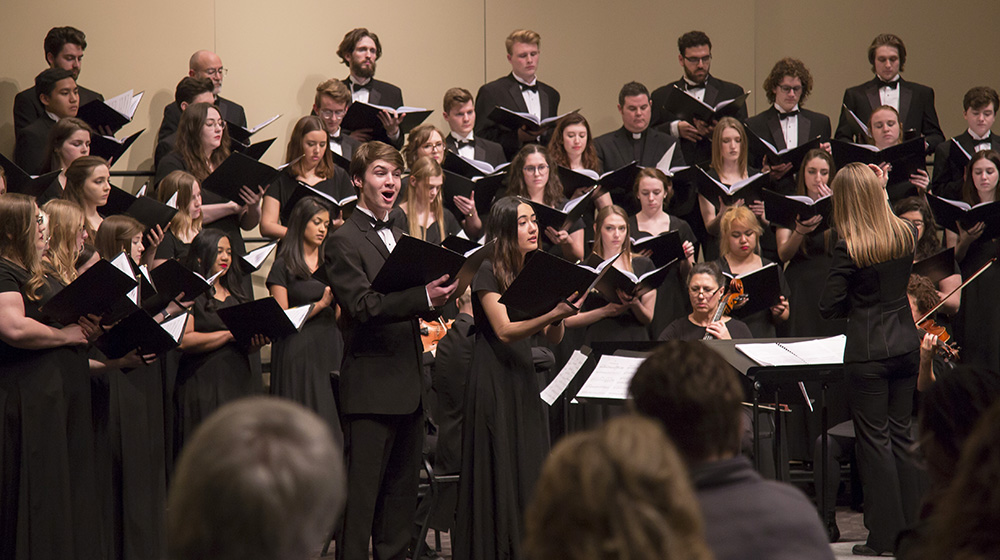 Loyola's Vocal Performance Concentration offers a program that emphasizes rigorous, conservatory-level study in a liberal arts setting. The curriculum is designed to support the artistry, citizenship, and intellect of the singer, as well as pedagogy, performance, and collaborative ensemble singing. Extraordinary singing is nurtured at every stage, as well as care of the whole person within the liberal arts environment.

In addition to the core music major requirements, students study diction, vocal repertoire, vocal pedagogy, vocal coaching, and ensemble singing. Students may also participate as soloists in oratorios, musicals, and opera scenes, as well as other performance opportunities. All Vocal Performance students are also required to give a full recital their senior year.

Recent performances include Mozart's Requiem, Orff's Carmina Burana, Faure's Requiem, Schubert's Mass in G, Robert Ray's Gospel Mass, Opera Scenes, and James Whitbourn's Annelies, which was performed with the Grammy-nominated Lincoln Trio. Additionally, the choirs participate in the annual holiday Lessons and Carols and JOYOLA, which collectively draw over 1200 people each year.

With a firm dedication to supporting social justice issues through the arts, Loyola's vocal students often engage in programming that highlights issues of our time. The choirs are frequent collaborators with the Institute of Environmental Sustainability, having performed regularly at the Climate Change Conference. Other projects have included a Black History Month program, Holocaust remembrance programming, outreach to the homeless, frequent collaborations with Misericordia, and the annual Women's Collegiate Choral Festival, celebrating women in the field of choral music.

In addition to supporting an outstanding faculty, Loyola also welcomes frequent guest artists. Recent guests have included Craig Terry (Lyric Opera), Richard Boldrey (Northwestern University), Rebecca Schorsch (Roosevelt University), Anne Harley (Scripps College), Shannon McGinnis (Collaborative Arts Institute), as well as area professional ensembles such as Bella Voce and William Ferris Chorale.

The Vocal Performance Concentration allows for the flexibility needed for students to pursue their love of singing, while simultaneously receiving a solid liberal arts education. Loyola music majors have gone on to become skilled educators, performers, arts administrators, music therapists, scholars, and most importantly, well-rounded young professionals.
‌See the curriculum below.
Music Theory (11)
Course Number
Title
Credits
MUSC 144
Music Theory I
3
MUSC 145
Musicianship Lab
1
MUSC 244
Music Theory II
3
MUSC 245
Musicianship Lab II
1
MUSC 344
Music Theory III
3
Note: MUSC 144 (Music Theory I) and MUSC 145 (Musicianship Lab I), as well as MUSC 244 (Music Theory II) and MUSC 245 (Musicianship Lab II) must be taken concurrently. Students receiving a 3 or 4 on the AP Music Theory Exam are eligible to receive credit for MUSC 144; students receiving a 5 are eligible to receive credit for MUSC 144 and 244.
Music History (6)
Course Number
Title
Credits
MUSC 252
Music History I or III
3
MUSC 353
Music History II: Golden Age of Western Music
3
Applied Music (6)
Course Number
Title
Credits
MUSC 280A-Z
Applied Music (Various Instruments)
1
MUSC 380A-Z
Applied Music Advanced (Various Instruments)
1
Note: It is preferred that students complete Applied Music credits on the same instrument, though multiple instruments are approved on a case-by-case basis.
Ensembles (6)
Course Number
Title
Credits
Choose any combination of the following, totaling 6 credits:
MUSC 107
University Chorus
1
MUSC 207
Chamber Choir
1
Senior Capstone Experience (1)
Course Number
Title
Credits
MUSC 387
Solo Recital
1
Required Vocal Performance Courses (9)
Course Number
Title
Credits
MUSC 261
Lyric Diction I
1
MUSC 262
Lyric Diction II
1
MUSC 363
Foundations of Voice Technique
3
MUSC 364
Vocal Repertoire and Performance
3
MUSC 394
Internship
1
Electives (3)
Note: Students may choose to take one three-credit class or a combination of one-credit classes to fulfill this elective requirement.
Course Number
Title
Credits
MUSC 280 A-Z and MUSC 380 A-Z
Additional Applied Lesson of your choice.
1 Each
MUSC ---
Additional Ensemble of your choice.
1 Each
MUSC ---
Additional History Course of your choice.
3
For more information about the Vocal Performance Concentration please contact Kirsten Hedegaard at khedegaard@luc.edu.