Liturgical Music Concentration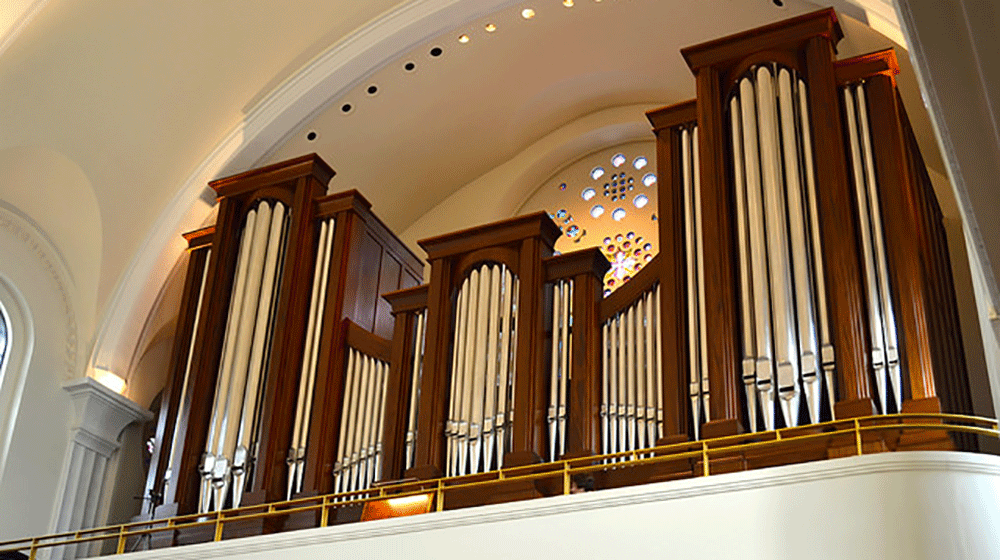 A Major in Music with a concentration in Liturgical Music prepares students to work as church music directors. This new concentration provides students the experience of working with pastors, choirs and congregations, building their skills and talents as future musicians and directors.
Conducting a choir or a congregation requires verbal and non-verbal communication skills, musical and liturgical knowledge, and a generosity of spirit—things that aid in leading and engaging others in worship. This major, while concentrating in the Roman Catholic tradition, will also prepare students for work in other Christian denominations, mainline Protestant and Orthodox, as they will study these different liturgical traditions, as well as their works of liturgical music.
Building upon the solid curricular foundation already established in the Music program, this new major combines the study of liturgical text and song, imagery, melody and rhythm. It is inherently a portrayal of interdisciplinary drawing from both the disciplines of theology and music.
Music Theory (14)
Course Number
Title
Credits
MUSC 144
Music Theory I
3
MUSC 145
Musicianship Lab
1
MUSC 244
Music Theory II
3
MUSC 245
Musicianship Lab II
1
MUSC 344
Music Theory III
3
Note: MUSC 144 (Music Theory I) and MUSC 145 (Musicianship Lab I), as well as MUSC 244 (Music Theory II) and MUSC 245 (Musicianship Lab II) must be taken concurrently. Students receiving a 3 or 4 on the AP Music Theory Exam are eligible to receive credit for MUSC 144; students receiving a 5 are eligible to receive credit for MUSC 144 and 244.
Music History (6)
Choose ONE of the following:
Course Number
Title
Credits
MUSC 252
Music History I: Development of Western Music
3
MUSC 353
Music History II: Golden Age of Western Music
3
Applied Music (6)
Course Number
Title
Credits
MUSC 280A-Z
Applied Music (Various Instruments)
1 Each
MUSC 380A-Z
Applied Music Advanced (Various Instruments)
1 Each
Note: It is preferred that students complete Applied Music credits on the same instrument, though multiple instruments are approved on a case-by-case basis.
Ensembles (6)
Course Number
Title
Credits
MUSC 107
University Chorale
1 Each
MUSC 108
Liturgical Choir (3 Semesters)
1 Each
MUSC 207
Chamber Choir
1 Each
Note: Students must take 3 credits of MUSC 108 Liturgical Choir and 3 additional credits from any combination of the above.
Liturgical Music Requirements (6)
Course Number
Title
Credits
MUSC 255
Music in Catholic Worship
3
MUSC 333
Music and Ritual in Catholic Liturgical Life
3
Internship (3)
Course Number
Title
Credits
MUSC 394
Internship in Music
3
Music Electives (3)
Course Number
Title
Credits
MUSC 260
Conducting
3
MUSC 185
Jazz Improvisation
3
MUSC 246
Composition
3
MUSC 280I
Applied Music: Organ (3 semesters if not student's primary instrument)
3
Solo Recital or Capstone Project (1)
Course Number
Title
Credits
MUSC 387
Solo Recital
1
MUSC 388
Capstone Project
1