home_left
Programs
Multiple Full-Time Faculty Positions in Physics
Physics Seminars
No Seminars currently scheduled.

Physics lecturer invents new breast cancer fighting drug
For Sherita Moses, PhD, the battle against breast cancer is deeply personal.
"I have a lot of close friends who have or had breast cancer; girls that I went to college with and who have been diagnosed with breast cancer," said Moses, "I had a friend who was diagnosed with triple- negative breast cancer a year ago and we buried her this summer. She was 41."
The breast cancer death rate is 42 percent higher in blacks than in whites, according to a 2016 article in the Cancer Journal for Clinicians. And black women are disproportionately diagnosed with triple-negative breast cancers.
This awareness and first-hand experience drove Moses, who is a lecturer in Physics at Loyola, to look for a cure. Just weeks ago, she got one step closer to her wish: She received official patent paperwork for a compound she invented that could potentially save the lives of hundreds of thousands of women who suffer from triple-negative breast cancer—a dangerously aggressive form of cancer.
"I screamed when I got the call. I was in shock that the U.S. Patent Office would approve it," she said.
This invasive form of breast cancer identifies women whose breast cancer cells don't contain receptors for estrogen, progesterone, or HER2, and can't be treated with hormone therapies or medications that work by blocking HER2. It has, however, been treated with other drugs, such as chemotherapy and radiation therapy. These drugs, Moses said, have horrible side effects, and most often do not work on patients afflicted with triple-negative breast cancer.
Something needed to be done, and Moses was determined to find a treatment when she started this research about three years ago while at Alabama A&M University (AAMU). And along the way, AAMU colleagues Vernessa M. Edwards, PhD; Chance M. Glenn, Sr., PhD; and Angela Debro, Esq. lent their support and expertise to Moses' research. She soon received more than $100,000 in funding from the National Science Foundation and an Alabama Experimental Program to Stimulate Competitive Research (EPSCoR) research grant and set to work.
Moses had certain compounds tested at the Loma Linda Breast Cancer Laboratory in California and she soon discovered that gold nanoparticles—tiny microscopic particles—combined with plant extracts could destroy cell lines with estrogen, progesterone, and HER-2 receptors. The process, she said, was even more effective in killing triple-negative breast cancer cells without damaging healthy cells.
Her compound is especially remarkable because it holds both analgesic and anti-inflammatory properties which can drastically reduce the pain caused by cancer. Such traits are lacking in most breast cancer drugs, Moses said.
Right now, with the patent in hand, Moses' goal is to see a pharmaceutical manufacturer buy the compound and conduct clinical trials. Then, hopefully, it will make it to the consumer, patient market so breast cancer patients can be treated.
"I wanted to help save lives without all of the pain and suffering patients go through," said Moses.
Constantin Rasinariu Appointed New Physics Chair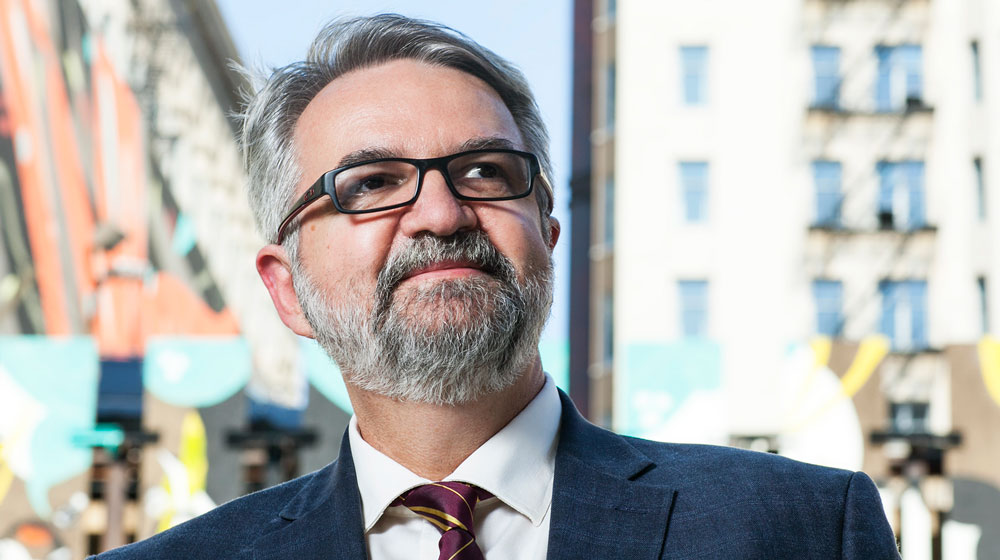 Constantin Rasinariu, PhD, will become chair of the Department of Physics effective July 1. Rasinariu comes to Loyola after serving as dean of Graduate Studies at Columbia College Chicago where he spent the last 18 years as a professor and an administrator.
"Constantin is a well-qualified academic and physicist," said Thomas J. Regan, S.J., and PhD, dean of the Graduate School and the College of Arts and Sciences. "He has great experience in administration and working with faculty, and will help solidify our reputation in the field of physics both regionally and nationally."
As a theoretical physicist and educator, Rasinariu has been widely published in peer-reviewed journals and has authored and edited several college textbooks. He is currently co-authoring Supersymmetric Quantum Mechanics: An Introduction with, Jeffry V. Mallow, physics professor emeritus and outgoing chair and professor, Asim Gangopadhyaya.
During his time as chair of Columbia's department of Science and Mathematics, the department launched its first two majors, a BA in Art and Materials Conservation and a BS in Computational & Applied Mathematics.
Rasinariu holds a PhD in Physics from the University of Illinois at Chicago, as well as degrees in Physics from the West University of Timișoara and Electronics from the Technical University of Timișoara.
Dr. Willetta Greene-Johnson: Where Science and Award-Winning Music Meet
Receiving a PhD is a difficult feat. So is receiving a Grammy. But Loyola Professor Willetta Greene-Johnson can say she has achieved not just one, but both in her lifetime.
As one of the first African-American women in the country to obtain a PhD in theoretical physics, Dr. Greene-Johnson has taught at Loyola University for over 25 years for the Departments of Physics and Chemistry.
At the same time, Dr. Greene-Johnson has created a name for herself in the music world as an accomplished composer, arranger, and songwriter. She wrote the lead song, "Saved" on the 2004 CD by choir group Brooklyn Tabernacle Project, which won the Grammy Award for Best Gospel Choir Album that year.
Local publication and historical newspaper The Chicago Defender even named her one of the Women of Excellence in 2010 for her notable achievements in music.
In addition to her songwriting, she has been involved with the Chicago-Sinfonietta for over six years, serving this year as a guest conductor for their annual Martin Luther King Concert, for which she arranged two of the four pieces featured.
Here, Dr. Greene-Johnson discusses her work and how both music and science have enriched her life.
What influenced your decision to become a professor?
My parents were both scientists. My mother, a research chemist, was one of the first dozen black women to receive a PhD in Chemistry, and my father was an engineer who trained Tuskegee Airmen. I was always skilled in science and math, but I also wanted to study music in college. My parents steered me in the opposite direction, knowing science would pay the bills.
With both your parents' backgrounds being in science, how did music play into your early life?
Although we heard a lot of science terms growing up, my parents greatly enjoyed music too. My mother would listen to artists like Ella Fitzgerald and Barbara Streisand, and my dad was fond of bands such as The Beatles and Earth, Wind, and Fire. It was a wonderful mix of genres that swung from Beethoven to James Dean.
With so many genres of music around you, what attracted you to orchestra and gospel music?
One of my earliest memories is being taken into an auditorium for a concert when I was in second grade. The moment they started playing the music – Beethoven's Fifth Symphony – I sat straight up in my seat, I was so struck by the music.
There's something amazing about hearing all those different instruments working together. Their differences make something exquisite.
If only people could come together in the same way!
What is your songwriting process like?
Some songwriters begin with lyrics and build around it. I tend to get the melody first and play with it until the right words associate, until they fit the melody.
Before I wrote "Saved," I had this beautiful melody in my head for quite some time. Although that song was inspired by my mother's death, I like to write about religion, love, and social justice as well. Music can bring people together in this way.
Do you ever struggle to balance your career as a professor and your music?
I am privileged to have a career that allows me three months each summer to work on my music. Although I'm typically immersed in teaching during the academic year, I split my time in the summer between researching physics topics, creating lessons, and writing and recording music.
Moreover, I feel that Loyola fully allows me to foster my creativity; the environment is very congenial and much different from other schools.
There's been an increased focus on STEM education in K-12 schools as of late; how can we encourage science and math learning without forgetting about the arts?
The arts can help us in a lot of abstract ways. There are studies to show how music can improve cognitive skills, teamwork, and emotional well-being.
There is also a lot of math you can learn from music! It makes sense when you think about how many scientists have had an affinity for music. Many of my colleagues also enjoy playing instruments in their spare time; Dr. Gordon Ramsey even teaches a course on the Physics of Music.
I typically keep my music and teaching separate, but I've found that singing to students during a certain moment in class can calm them down - It's comforting. Music is a healthy outlet for emotion; why would we want to take away something that can be a safe space for students?
Finally, knowing how successful you've been as a musician, would you have pursued music exclusively, instead of science, if you could go back in time?
I don't think I would change anything. Science has enriched my life, as have my colleagues and students; they keep me young!
To connect to people through art, it helps to connect to people in real life first. Although as a professor, I am supposed to challenge my students, they challenge me too. Being around my students has helped my music grow and remain approachable to all eras and social strata.