home_right
Daniel Bafia ('16)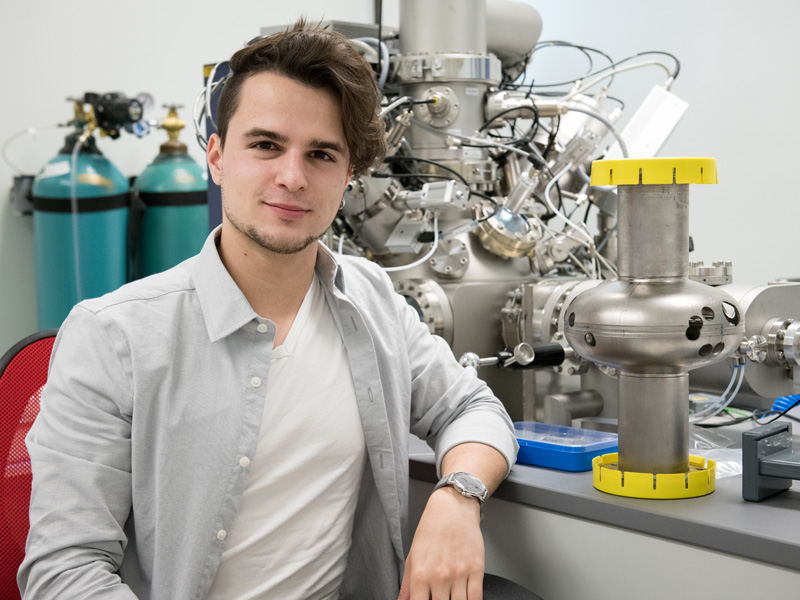 Daniel Bafia ('16) recently completed his PhD in Physics at the Illinois Institute of Technology. His dissertation was on superconducting radio-frequency cavities, which are part of high-energy beamlines used in particle physics research. Daniel now works as a research associate in the Superconducting Quantum Materials and Systems Division at Fermi National Accelerator Laboratory in Batavia, Illinois.
Do you have a fun memory to share from Loyola or from Loyola Physics? The physics BBQs were always fun. It was a great chance to talk with professors and students outside of the classroom.
What field of physics did you study in graduate school? I studied general physics when I first started out grad school. Once I started my graduate research assistant position at Fermilab, I took a few extra courses that more closely aligned with my research in condensed matter, such as solid state physics and superconductivity.
How was the transition from Loyola to graduate school? The application process for grad school was straightforward but tedious. A lot of research went into understanding what universities might be best for my research interests. The biggest hurdle was the physics GRE. I remember studying for it during the Fall semester of my senior year while simultaneously applying to schools. There was a big rush to get everything done in time.
The transition from Loyola to graduate school certainly had an adjustment period. The amount and difficulty of the coursework was substantially larger than what I was used to. I think that Loyola prepared me pretty well for this, as it gave me an excellent theoretical foundation. However, on top of the course load, I was also a teacher's assistant, where I led two discussions and two lab courses a week in electricity and magnetism. Although I did a bit of one-on-one tutoring at Loyola and gave a few school-related presentations/talks, I did not feel prepared to basically lecture 50 students. However, after the first couple of weeks, it got easier. After the first semester, I got more into the groove of things. I think what may have helped to better prepare me for grad school are final examinations with a presentation-based component. This would have given me more exposure to teaching larger groups of students and presenting at conferences.
How did you get started in quantum computing? I've always been interested in quantum computing, but the path I took to work in this field was somewhat indirect. My PhD thesis was on exploring and understanding the limiting mechanisms in the performance of superconducting radio-frequency (SRF) cavities. Historically, these resonators have been used in high energy accelerators. However, in the past couple of years, these SRF cavities have found applications in quantum computing, and it's since then been a hot area of research. The skills and knowledge that I gained from my thesis work were directly applicable to those necessary to work in this field, so it was almost natural for me to go into it.
What advice would you give to a student that wants to pursue a career in quantum computing? Quantum computing is the intersection of many different fields of physics. From algorithms to cryogenics to materials, there is basically something to do for everyone. If a student is thinking of going into quantum computing, good programming skills are a must. In my experience, Python is pretty widely used.
Do you have any recommendations for how students can prepare for post-Loyola careers? I would strongly recommend students to get more comfortable with programming. Many excellent job opportunities open up if you develop a good background in this. Additionally, if a student is considering going into research, my best advice is to take part in as many internships or research opportunities as possible. This will give them a much better idea of what they might like to do.
What activities do you enjoy away from the lab? I like to mountain bike, skateboard, and snowboard. Some of my hobbies include playing guitar and drums. I also like to cook when I get a chance.