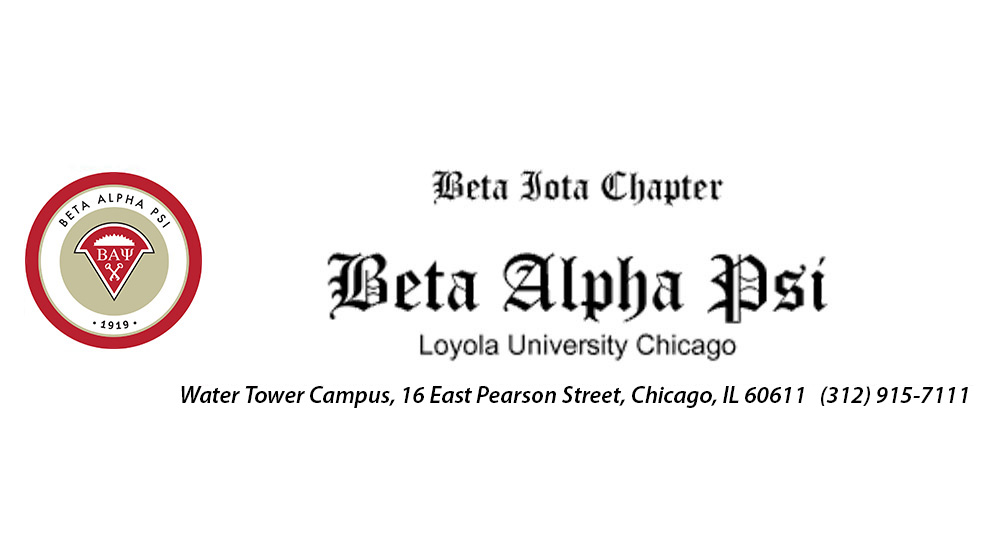 Beta Alpha Psi is an international honor organization, founded in 1919, for financial information students and professionals. It is not a fraternity or sorority, but an honors organization. It is widely recognized as the premier honor society for college students in the financial disciplines. Members have exclusive access to industry professionals, alumni, and faculty at member-only events.
The primary objective of Beta Alpha Psi is to encourage and give recognition to scholastic and professional excellence in the business information field. This includes promoting the study and practice of accounting, finance, and information systems, providing opportunities for self-development, service, and association among members and practicing professionals, and encouraging a sense of ethical, social, and public responsibility. BAP has earned the respect of accounting firms, industry, and faculty because it maintains high standards and expectations for members. Our success is dependent on the strong, active participation of our members.
Students are initially eligible to participate in Beta Alpha Psi as a candidate. The requirement that corresponds to candidate status is a declared or intended concentration in accounting, finance, or information systems.
Candidate status has a one-time fee of $75.
After fulfilling the following requirements, students are eligible for full member status in the organization:
Declared concentration in accounting, finance, or information systems
Completion of one-and-one-half years of collegiate courses and at least one major course (accounting, finance, business analytics or digital technology corresponding to major area) beyond the principles or introductory level
A 3.0 cumulative GPA (A = 4.00) in upper-level major courses
A 3.0 cumulative GPA (A = 4.00) in all subjects completed
Full member status has a one-time fee of $140, granting life-time membership.
If you meet the above requirements and intend to join, please understand that it is very important that you participate in the activities of the organization. Active membership is important not only to take advantage of your privileges of membership, but also to fulfill our requirements as part of the Beta Alpha Psi international organization. A significant majority of our professional, technical, and social gatherings are held in the afternoon and evening. Information concerning membership is available on the Loyola BAP website. If you have any additional questions regarding membership, please contact the faculty advisor: Professor Kathy Horton at khorton3@luc.edu.
What We Do
In seeking to promote and recognize scholastic achievement and professional excellence between accounting, finance, and information systems students, professionals, and alumni, our detailed objectives include:
To encourage interest in the accounting, finance, and information systems professions
To provide opportunities for members to interact with accounting and business professionals, faculty, and other students
To provide informative programs, encouraging the development of professional growth
To provide assistance to campus and community organizations, as well as to encourage cooperation and association with other student organizations and BAP Chapters
To increase interaction with Chicago area accounting firms and industry through promotion of accounting, finance, and information systems excellence, as well as participation in placement service activities and industry tours
About BAP
Campus & Student Services
Each year, BAP sponsors a "Meet the Firms Night," where accounting, finance, and information systems students have the opportunity to speak one-on-one to representatives of firms and companies who are presently hiring Loyola students. Generally, a portion of this event is restricted to BAP members.
BAP also has the opportunity to interact with other Beta Alpha Psi chapters during the annual regional meetings and national meetings. Regional meetings are typically held in Chicago or another Midwest location, while the national meeting is held in various locations throughout the country. These meetings are designed to give members an opportunity to become more aware of issues presently impacting the accounting, finance, and information systems professions and to provide members an open forum to discuss issues impacting their chapters.
Community Service
Beta Alpha Psi assists different groups in our community. Each year we attempt to help those in need through activities with nonprofit and other organizations in Chicago.
Leadership Opportunities
Members in the organization have the ability to become board members and officers of the chapter. These leadership positions give excellent experience in managing and decision-making and evidence a student's initiative and commitment to their profession
Professional & Technical Programs
Beta Alpha Psi sponsors technical programs each semester. These programs are designed to enhance the students' knowledge base, supplement class material, aid students in selecting careers, and provide an opportunity for students to interact with accounting, finance, information systems, and industry professionals.
Social Interaction
Beta Alpha Psi organizes various social events to help develop interpersonal communication skills that are necessary during the recruiting season. Professional relationships developed through social contact at Beta Alpha Psi events are valuable assets to have for both the present and the future.