archive
On the Homefront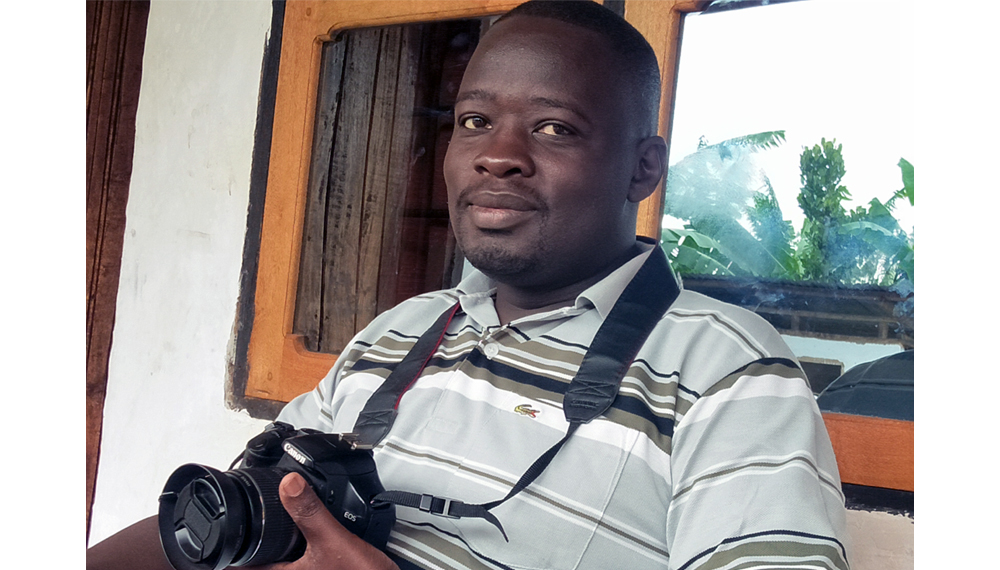 Francis Adika
Degree: Masters of Communication, Digital Media and Storytelling
Expected Year of Graduation: 2022
Hometown: Nairobi, Kenya
Can you tell me about how you became interested in studying Digital Media and Storytelling at Loyola University Chicago?
Yes, I thought in terms of facilities, in terms of professors, it was good. I interviewed with Professor Rogers, over a Skype session in May of 2017 and learned more about the program.
I was also a teacher in a Jesuit high school. I'm actually an ex-Jesuit. I'm in what they call Regency, it's the period before theology, right after philosophy. It's the work experience part, working in a Jesuit institution. Before one embarks on theological studies to become a priest. I did my regency in Dar es Salaam, the commercial capital of Tanzania, and I was also an assistant dean of students. It was co-ed, it was also called Loyola High School Dari Salam. Their motto is "men and women for others."
I did my undergrad in what they call social communication, but I never used it much, if any. I went to join the Jesuits, and with that I changed my line. I went to teach, I did teaching practice, but I never did practice much of the media. I was a bit rusty in the field. I needed to get back to it, and in a very profound way.
I also looked at Fordham, Georgetown, Fairfield, I spent a lot of time looking. I thought of what to do next. That was the question for me, it has always been the question, even now. To advance career wise, professionally, you need to be really grounded in something. You need to have a good education background. I have been out of the media cycles.
I also have a media background. Before entering the Jesuits, I also did electronic media. I did an internship at the
African Jesuit AIDS Network
. It was very big, it served Africa!
What kind of media work did you do?
In 2007, we had our first ever Catholic HIV/AIDS conference. internship entailed editing some of the articles, proofreading, taking minutes. Being part of the communications committee. That was the highlight of my stay there. My boss, Cardinal Michael Cheney, SJ, has published a lot of books on HIV and AIDS. He was appointed by Pope Francis just last year to be a Cardinal. HIV/AIDS is considered one of the great pandemics and scourges of our time.
How do you feel about starting classes this fall?
I'm a bit nervous for fall, because the environment, being with others, to learn from them, is just a totally different experience. But I don't complain, because I've waited close to three years. It's a lucky moment for me, it's an opening, and I intend to use it the best I can. I'm nervous, especially with the practical bit. Because of the equipment, being on the ground, you can collaborate with each other. You can work as a team. But now it seems like we're all over the place. But I'm optimistic that things will be ok.
What challenges have you faced while coming to study at Loyola University Chicago?
I have on two occasions been denied a student visa. So I was accepted in 2017, but I didn't have a scholarship at the time. My primary goal is to focus on my studies, to give it my all. I will not allow anything to come in between. The visa rejection, the officials can be very rude. At that time, I switched off my phone, nobody could reach me for 24 hours. People thought I was dead! It was really devastating. But then I got a scholarship, it was confirmed in 2018. Then I applied for the visa, was denied, and then applied in 2019 too. And now the embassy is closed completely because of the pandemic, so that makes things difficult.
How are people handling the pandemic where you are?
In Nairobi, people are trying, but they know the government does not have their back. It's a very selfish government. People have been laid off en masse, the students are all at home, and the parents don't know how to handle them. The private school management depends on the parents to pay the fees to pay the teachers, and since so many of the parents have been laid off, many of these private schools are going to close. The public schools, they will all open Jan. 2021.
I don't trust our statistics that much, I must admit. I'm taking precautions, I'm learning everything the health ministry is saying. But it's too negative, it's like fear mongering. They used very draconian means to enforce the law at first, with the curfews and everything. Everything is about corruption. There's a Covid-19 relief fund mentioned, but we don't know where the money goes.
But our neighbors in Tanzania, are not following anything. Their president is saying that COVID does not exist. People believe in their government, and in their president. They're continuing life normally. If they see you putting on a mask, they know you are from Kenya. But it is not ravaging the way it is in the U.S. and elsewhere.
I've not known anyone in Nairobi that has had it. Because there's a lot of stigma around it, nobody wants to be known to have it. They were even testing people for free. But I didn't dare to go and get the test, not unless I felt like I was having the symptoms. People don't want to be ostracized, it's like HIV/AIDS when it came into our part of the world. There was a lot of stigma. Hospitals, if you have those systems, they fear admitting people. That is how bad it is, how bad it has been.
How are you handling the time difference for your classes?
I was feeling weird, the couple of times I've been up that time. I have to adjust, this will be my bedtime going forward! I'll just go with the group. I don't feel an inconvenience from doing it. As long as I can endure for four months or so and eventually get a visa, that will be good.
What kinds of things do you do when you're not in class?
I am a member of a think tank in Zimbabwe, the Southern Africa Political Economy Series,
SAPES
. Zimbabwe is a country that I lived in for four years, it is really undergoing economic and political turmoil. It is going the Venezuela way. Things are very bad. A former schoolmate of mine yesterday posted that ten women went to the hospital to give birth, in Harare, out of the ten could come out with a live baby. The rest were just wrapped up in sheets. There are no doctors to attend to the pregnant women. I feel very at pains with this kind of situation in Zimbabwe. Tomorrow there is supposed to be a demonstration in the whole country. The purpose is against the corrupt regime that is there in Harare. And the breakdown of the economy, the politics. People are fed up, they want real change. That is the topic of my meeting today. We support the people. We have very good discussion in that group. We're the ones who predicted even the downfall of the regime. Mugabe was trying to get his wife to take over after him, but it is not going to happen. One of my colleagues predicted in 2012 that the military would take over, and that is exactly what happened. We are made up of professors even from South Africa, we're people from diverse backgrounds. I'm passionate about my continent if you couldn't tell.
How do you stay motivated in your studies?
It's worth it to follow my dream. But it's not for myself. If it was, I would have given up and relaxed. But it's not for me alone, what motivates me is to serve others. If I do it well, I can contribute, I can leave a legacy in this world. It's "men for others." That's why I wanted to be a Jesuit. Who knows, I might go back to a form of service, either with the Society of Jesus, or with the Catholic Church in some way. It's very gratifying to make a difference in people's lives.
I'm the kind who cannot just work to make a living, to make money. That is not motivation enough for me. There should be more in life than that.
How do you plan to change the world with DMST?
Maybe by becoming a communications consultant. I'm very big on how people communicate, messaging. Many companies and organizations don't do it well. Even our church does not do it well! Today I went to one of the churches, and as I communication person, I felt that it was very impersonal, because of Covid. So I was thinking, how can we do it differently? How can we be part of the solution of things in the world?
I also might want to teach. We don't have many communication professors in this part of the world, in Eastern Africa. Good communication professors are rare. There are people in other fields who come into communications. But we need to get people who are grounded into it from the beginning, and it takes time. I must admit that I have to say this maybe, the whole experience of Loyola, the way they reach out to me, encouraging me, even when I missed the visa, really humbled me. I told myself, that is the place for me. The way you all communicate, is very different. I try even to convince others to give me the necessary support, I know that Loyola will form me into the balanced person I can be, the holistic formation.
Past interviews:

Claire O'Malley - Milwaukee, Wisconsin

Abby Schnable - St. Louis, Missouri

Jennifer Wright - Acampo, California
Coco Sharp - Chicago, Illinois

Lauren Pirritano - Chicago, Illinois (Alumni Edition)

Dan Collazo - Chicago, Illlinois

Morgan Ciocca - Kansas City, Kansas

Layla Chavez - Indianapolis, Indiana

Andie Cuevas - Milwaukee, Wisconsin

Boe Chmil - Chicago, Illinois

Minh Ha (Millie) Le - Hanoi, Vietnam

Ava Francesca Battocchio - Duluth, Minnesota

Alexandra Ditoro - Alabaster, Alabama

Gabriel Paredes-Reyes - Omaha, Nebraska