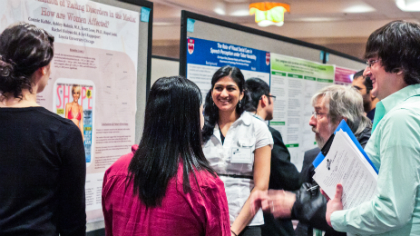 Students: Apply here for all LUROP programs except Ricci. To apply to the Ricci program, please visit the Ricci site directly.
Most fellowship applications are due on March 1. Letters of recommendation (if needed) are due March 8 at the latest.
Please note that some LUROP fellowship programs match you with a mentor and project, including: CURL, CCIH, Molecular & Computational Bio Summer, RMP, and WISER. Students in the McNair program are given support in selecting a research mentor after they begin the program. All other LUROP programs require you to find a faculty member willing to mentor you on a project before applying.
Be sure to read this detailed list of required application materials before beginning your application.
Recommenders: You will receive an automatic request for a recommendation with a link to a recommendation form when your student enters your information into the online application system. Please save a copy of this completed recommendation form. If your student is applying for multiple programs, you will be prompted to upload a recommendation for each program, and the same form may be used for multiple programs. Your recommendations are due March 8.
For the first time this year, you only need to complete the recommendation form you will receive via e-mail, and you do not need to write a letter. If, however, you have already written a separate letter that will not fit into the long response boxes provided in the form, please answer the basic questions on the form, then scan and include your letter with this form as a single PDF. You can only upload one document as a recommendation.
Firefox and Chrome users: Before filling out the form, please save it to your desktop and open the file using Adobe Reader. You will not be able to complete the form from within your browser.
For your convenience, you can also find the two forms below. Use Form A if you will not be the mentor for the student (CURL, CCIH, Molecular & Computational Bio, RMP, and WISER). If you will be the mentor for the student, use Form B.
The following undergraduate research programs are available through LUROP:
Application Policy
Students may apply for as many LUROP Fellowships as they like. Students cannot, however, accept more than one fellowship at a time (although students may accept one summer and one academic year fellowship in the same application year). Students can accept no more than three total LUROP fellowships while at Loyola. There are restrictions on the number of fellowships you can accept from the same program. Please read the LUROP Policy regarding multiple fellowships for more detailed information.