Jazz Ensemble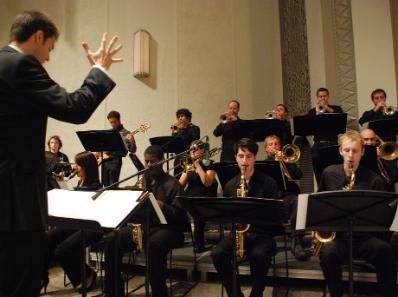 JAZZ ENSEMBLE - MUSC 109
Scott Burns, director
sburns5@luc.edu
Jazz Ensemble provides students the opportunity to further their musicianship by making music with fellow classmates through the study of jazz, a uniquely American art form. Performing two concerts per semester, Jazz Ensemble performs works in a variety of styles ranging from historically significant pieces written for the bands of Count Basie, Duke Ellington and others, to modern works by currently active bands and composers. Directed by Scott Burns, the band consists of 17-20 members playing the following instruments: saxophone, trumpet, trombone, piano, guitar, bass, drums/percussion. Jazz Band is a one-credit course that fulfills the Artistic Knowledge and Experience requirement of the Core Curriculum, as well as the Public Performance component of the Engaged Learning requirement.
Membership in Jazz Ensemble is open to all students who have played in high school band. Chair placement auditions are held during the first week of each semester. Audition information, as well as online audition sign-up, is available at the following website: http://www.luc.edu/music/admission/auditions/ensembleauditions/jazzensembleauditions/
Still have questions? Check out our FAQ for answers!