Faculty & Staff Profiles
Associate Professor, Applied Health Sciences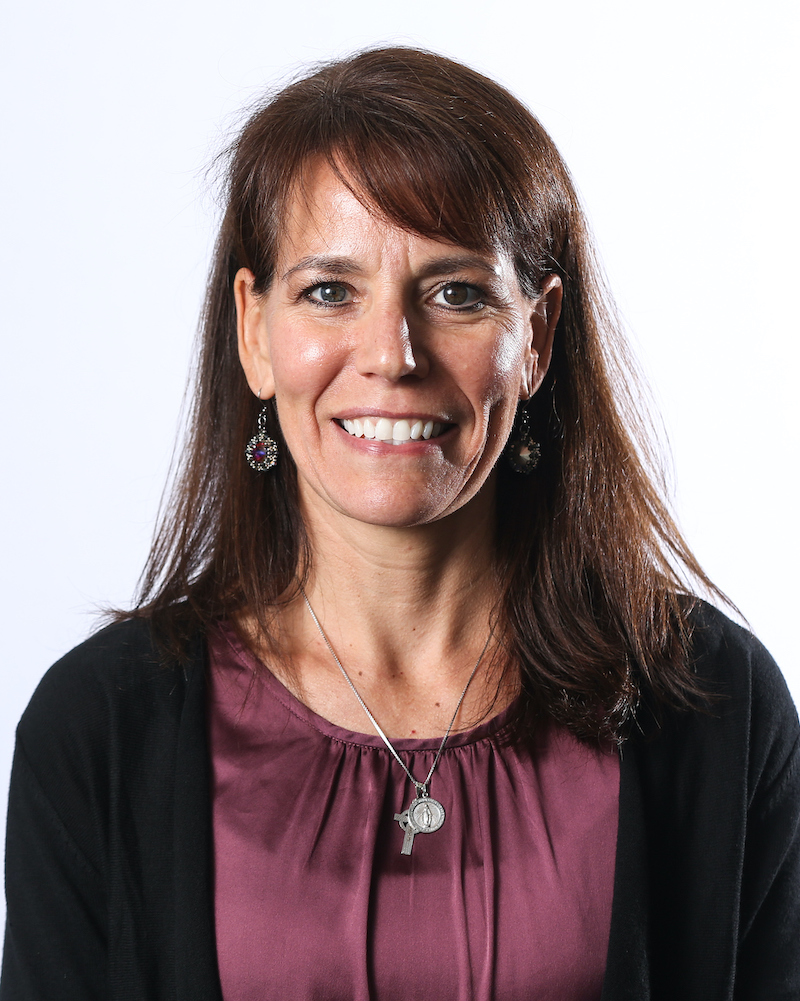 Contact
I am a Registered Dietitian and conduct research to evaluate how medical nutrition therapies (e.g., plant based eating, tube or vein feedings) impact outcomes in clinical populations. Specifically, I have worked with patients in intensive care units, patients with blood cancers requiring stem cell transplant, and, more recently, patients treated for breast (early and late stage) and prostate cancer. My colleagues and I are particularly interested in cancer survivorship, especially among minority groups, since cancer outcomes differ by race/ethnicity. Our primary goal: improve the lives of people diagnosed with cancer and identify how nutrition and physical activity interventions improve muscle and fat, quality of life, symptom burden, physical functioning, and chronic disease.
---
Education
Bachelor's degree, University of Arizona
Master's degree, University of Illinois at Chicago
PhD, University of Illinois at Chicago
What prompted you to pursue your field?
I believe that healthy living is happy living, so being a registered dietitian supports this personal mission.
What would you tell a student about why your field is exciting or important?
This field is important because nutrition is the cornerstone of chronic disease prevention. We have a lot of work to do.
Publications
Myosteatosis at diagnosis is adversely associated with 2-year survival in women with estrogen receptor-negative metastatic breast cancer. Sheean, P; Gomez-Perez, S; Joyce, C; O'Connor, P; Bojko, M; Smith, A; Vasilopoulos, V; Rao, R; Sclamberg, J; Robinson, P Breast cancer research and treatment 2021
Circulating miRNAs as early indicators of diet and physical activity response in women with metastatic breast cancer. Olson, J; Sheean, P; Matthews, L; Chitambar, CR; Banerjee, A; Visotcky, A; Bonini, M; Stolley, M Future science OA 2021 ;7(4)
Every Day Counts: a randomized pilot lifestyle intervention for women with metastatic breast cancer. Sheean, P; Matthews, L; Visotcky, A; Banerjee, A; Moosreiner, A; Kelley, K; Chitambar, CR; Papanek, PE; Stolley, M Breast cancer research and treatment 2021
Exploring health behaviors, quality of life, and support needs in African-American prostate cancer survivors: a pilot study to support future interventions. Stolley, MR; Sheean, P; Matthews, L; Banerjee, A; Visotcky, A; Papanek, P; Woodley, L; Flynn, KE Supportive care in cancer : official journal of the Multinational Association of Supportive Care in Cancer 2019 ;28(7)
Tutorial: A Step-by-Step Guide (Version 2.0) for Measuring Abdominal Circumference and Skeletal Muscle From a Single Cross-Sectional Computed-Tomography Image Using the National Institutes of Health ImageJ. Gomez-Perez, S; McKeever, L; Sheean, P JPEN. Journal of parenteral and enteral nutrition 2019 ;44(3)
American Society for Parenteral and Enteral Nutrition Clinical Guidelines: The Validity of Body Composition Assessment in Clinical Populations. Sheean, P; Gonzalez, MC; Prado, CM; McKeever, L; Hall, AM; Braunschweig, CA JPEN. Journal of parenteral and enteral nutrition 2019 ;44(1)
Body Composition, Serum Biomarkers of Inflammation and Quality of Life in Clinically Stable Women with Estrogen Receptor Positive Metastatic Breast Cancer. Sheean, P; Gomez-Perez, S; Joyce, C; Vasilopoulos, V; Bartolotta, MB; Robinson, P; Lo, S; Lomasney, L NUTRITION AND CANCER 2019 ;71(6)
Serum 25(OH)D and Cognition: A Narrative Review of Current Evidence. Byrn, MA; Sheean, PM Nutrients 2019 ;11(4)
Prevalence and Predictors of Low Serum 25-Hydroxyvitamin D among Female African-American Breast Cancer Survivors Sheean,P.; Arroyo,C.; Woo,J.; Schiffer,L.; Stolley,M. Journal of the Academy of Nutrition and Dietetics 2018 ;118(4):568-577
Nutrition risk among an ethnically diverse sample of community-dwelling older adults. Sheean, P; Farrar, IC; Sulo, S; Partridge, J; Schiffer, L; Fitzgibbon, M Public health nutrition 2018 11/06/2018 :1-9
Efficacy of a Weight Loss Intervention for African American Breast Cancer Survivors Stolley,M.; Sheean,P.; Gerber,B.; Arroyo,C.; Schiffer,L.; Banerjee,A.; Visotcky,A.; Fantuzzi,G.; Strahan,D.; Matthews,L.; Dakers,R.; Carridine-Andrews,C.; Seligman,K.; Springfield,S.; Odoms-Young,A.; Hong,S.; Hoskins,K.; Kaklamani,V.; Sharp,L. Journal of clinical oncology : official journal of the American Society of Clinical Oncology 2017 :JCO2016719856
Context is Key in Addressing Obesity and Lifestyle in Diverse Populations of Cancer Survivors Stolley,M. R.; Beyer,K.; Gann,P.; Sheean,P. Obesity (Silver Spring, Md.) 2017 ;25 Suppl 2:S25-S26
Examining the prevalence of metabolic syndrome among overweight/obese African-American breast cancer survivors vs. matched non-cancer controls Sheean,P.; Liang,H.; Schiffer,L.; Arroyo,C.; Stolley,M. Journal of cancer survivorship : research and practice 2017 ;11(1):102-110
Examining the prevalence of metabolic syndrome among overweight/obese African-American breast cancer survivors vs. matched non-cancer controls Sheean,P.; Liang,H.; Schiffer,L.; Arroyo,C.; Stolley,M. Journal of cancer survivorship : research and practice 2017 ;11(1):102-110
Medical Nutrition Therapy for Patients With Advanced Systemic Sclerosis (MNT PASS): A Pilot Intervention Study. Doerfler, B; Allen, TS; Southwood, C; Brenner, D; Hirano, I; Sheean, P JPEN. Journal of parenteral and enteral nutrition 2017 ;41(4)
Role of timing and dose of energy received in patients with acute lung injury on mortality in the Intensive Nutrition in Acute Lung Injury Trial (INTACT): a post hoc analysis Braunschweig,C. L.; Freels,S.; Sheean,P. M.; Peterson,S. J.; Perez,S. G.; McKeever,L.; Lateef,O.; Gurka,D.; Fantuzzi,G. The American Journal of Clinical Nutrition 2017 ;105(2):411-416
Context is Key in Addressing Obesity and Lifestyle in Diverse Populations of Cancer Survivors. Stolley, Melinda R.; Beyer, Kirsten; Gann, Peter; Sheean, Patricia Obesity (19307381) 2017 ;25
Role of timing and dose of energy received in patients with acute lung injury on mortality in the Intensive Nutrition in Acute Lung Injury Trial (INTACT): a post hoc analysis Braunschweig,C. L.; Freels,S.; Sheean,P. M.; Peterson,S. J.; Perez,S. G.; McKeever,L.; Lateef,O.; Gurka,D.; Fantuzzi,G. The American Journal of Clinical Nutrition 2017 ;105(2):411-416
Response to Drs Jeejeebhoy and Bistrian. Braunschweig, C; Gomez Perez, S; Freels, S; Fantuzzi, G; Peterson, SJ; Lateef, O; Gurka, D; Sheean, P JPEN. Journal of parenteral and enteral nutrition 2016 ;40(1)
Examining the prevalence of metabolic syndrome among overweight/obese African-American breast cancer survivors vs. matched non-cancer controls Sheean,P.; Liang,H.; Schiffer,L.; Arroyo,C.; Stolley,M. Journal of cancer survivorship : research and practice 2016
Assessing the prevalence of compromised bone health among overweight and obese African-American breast cancer survivors: a case-control study Sheean,P.; Liang,H.; Schiffer,L.; Arroyo,C.; Troy,K.; Stolley,M. Journal of cancer survivorship : research and practice 2016 ;10(1):21-30
Response to Dr Khursheed Jeejeebhoy Sheean,P. M.; Peterson,S. J.; Perez,S. G.; Troy,K. L.; Patel,A.; Sclamberg,J. S.; Ajanaku,F. C.; Braunschweig,C. A. JPEN.Journal of parenteral and enteral nutrition 2015 ;39(3):271-272
Exploring Diet, Physical Activity, and Quality of Life in Females with Metastatic Breast Cancer: A Pilot Study to Support Future Intervention Sheean,Patricia; Kabir,Christopher; Rao,Ruta; Hoskins,Kent; Stolley,Melinda Journal of the Academy of Nutrition & Dietetics 2015 ;115(10):1690-1698
Measuring Abdominal Circumference and Skeletal Muscle From a Single Cross-Sectional Computed Tomography Image: A Step-by-Step Guide for Clinicians Using National Institutes of Health ImageJ Gomez-Perez,S. L.; Haus,J. M.; Sheean,P.; Patel,B.; Mar,W.; Chaudhry,V.; McKeever,L.; Braunschweig,C. JPEN.Journal of parenteral and enteral nutrition 2015
Intensive nutrition in acute lung injury: a clinical trial (INTACT) Braunschweig,C. A.; Sheean,P. M.; Peterson,S. J.; Gomez Perez,S.; Freels,S.; Lateef,O.; Gurka,D.; Fantuzzi,G. JPEN.Journal of parenteral and enteral nutrition 2015 ;39(1):13-20
Exploring Diet, Physical Activity, and Quality of Life in Females with Metastatic Breast Cancer: A Pilot Study to Support Future Intervention. Sheean, P; Kabir, C; Rao, R; Hoskins, K; Stolley, M Journal of the Academy of Nutrition and Dietetics 2015 ;115(10)
Study design and protocol for moving forward: a weight loss intervention trial for African-American breast cancer survivors Stolley,M. R.; Sharp,L. K.; Fantuzzi,G.; Arroyo,C.; Sheean,P.; Schiffer,L.; Campbell,R.; Gerber,B. BMC CANCER 2015 ;15(1):1018-015-2004-4
Response to Berger and Pichard and Heyland et al. Braunschweig, C; Sheean, P; Peterson, SJ; Perez, SG; Freels, S; Lateef, O; Gurka, D; Fantuzzi, G JPEN. Journal of parenteral and enteral nutrition 2015 ;39(2)
Author response. Sheean, P; Braunschweig, C; Peterson, S JPEN. Journal of parenteral and enteral nutrition 2014 ;38(4)
The prevalence of sarcopenia in patients with respiratory failure classified as normally nourished using computed tomography and subjective global assessment. Sheean, PM; Peterson, SJ; Gomez Perez, S; Troy, KL; Patel, A; Sclamberg, JS; Ajanaku, FC; Braunschweig, CA JPEN. Journal of parenteral and enteral nutrition 2014 ;38(7)
Exploitation of diagnostic computed tomography scans to assess the impact of nutrition support on body composition changes in respiratory failure patients. Braunschweig, CA; Sheean, PM; Peterson, SJ; Gomez Perez, S; Freels, S; Troy, KL; Ajanaku, FC; Patel, A; Sclamberg, JS; Wang, Z JPEN. Journal of parenteral and enteral nutrition 2014 ;38(7)
Utilizing multiple methods to classify malnutrition among elderly patients admitted to the medical and surgical intensive care units (ICU). Sheean, PM; Peterson, SJ; Chen, Y; Liu, D; Lateef, O; Braunschweig, CA Clinical nutrition (Edinburgh, Scotland) 2013 ;32(5)
Publishing Nutrition Research: A Review of Multivariate Techniques—Part 2: Analysis of Variance Harris,Jeffrey E.; Sheean,Patricia M.; Gleason,Philip M.; Bruemmer,Barbara; Boushey,Carol Journal of the Academy of Nutrition & Dietetics 2012 ;112(1):90-98
Community-Dwelling Adults at Nutrition Risk: Characteristics in Relation to the Consumption of Oral Nutritional Supplements. Sulo, S; Schiffer, L; Sheean, P; Farrar, I; Partridge, J; Fitzgibbon, M Journal of primary care & community health ;11