Farm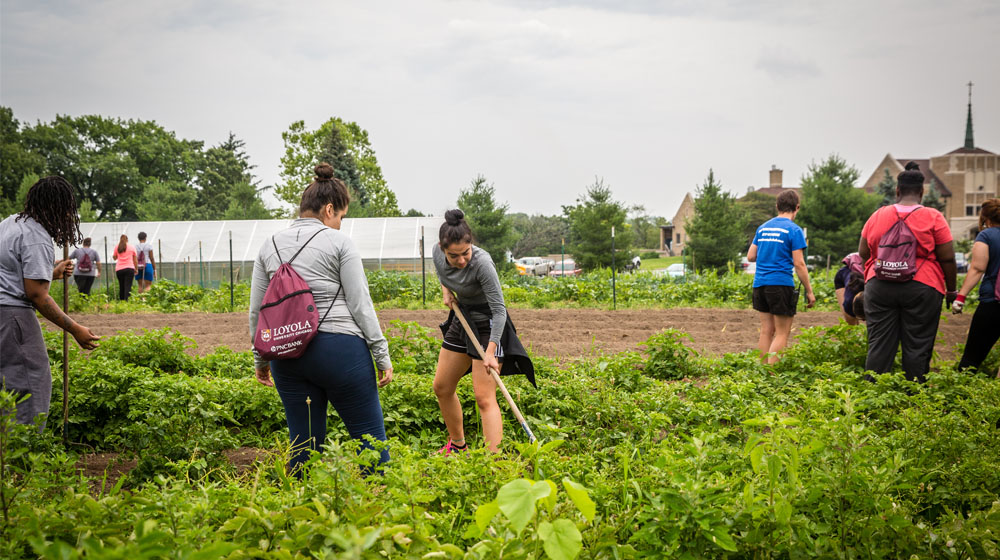 Weekly Farm Stand - We are not offering this at this time.
About the LUREC Farm
Welcome to the Loyola Farm at Loyola's Retreat and Ecology Campus in beautiful Woodstock, Illinois! Here you will find updates on gardening classes, our plant sale, the re-opening of our farm stand and other exciting happenings. Please check back frequently for new updates and important information.
Future Vision of the LUREC Farm
The future of the LUREC Farm will include a redesign of the garden beds to accommodate permanent raised beds and the incorporation of more perennial vegetables and fruits. We will also be introducing a cut flower component to the garden that will result in cut flowers for sale at the farmers market and possibly a "Pick your own flower field" as well as perennial flowers to attract pollinators and beautify the vegetable garden. We will also increase the orchard and introduce heritage varieties of apples and pears. We will increase the varieties of perennial fruit crops and add alternative fruit varieties that are native to the area to increase the biodiversity and attract native fauna to the site.
We are adapting our production model to incorporate more permaculture systems and sustainable practices, including no-till bed management and increasing the composting capabilities. We are reducing the amount of food production to tailor to the needs of the kitchen facility and using succession planting and timing of harvests to reduce waste and meet the needs of our chef. Irrigation will be updated and new technologies will be used to modify the existing infrastructure to better meet the labor and time constraints of our farm. Come and join us on Fridays to tour the farm and see what we are up to. Visitors are always welcome and volunteers are never turned away. It's a beautiful space, come help us build and reap the harvests of our labor.
Sustainable Food Operation
The Loyola farm strives to be a sustainable food operation and works in conjunction with the LUREC kitchen to ensure maximum productivity. Some key factors in having a sustainable food operation include preserving for winter, composting, eating seasonally, and year-round production. The LUREC greenhouse contains winter lettuce, arugula, beets, radishes and spinach while the hoop house has cold weather veggies planted: carrots, parsnips and leeks. Our goal is to continue to increase efficiencies and be near a 100% sustainable food operation.
Events & Classes
View all of our upcoming farm workshops, gardening classes, and farm events on our Farm Workshops & Events Page.
Contact Info
If you have any questions, would like to get a tour of the grounds, or are interested in volunteer opportunities please contact lurec@luc.edu or 815.338.1032.